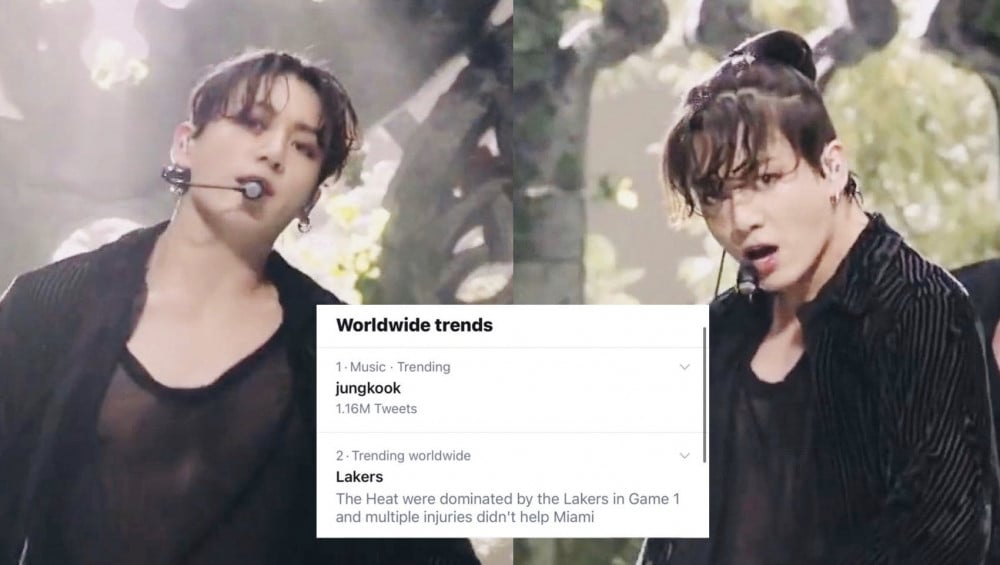 BTS' residencyon The Tonight Show starring Jimmy Fallon continues for the third day, with BTS talking about their upcoming album 'BE'in the interview with Jimmy, competing against each other in 'Dance Your Feelings' and topping it all off with a special performance of 'Black Swan'. It was only couple days ago that Jungkook shook the internet with his breathtaking visual and stage aura in 'IDOL' performance on the opening night of BTS Week, which caused him to trend at #1 worldwide and in the USA.
Day 3 witnessed Jungkook in a ponytail and a see-through shirt coupled with a gorgeous outerwear. This extremely stunning visual paired with his strong vocals, precise dance moves and overall charismatic stage presence caused him to trend worldwide at #1 (yet again), on an NBA finals night! Despite the performance being aired on NBA finals night with millions of basketball fans discussing the game in real time, Jungkook was trending alongside Lakers and the NBA finals and even surpassed it worldwide and in Canada. He surpassed every other trends including 'Lakers', '#NBAfinals' and the show hashtag itself '#BTSonFallon_D3'. Jungkook trended worldwide with over 1.16M tweets, also in 89 other countries and regions. He trended #2 in the US, #1 in Canada, '전정국 시스루' which means Jeon Jungkook see-through also trended #4 in South Korea. 'Jungkook man bun' is also one of the most searched queries related to BTS on Google in the USA.
Some of fans' (and medias) reactions regarding Jungkook's look and charisma:
"A moment of silence for all the jk-biased bbs among us"
"Compared to the old younger Jungkook which his images and style still cute, pure, and his shyness too.. I could feel since that legendary Lotte Concert 2019, Jungkook was like already found himself. His style and stage presence is more constant since then"
"THE HAIR TIED THE HAIR TIED THE HAIR TIED. I SWEAR NAMJOON IS BIAS BUT MANNN THAT HAIR TIEEDDDD"
ARMY also are loving the fact that Jungkook is becoming more and more confident in exploring himself and his style, as lately Jungkook keeps appearing with his hair tied and snazzy iconic outfits even in unofficial schedules like Vlives broadcast. Fans are even hoping for Jungkook to style himself for official performances, as they are aware of how much Jungkook is evolving as a true fashion icon with a boosting confidence nowadays.
Jungkook always gives the best whether in performance, singing and working on music. His hardworking attitude and multi-talents have been acknowledged by so many from professional critics to concert staffs. Earlier in the interview Jimmy Fallon praised Jungkook, talking about the performance in Grand Central last time, in which Jimmy went up to him after the performance and gave him a hug. Jimmy said he could feel Jungkook's heart beating through his back and thought "Wow these guys are working hard. It was so impressive."
Jungkook has been trending for hours after the performance, in worldwide, the US and South Korea trends, showing the hype around him won't die down anytime soon.