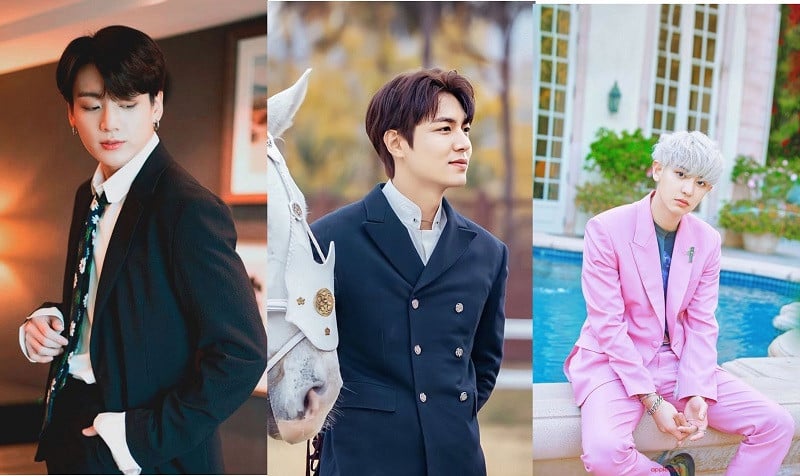 In the poll held by 'King Choice Voting Platform', international fans selected 'The 100 Most Attractive Asian Celebrities of 2020'! The poll received more than 104 million votes, which ended on September 15.
Many famous K-Pop artists and Korean actors took up top spots on the list, including actor Lee Min Ho, EXO's Chanyeol, BTS's Jungkook, Kang Daniel, and much more!
Check out TOP 50 below!
1. Xiao Zhan (Chinese Actor & Singer)
2. Wang Yibo (Chinese Actor & Singer)
3. Lee Minho (Korean Actor)
4. EXO's Park Chanyeol
5. BTS's Jeon Jungkook
6. Hyunbin (Korean Actor)
7. SS501's Kim Hyunjoong
8. Kang Daniel (Korean Singer)
9. Dimas Kudaibergen
10. ASTRO's Cha Eunwoo
11. BTS's Park Jimin
12. Ji Chang Wook (Korean Actor)
13. Jung Haein (Korean Actor)
14. Win Metawin (Thai Actor)
15. JYJ's Kim JaeJoong
16. BTS's Kim Seokjin
17. Lee SeungGi (Korean Actor)
18. Vachitrawit Chivaaree (Thai Actor)
19. Song Weilong (Chinese Actor)
20. CNBLUE's Jung Yonghwa
21. BTS's Kim Taehyung
22. Deng Lun (Chinese Actor)
23. Saint Suppapong (Thai Actor)
24. EXO's Oh Sehun
25. Li Xian (Chinese Actor)
26. Lee Junki (Korean Actor)
27. Jackson Yee (Chinese Singer)
28. NCT's Yuta
29. Yang Yang (Chinese Actor)
30. Big Bang's G-Dragon
31. Karry Wang (Chinese Singer)
32. Seo Inguk (Korean Actor)
33. Park Seojoon (Korean Actor)
34. Lai Kuanlin (Taiwanese Singer)
35. WAYV's Ten
36. INFINITE's Kim Myungsoo
37. SHINEE's Minho
38. Ong Seongwoo (Korean Singer)
39. Roy Wang (Chinese Singer)
40. Park Haejin (Korean Actor)
41. James Reid (Filipino Actor)
42. GOT7's Jackson Wang
43. 2PM's Nickhun
44. IKON's Bobby
45. EXO's Suho
46. Kim Soohyun (Korean Actor)
47. EXO's Baekhyun
48. Xu Kai (Chinese Actor)
49. SF9's Rowoon
50. EXO's Kai