Sweet Night by V was released March 13th, and has since enjoyed monumental success on iTunes' charts around the world. Among others, it notably broke the record for most hours spent at #1 in the US, which had previously been held by BTS themselves for title track ON (released only 3 weeks prior to Sweet Night).
On March 18th, after having spent a little more than 5 days at #1 on US iTunes, Sweet Night suddenly dropped to #104 in just 1 hour. And then subsequently dropped another 100 spots and completely charted out of the top 200 a few minutes later. This is a historic drop from #1 and almost unprecedented, which has many people scratching their heads as to what exactly happened.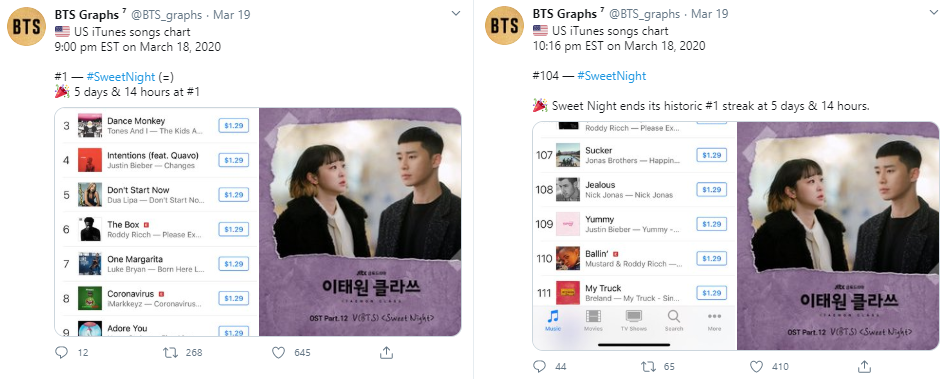 The only other recent times a drop like this has been seen on the iTunes song chart, has been with Antares by Kris Wu and Wait Wait Wait by Cai Xukun. Kris Wu's iTunes sales in particular, infamously led to Apple themselves blacklisting the album from iTunes charts and an official audit investigation by Billboard which resulted in a chunk of VPN sales being filtered and costing him the #1 on the Billboard chart. A situation many fear Sweet Night currently seems to mimic, as some feel there are no other explanations as to why the song would drop so drastically.


Well-known and highly respected chart experts and journalists are among the people scratching their heads, wondering if the BTS member has also become victim of some chart obsessed fans trying to game the charts with VPN.
https://twitter.com/simmnfierzig/status/1240603647186276353
https://twitter.com/cantorpedia/status/1240658620917874688

Many BTS fans also suspect foul play themselves, in particular because the BTS fandom have experience with recognizing attempts to game the charts, since they were some of the more vocal people when it came to doubting the legitimacy of Kris Wu's and Cai Xukun's US iTunes sales. And in those two cases, they turned out to be right, but it remains to be seen if iTunes truly did blacklist Sweet Night and if Billboard will filter its sales.
Among the reasons fans suspect foul play too, is that the song has very low US and global streams on every available streaming platform, despite charting #1 in terms of sales, which is highly unusual. Since it has not been able to chart on Spotify's top 200 US songs, it means the song has less than 200,000 US Spotify steams a day, which is in fact much lower first week streams than any of the b-sides on BTS' album 7. Yet Sweet Night charted higher and is estimated to sell more than any of the b-sides. It is even estimated to sell more than the first lead single, Black Swan, but with only a fraction of that song's streams. Many fans are worried that this could hurt BTS' reputation if foul play is indeed involved, and are distancing themselves from these methods by calling the individuals who they suspect used them out.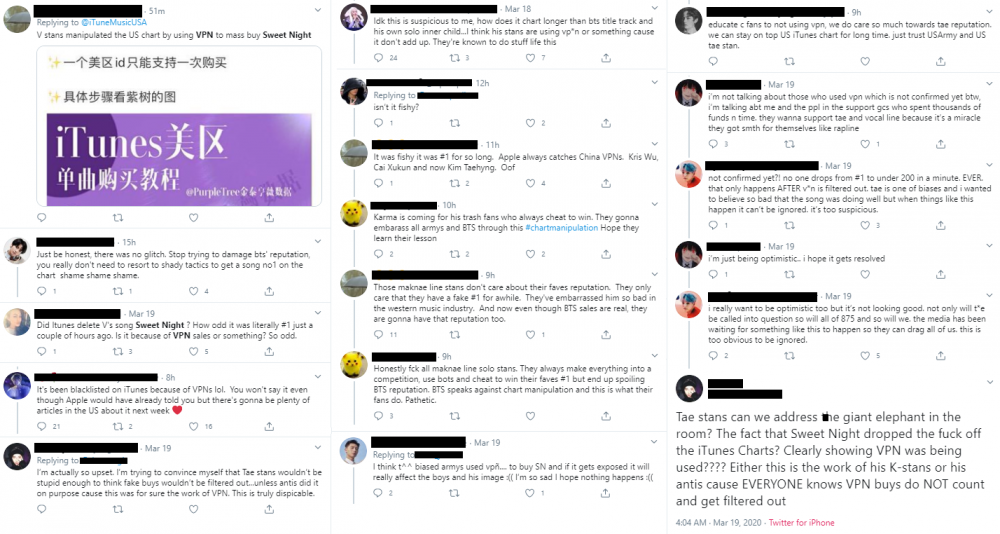 There are, however, few who believe the drop is simply a glitch in iTunes' system or that the song was temporarily removed by the "content creator" of the song, and have been trying to contact Apple support for confirmation.
https://twitter.com/BTSV_UNION/status/1240706282794991616
https://twitter.com/IMJOONSCRAB/status/1240598588876521472
However, by now it seems unlikely to have been a glitch, since it's been 24 hours and the song still hasn't even returned to top 200 on the US iTunes chart. It would also seem that the "content creator", VLENDING, did in fact not temporarily remove the song, since they issued a statement today saying they also had no idea why it dropped and have issued an inquiry with Apple too.
https://twitter.com/vlending/status/1240836084403068928
What do you make of this situation? Do you think some fans tried to game the charts like what happened with e.g. Kris Wu? And what would be the best course of action for the artist and fandom to take? Call it out or ignore it?