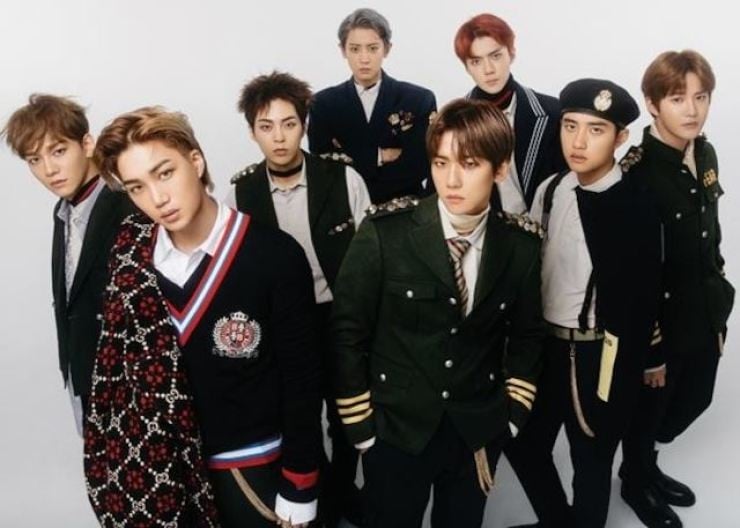 As November 27th comes closer, more details for EXO's 6th full album "Obsession" are revealed. Today's news is particularly exciting, asNaver revealed much of the anticipated album details, including the name of the participants who worked on the album. Many of which are quite familiar to many EXO-L since they have already worked with EXO previously and are quite popular with fans. All of the participants are revealed to be global hitmakers who are behind many big hits.
1. Dem Jointz - is a popular American musician and producer and an already familiar name to all EXO fans with the song "Cloud 9" from their 2015 album "EX'ACT". He has produced many hits for artists such as Rihanna, Christina Aguilera, Jording Sparks, Chris Brown, and Brandy. He also co-produced 4 tracks on "Compton", the final studio album by Dr. Dre, as well as several tracks on Janet Jackson's 2015 #1 album "Unbreakable". Other k-pop songs he worked on are Taeyeon "Something new", NCT 127 "Cherry bomb" and Red Velvet Dont U Wait No More.
2. LDN Noise -songwriting and record producing duo, consisting of members Greg Bonnick and Hayden Chapman, currently based in London, United Kingdom. They are best known for producing hits for other artists, such as Nathan Sykes, Nick Jonas, Chris Brown and K-pop artists such as EXO and other SM artists. I am sure to many they are quite familiar as the list of songs they have worked on is too long to list but long enough to say that every EXO fan is also an LDN Noise fan. Many of EXO-L's favorite songs have LDN Noise behind them such as - Lightsaber, Lucky one, Monster(yes that song), White noise, Lotto, Forever and the list goes on...You also might know the song Chris Brown - "Turn up the music" from 2012(yes they worked on it).
3. Joombas music group - is a label formed by Hyuk Shin(South Korean producer and songwriter) in 2012 in Hollywood, New York, and Seoul. Shin is leading his music production team "Joombas Music Factory". Partnering with SM entertainment in Korea. K-POP songs they have worked on include - Block B "NalinA", EXO "Don't go", "Growl", "Universe", "Hey Mama", Itzy "Icy", Taeyeon "Stress" and many others songs with artists such as Shinee, Monsta X, Girls' Generation, Super Junior, F(X) and etc. They also worked on Justin Bieber "One less lonely girl". The list of songs they have worked one is long but very impressive so many are excited to have them in the lineup.


4. Yoo Young-jin - South Korean singer-songwriter and record producer under SM entertainment. He has produced and written songs for most SM's artists including EXO, Girls' Generation, Super Junior, F(x) and Shinee. Many of the songs they have worked on are very well known to most K-pop fans. Here are a few you most definitely know - Super Junior "Sorry Sorry", "Mr. Simple". Super Junior-M "Super girl", "Sexy free & single", "Girls' Generation "Tell me your wish", "I got a boy", Shinee "Ring ding dong", EXO "What is love", "MAMA", "History", "Tell me what is love(D.O)", TVXQ "Catch me", Red Velvet "Bad boy" and many more impressive songs.
5. Kenzie - a South Korean songwriter signed under SM entertainment. She has written for SM artists including artists like EXO, Super Junior, Girls' Generation,TVXQ, Red Velvet and other SM artists. She is popular among many fans as many songs they love are songs she has worked on as an author or co-author. Here are a few popular songs which you most likely have heard and if you have not, where have you been? - Girls' Generation "Into the new world", "Oh", "All night", "Light up the sky", "Fan", EXO-K "Overdose", EXO "Transformer", "Monster", "Sing for you", "What u do", "Forever", NCT "Limitless", Taeyeon "Four seasons", "I got love", "Lonely nights", Red Velvet "Red Flavor", "Attaboy", "Peek-a-boo" and many other popular songs.
6. Deez - a neo-soul/R&B singer-songwriter/producer located in Seoul. He made his mainstream K-pop debut with Rain's single "Only You" in 2008, and has since then been writing and producing a string of of K-pop R&B/Soul influenced classics such as "ACE" (TAEMIN), 'Love, Love, Love' (EXO), 'Neon', 'Aurora' (JONGHYUN), 'Light Me Up' (Red Velvet), 'Apology' (TVXQ!), etc. As an artist, he released his own album 'Get Real' in 2010, of which the single "Sugar" was awarded 'Best R&B/Soul Song of the Year' at the Korean Pop Music Awards. He has worked many times with EXO previously as well as other SM artists so you will most likely find his name on many songs you like.
7. Jinby Jin - a popular producer and writer who you may know with the song "Dream" by Suzy and EXO Baekhyun that became a collaboration of the year in 2016. Another song that you may know that had Jinby Jin included is NCT "Simon says", Red Velvet "Oh boy" and many other songs with other SM artists like Shinee and their member Taemin.
The line up of everyone participating on this album is impressive and that alone excites many fans. Along with the names of the producers and writers working on the album, the list of the tracks and their names was released. Now many EXO-L are already trying to guess what each song is about and which one will be a ballad if there is one.

Here is the list of the songs in the album and that includes 10 songs:
1. Obsession
2. Obsession (Chinese version)
3. Trouble
4. 지킬 (Jekyll)
5. 춤 (Groove)
6. Ya Ya Ya
7. Baby You Are
8. Non Stop
9. 오늘도 (Day After Day)
10 나비효과 (Butterfly Effect)

Watch EXO's concept trailer for their 6th full album on Youtube down below!