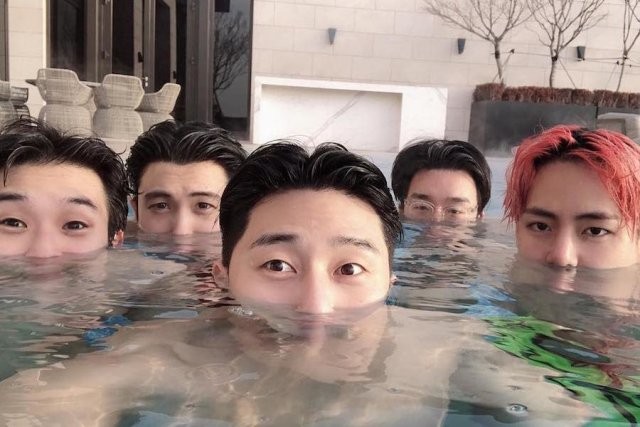 Kim Taehyung aka V of BTS is well known to be a social butterfly. He is so charming that even people who meet him once end up being his friends.
But the friendship that he shares with his co-stars from the K-drama Hwarang has somehow transcended into being a family now.
This group of friends, brought together by Park Seo-joon, call themselves the "Ooga Oogas" or the "Wooga" squad. The other members of this squad are Park Hyung-sik, Choi Woo-shik and PeakBoy (Kwon Sunghwan).

These guys redefine the meaning of #FriendshipGoals! They are all extremely supportive of each other and hype each other up every-time anyone of them release an solo work.
Today, BTS V shared this tweet about the new song "Kelly" that Peakboy released.

Simultaneously, all of the other members in their squad posted about it on their official Instagram accounts.
Seo-joon's post
Woo-shik's post
Peakboy's post
A few minutes later, Hyung-sik (who is currently serving in the military) posted about the new release.
This is not the first time that Kim Taehyung has posted about Peakboy- he has in the past tweeted about his songs twice.
He recommended Gin and Tonic the first time.
Hyping the new song Shame by peakboy the next time.
Wishing to see more such cute interactions in future too from this most supportive Wooga group. Maybe even a collab between BTS V x Peakboy! Keep your fingers crossed for that!