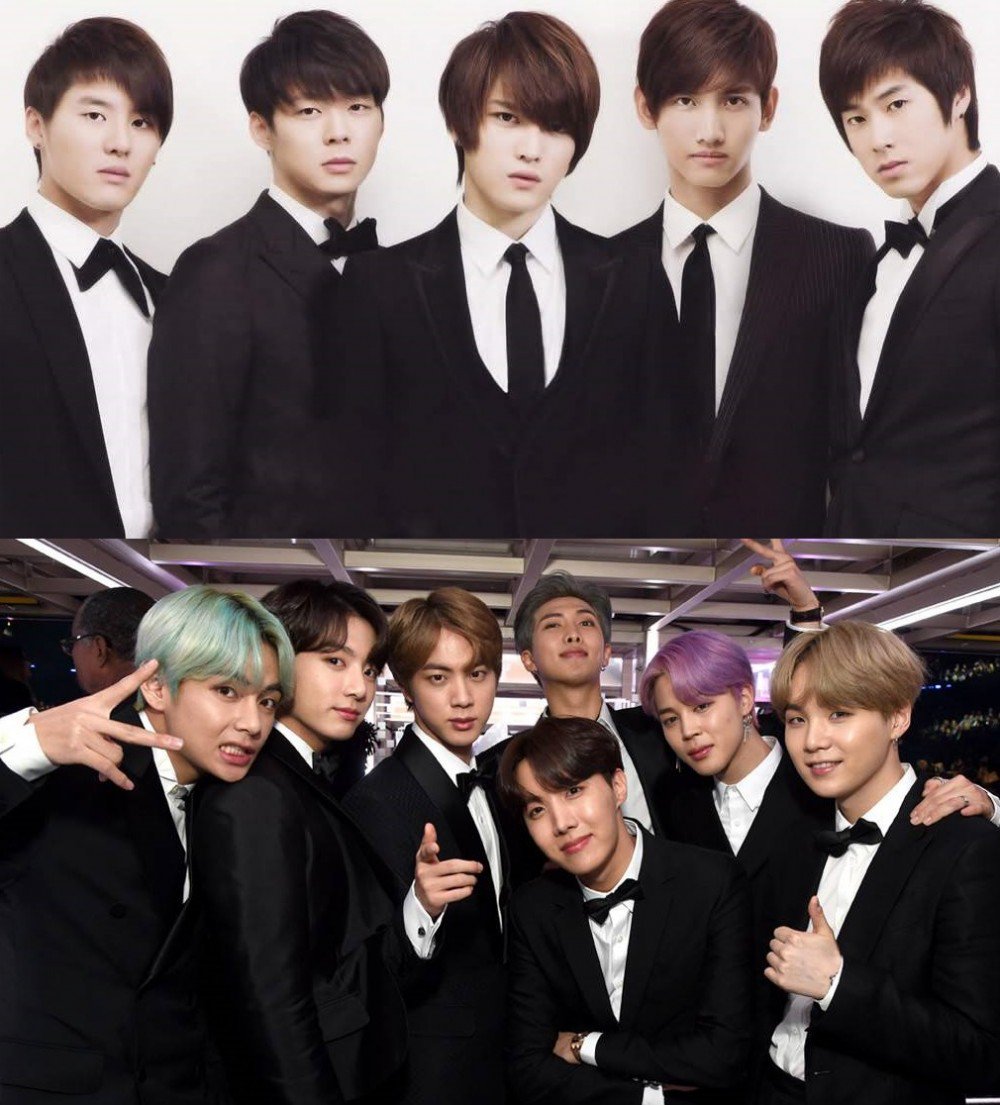 Pann: YG Entertainment's media-play history

Content:
(Official links are provided.)
(1) Media Playing By Using Other Acts' Name
(2) Using Seo Taiji's Image
(3) Ignoring the Other Groups' Success and using the the terms that were used for them + "Our artistsare not flower boys. They are talented" media play
(4) "Overseas Paparazzi" media play
(5) Overhype
(6) Defamation of BTS
(7) "YG artists write and produce their own songs" Media Play
(8) "BIGBANG is the best selling group in history" Media play
(9) Plagiarism
(10) "No Plastic Surgery"+"Fashion" Media Play
(11) Sajaegi accusation
(12) Fake SNS Accounts
(13) Concert Audience Manipulations (This is the most important part. If you don't have time, start reading from this part. The biggest manipulation is here + includes Japanese netizens' reactions)



(1) Media Playing By Using Other Acts' Name

✘Se7en - Rain•BoA✘

•Yang Hyung Suk,"Se7en is comparable to Rain in the US market and BoA in the Japanese market." (17.04.2006)
•OSEN: Rain and Se7en-> Reasons for Being Rivals
"Rain, who drew attention with his monolids, tall height, muscular body and dance moves, also popularized sunglasses with his second album ."
"Unlike his sophisticated look, Se7en has been gathering attention for his dance skills and unseen singing ability." (14.11.2006)
✘BIGBANG - TVXQ✘
• Yang Hyun Suk, "Although it will be difficult to compete with TVXQ, Bigbang is the first teenager group debuted by YG and they are talented. Bigbang has reached 2 million views with documentary videos and been competing with TVXQ for the 1st and 2nd place in the most searched keywords." (22.08.2006)
•"He (Yang Hyun Suk) made a strong statement that Bigbang will surpass other groups including TVXQ." (03.03.2009)
•"Bigbang is still close to zero in overseas recognition, but they are at least close to TVXQ's popularity in Korea." (14.04.2009)
•[OSEN journalist Son Namwon] "Hallyu Star Bigbang is writing a history in Japan. Now that TVXQ has virtually disbanded, the group representing Korean idols in Japan is Bigbang." (30.05.2010)
•[OSEN journalist Son Namwon] "Hallyu Star Bigbang is making history in Japan... Bigbang fills the gap of TVXQ."(03.06.2010)


•[OSEN journalist Son Namwon] "Bigbang has become the strongest idol group since TVXQ's disbandment." (21.11.2010)
•"BIGBANG is the most successful Kpop group ever in Japan after TVXQ." (18.03.2016)
✘2NE1 - Girls' Generation✘

11.02.2014: SM, "Girls' Generation to comeback on February 19."
13.02.2014: YG, "2NE1 to comeback on February 24."
13.02.2014: YG "Girls' Generation and 2NE1 Comeback at the same time... A girl group war"
(YG then removed the tweet and the article from its official site YG-life)

However, the news outlets had already published a lot of "Girls' Generation vs 2NE1" articles.
14.02.2014: SM to postpone Girls' Generation comeback due to MV corruption (the album to be released on 24th, the same day as 2NE1's)
19.02.2014: YG to postpone 2NE1's comeback 3 days later (27th) to match CL's birthday (However, CL's birthday is on 26th)


✘BLACKPINK - BTS✘

• Blackpink "BTS, get out the way!" Simultaneous entry on the Billboard Main Chart (29.06.2018)
•"BTS and BLACKPINK have different methods to approach American Billboard. BTS usually uses SNS to interact with their fans. Other than the usual artists, BTS has interacted with their fans a lot. Their music also aimed to the sympathy of the same generation. They have a very stable connection to the fans and that's how the fandom grows stronger day by day. It can be said that their main basis is SNS.
YG Entertainment don't promote BLACKPINK much in order to focus on improving the quality of their music. They want the fandom to be just a small factor in their success, the main aim is making their music products widely welcomed by the public." (04.07.2018)
•YG Entertainment "BLACKPINK have the most potential, even more than BTS..."
Content: BLACKPINK surpassed BTS in the number of YouTube subscribers and views. (27.08.2018)
•YG Entertainment's report: BLACKPINK and BTS are currently the two biggest K-Pop acts on the global music scene. BLACKPINK's YouTube channel was viewed 370 million times in November, beating out BTS (BigHit Entertainment and Bangtan TV), which had 210 million views during the month. " (06.12.2018)
•BLACKPINK's Spotify profile mentions BTS
"...Produced and written with Teddy Park, Future Bounce and Bekuh Boom, Square One introduced a "k-trap" style that sounded like 2NE1 blended with BTS."

YG have edited BlackPink's bio and it now doesn't mention BTS.

✘ G-Dragon - Dakota Fanning ✘
• YG, "Dakota Fanning did contact us... but we will meet next time due to schedules"
YG Entertainment stated, "It is true that actress Dakota Fanning has contacted our agency, but due to difficult scheduling, we decided that the actual meeting between Dakota and G-Dragon will take place in the near future. Dakota Fanning admitted that she is a big fan of G-Dragon. G-Dragon himself also is a fan of Dakota Fanning." (05.01.2013)
-> Dakota Fanning's agency stated, "Dakota never called G-Dragon and they never promised to meet in Korea. " as well as, "Dakota's side never called G-Dragon's side. It is not true that they were in contact to meet up" (05.01.2013)
"It's not true that Dakota Fanning is a fan of G-Dragon." (05.01.2013)

✘ CL - RIHANNA ✘

• OSEN: There is a message for CL from Rihanna, "CL is the flyest woman I know." (03.12.2016)

->Rihanna's original message: "CL, I'm so excited about my collaboration with the Godfather of shoes Mr Manolo Blahnik. I wanted to gift them to the flyest women I know."

Actually Rihanna gave out shoes as a promotion for her new brand launch. CL is a fashion celebrity in Korea so she got a pair too. Rihanna gets free promotion out of celebrities posting it on Instagram and wearing it around and stuff. OSEN didn't publish Rihanna's letter. They just wrote 'Rihanna says CL is the flyest woman she knows." They wrote 'woman' instead of women. This made them look like they are very close.


(2) Using Seo Taiji's Image
•"Bigbang is a hiphop group created by Seo Taiji's member Yang Hyun Suk." (13.07.2006)
•Yang Hyun Suk, "Rather than being greedy for money, I will make good music so that I won't betray the faith you've given me since Seo Taiji & Boys." (20.08.2006)
•"Bigbang to challenge with Seo Taiji's song once again." (16.02.2007)
•For the first time, the legendary singer Seo Taiji allowed his songs to be used for another song. Yang Hyun Suk went and asked him personally if BIGBANG could use Seo Taiji's song for their upcoming mini-album. Seo Taiji gave Bigbang permission to sample his song thanks to his relationship with Yang Hyun Suk. (13.11.2007)
(3) Ignoring the Other Groups' Success and using the the terms that were used for them + "They are not flower boys. They are talented" media play

•Yang Hyun Suk, "Bigbang is not a typical idol group. They were formed to get rid of the existing image of idol groups. So, BIGBANG is not made of pretty looking members and they won't pursue popularity and money." (11.09.2006)
->TVXQ had already erased the "untalented image" of the idol groups with their strong vocals, dance and performance abilities but since Yang Hyun Suk didn't have all members both talented and handsome, he wanted to make it look like good looking idols are talentless.
• Yang Hyun Suk, "After Seo Taiji&Boys, there was no group that could attract general public's attention. To get more love from the public, I believed that I should make music not only for teenagers but also in 20s and 30s." (11.09.2006)

->TVXQ were always considered as the #1 group attracting public's attention.
•Yang Hyun Suk, "Although the domestic market has been stagnant for some years, I think Korean singers should put a lot of effort into overseas market. YG plans to be the pioneer in overseas market." (11.09.2006)
->Rain, BoA and TVXQ had been doing very well in overseas but YG acted as if his singers were going to pave the way in overseas market.

•Bigbang, "Yang Hyun Suk-nim wanted to create a group of talented members, not a group of handsome members." (07.11.2006)
->This demagogy...

•Yang Hyun Suk, "When Bigbang debuted, we used the term 'idol' for them but they are different from the existing groups. Bigbang is not an idol group." According to Yang Hyun Suk, Bigbang is not a 'flower boy group' that attracts teenage fans. All the members in group sings, raps, composes and produces. They are musicians. (23.11.2007)
->Bigbang debuted as an idol group and still is an idol group. Not every member of them sings, raps, composes and produces as he claims. Especially not in 2007. You will read about it after a few entries.

•Yang Hyun Suk, "I will change the concept of 'idol group' image with Bigbang. They will resonate with the public as much as Seo Taiji and Boys." (2006.11.17)
->YG is again using the terms that were being used for TVXQ. TVXQ had been continously praised by experts, music critics, entertainment industry leaders and legendary singers for changing the concept of idol group image with their talents and approaching the public.

•Yang Hyun Suk, "The public wanted this group (BIGBANG). After H.O.T, Sechs Kies, Fin K.L., S.E.S etc, only similiar idols came out and there was no fresh group outstanding with their singing ability."(01.04.2010)

->This is the most embarassing part. He was obviously jealous of TVXQ since he wasn't able to debut a group whose all members are great at singing, dance, performance and are handsome.
•Yang Hyun Suk, "I actually wanted to create a pretty girl group like Girls' Generation. It's not an area where I'm an expert in but I wanted to create a group of pretty girls who could sing well. I don't know if it's because of a tendency I have, but I focus more on talent over looks. Even if someone is so beautiful, if they don't have the talent, it won't work." (20.08.2013)
->Again he's trying to imply that Girls' Generation is all about looks and he can't debut such group. By the way what's Dara's talent? Most of visuals in YG have no talent.
(4) "Overseas Paparazzi" media play

•Bigbang went to New York to film their MV Blue. YG released these articles:
-> "Bigbang is known to have recently returned from filming a music video in New York, and despite the filming being conducted in a thorough complement, even local bodyguards were surprised to see foreign paparazzi there throughout the filming from the entire time from entering the airport in New York.
->"In foreign countries, there is no way to legally restrain paparazzi, so news of the Bigbang music video shoot became known through foreign Internet sites, confirming that Bigbang's upcoming album is of great interest overseas as well."
Ahead of the Bigbang's comeback, YG Entertainment distributed a press release containing the above. The story is that Bigbang are so popular in the US that they get attention from local paparazzi in New York. Later, local entertainment media rushed to report it with titles such as "US paparazzi follows Bigbang to the music video shooting place" and "Proving Global Popularity."
However, Dispatch revealed the truth by contacting US paparazzis, including the well known paparazzi W. Dispatch got to know that the paparazzies kept filming Bigbang from the airport to the shooting place in New York were Korean magazines paid by YG Entertainment.
Also W magazine stated, "There is no local paparazzi who recognizes Kpop. If YG Entertainment claims they were followed by U.S. paparazzi, this case would be fake. YG may ask a local connected agency for paparazzi for publicity purposes, but there is no chance that it will go and take pictures of itself. "
• In June 2011, an article titled "YG를 영국으로(Bring YG to the UK)" spread on SNS. A flash mob event was going to be held in London, UK and the people were going to request YG singers to perform in London.
It was announced immediately on the news of various domestic media on the 27th. At the time, YG said, "I didn't know that British fans were gathering and holding a flash mob event. Europe concerts are impossible right now. However, I am thankful for the voluntary request of British fans."
Exactly 12 days later, July 9, YG left for London with some domestic journalists. He took the reporters to the UK on the condition that YG would pay all the costs of staying in the UK. YG, who did not know anything, collected the passports of journalists in just 12 days, issued flight tickets, made reservations for local accommodation, and even proceeded to cover in London.
One day later, in response to YG's expectation, Korean journalists reported that more than 300 British people participated in the London Flash Mob event and that London's response was hot. However, some domestic media have expressed concern about exaggerated media reports that the number of domestic media representatives was higher than the number of flash mob participants.
These are the participants. The ones around them are just curious people trying to figure out what's going on and watching them dancing.

(5) Overhype
•Yang Hyun Suk, "When Seo Taiji and Boys announced their retirement in 1996, I asked Seo Taiji, 'Do you think another group such as Seo Taiji and Boys will emerge in future?' Then I found myself asking the same question when watching Bigbang, 'Will another group such as Bigbang come out in future? Because there hasn't been any group like Bigbang in the past decade." (27.01.2014)
•Yang Hyun Suk, "2NE1 is the kind of girl group you can't find anywhere else in the world. They have many hit songs and their songs are sung all over the world." (31.05.2016)
(6) Defamation of BTS

•Bernard Faucon, a french photographer, released a statement clarifying his claims of BTS being inspired by his work."I received a report from my fellow duo author Pierre and Jill, who collaborated with Big Bang in the past year, to find out about the alleged copyright infringement of BTS."
(25.02.2019)

Yoon Sang Geun is the journalist who always write articles to hype YG acts and bash other groups. He kept writing about BTS' so called plagiarism issues and asked BTS about plagiarism in their press conference.

•After watching BTS' stage at Gaon Chart Music Awards, some of BIGBANG fans claimed that BTS copied T.O.P's 'No Signal' performance. YG's live performance producer uploaded a photo of BTS' stage and wrote, "Hmmm... our hard work." .TOP's sister liked the post, as did Taeyang's brother and added fuel to the fire. (2017)

-> Gaon took full responsibility for the controversy and stated, "After checking with the outsourced production company that was responsible for the ceremony, we found that there was insufficient monitoring of the footage used for the performances, which resulted in the incident. Furthermore, the company did not have a chance to thoroughly run the footage by BTS before the ceremony either. We are deeply sorry for any inconvenience we have caused." (2017)
Anyway, did T.O.P. invent the "no signal"?
•BTS were accused of copying Bigbang's style and concepts many times but it was just because they had same sponsors. But, how original is Bigbang?


BTS were accused of copying these
♦
Wearing fur and necklaces on a shirtless body is a big deal? Then we have Jaejoong and Jay Park from 2008 and 2009.

♦
2pac
Additionally BTS have always been determined as if they are hardcore fans of Bigbang. Only Jungkook is a fan of Bigbang, the rest of members have mentioned that their role models are Bigbang because they also make hip-hop.
The list goes on. BTS were accused of copiying Bigbang but none of Bigbang's concepts are original at all:
Lady Gaga's stage:

Kanye West

Bigbang's clothes were all the same or similar, just like an ordinary boyband till 2011. They also debuted as a copy of B2K, American Hip-Hop group and copied their style till 2011.

Yang Hyun Suk, before Bigbang's debut: "I'll create an idol group like B2K." (2005)
(7) "YG artists write and produce their own songs" Media Play
YG keeps saying his artists write, compose and prouduce their own music but actually it's not like that.
Bigbang: G-Dragon contributed to many of BIGBANG and his own solo songs, beside Teddy, Kush and Choice37. T.O.P. contributed to some of Bigbang's and his own solo songs' lyrics. The rest of members contributed to just a few songs, which are their own. ~70% part of Bigbang's songs have been produced by YG producers like Teddy, Kush and Choice. G-Dragon is a co-producer. Teddy is the main producer. Teddy forms the basis, develops and G-Dragon adds.
For example G-Dragons's song Heartbreaker was introduced as G-Dragon's work but when the song faced plagiarism issues, YG didn't refuse it but he said that the song was not purely produced by G-Dragon but was a collaboration work between G-Dragon and a Swiss producer .Then G-Dragon even collaborated with Flo Rida to bury thisㅋ Example:
2NE1: CL contributed to a few songs. The rest did nothing.
BLACKPINK=Teddy

There is nothing bad with getting help from the other producers. However YG reflects it like YG groups write, compose and produce their songs alone. Now you understand why they can't comeback on time? Because Teddy can't handle with a lot of acts' songs alone. This is the reason why most of YG groups' songs sound similar.
Even Yang Hyun Suk admits YG=Teddy. YG said, "Teddy produces songs for Bigbang, so he can create a group same as Bigbang. Teddy reflects YG's identity." (20.01.2017)
He clearly stated Bigbang's music=Teddy's music.
(8) "Bigbang is the best selling group in history" Media play

Bigbang's Wikipedia page says that Bigbang is the best selling group in the world, even surpassing Backstreet Boys. As Wikipedia is a website where you can find informations about acts in bulk, journalists/editors visit Wikipedia before writing an article about an act they are not very informed about. Many foreign media outlets like CNN, Forbes and TIME didn't research about Bigbang when they promoted in the US and thought the info about them on the Wikipedia page was true. So, they wrote articles like "Bigbang is the best selling group in the world." Let's see the difference.


Bigbang+solo members have sold 7 million physical albums and singles in total but the rest is +130 million songs in digital product format. 1 SONG. This means they sold 135 million songs. The group Backstreet Boys have sold 130 million PHYSICAL albums and singes, which makes over 1 billion songs. Songs in digital product format and physical albums cannot be compared. Solo albums and singles cannot be added to group's sales. This is a double media play at once.
(9) Plagiarism

YG had a lot of plagiarism accusations for years and many of them made it to news. In some songs, they used another artists' songs' samples but without permission.
"Current Affairs Magazine 2580" reported that Sony ATV Music sent a letter of warning to YG Entertainment regarding the use of music without their permission and prohibited the use of the songs until further notice. This is the list of the songs plagiarized which made it to news. Some even made to music textbooks.



note: these are the ones many people agree that they sound similar and some of them madae it to news

Bigbang-Lies = Free Tempo-Sky High
Bigbang-Oh Ah Oh= John Scatman-Scatman
Bigbang-Ma Girl = Israel-Ma girl
Bigbang-VIP = Ja Rule-Clap Back
Bigbang-But I Love You = Red Holt-Rhu
Bigbang-La La La = B2K-Tease
Bigbang-Sober = The Wanted-Glad You Came
Bigbang-Shake it = Mariah Carey-It's Like That
Bigbang-Forever With You = Mariah Carey-We Belong Together
Bigbang-Oh My Baby = The Stylistics-You are everything
Bigbang-How Gee = Black Machine-How Gee
Bigbang-Wİth You = Joe-Ride With You
Bigbang-She can't get enough = Guy Sebastian-I4U
Bigbang-Lady = Llcoolj-Baby
Bigbang-A Fool of Tears = Omarion-O
Bigbang-Fool = Daishi dance-Piano
Bigbang&2NE1-Lollipop = Three6mafia-Lolli lolli
G-Dragon-Butterfly = Oasis-She's Electric
G-Dragon-Heartbreaker = Flo Rida-Right Round
G-Dragon-Hello = Dynamic Duo-Solo
Taeyang-Look Only At Me = Omarion-Icebox
Taeyang-Where You At = T.I-Dead and Gone
TOP-Act Like Nothing's wrong = Busta rhymes-I know want you what
Daesung-Look At Me,Gwisoon = Turtles-What's Going On
2NE1-I Don't Care = Lionel Richie-Just Go
CL-MTBD = Lil Jon-Turn Down For What

(10) "No Plastic Surgery"+"Fashion" Media Play

YG has always claimed that he only cares about talent and he brainwashed people that his singers are not idols but real musicians, although he kept marketing them as an idol group. Heavy makeup, plastic surgery, height manipulation, fashion, fan service, promotions... If they are real musicians and YG doesn't care about appearance, why does he market his idols with these? Epik High are also a hiphop group but they don't come to the front with any of these. An idol doesn't mean being talentless. What distinguishes an idol group from a non-idol group is the promotion tactics but Yang Hyun Suk used this tactic to belittle the other idol groups and make his groups look like they are on a different level from the other groups, yet he didn't stop media playing his groups with using the other idols' name.


(11) Sajaegi
"JTBC went behind the scenes of how digital sajaegi happens and found that sajaegi companies would use hundreds of cell phones in a factory to stream a song on top of using thousands of fake IDs that are only fans of one specific artist. The first singer they mentioned was a rookie boy group from a huge agency who ranked #1 in just an hour. iKON debuted 6 days before this news and ranked #1 on all digital charts. The pics JTBC blurred belonged to iKON. JTBC also stated that not just rookie groups, but veteran idol groups do sajaegi too." YG denied it and welcomed them for investigation but we know that brokers do it for the entertainment companies. (note: This was JTBC's claim. wasn't proven)
(12) Fake SNS Accounts
The the day when Chanyeol surpassed G-Dragon on Instagram, bot account pack stepped in.


It's not only on the day Chanyeol surpassed him. He loses hundreds to thousands of followers (bot accounts expire) and then he gains them back as a whole. There is unusual increases/decreases in his follower numbers.

Note that if an account gains 4000 followers but loses 3000 followers, the status will show +1000 followers. It's strange that an inactive account that keeps losing followers also have a big increase in followers. If you compare G-Dragon (selfies) and Chanyeol's photos when they had equal followers, Chanyeol's photos had x2 more likes. It's not only for G-Dragon. Bigbang and 2NE1 accounts are the same. Is it because they promote in the west?
(13) Concert Audience Manipulations

This is the most important partt. Concerts are the #1 source of income for companies. Please read and watch the pics carefully. Here is the biggest manipulation.

YG always announces that his groups' concert and fan meeting tickets are all sold out even though you can still see them on sale but actually they can't even fill the concert areas. None of them. Although they can't fill the concert areas, you will see that their audience number is even more than the concert field's max concert capacity.

You have seen some concerts of them being really full right? I will explain it. Now let's take a close look at their concerts.


✘ JAPAN ✘
I will take Bigbang as an example since they are the top touring group of YG and the Kpop group that is thought to attract the most audience, which is not true. I will compare them with TVXQ, the Kpop group that actually attracted the most audience, especially in Japan.

The current audience number in total:

Bigbang: 6,019,500 (4,736,500 audience from Japan)
TVXQ: 5,922,296 (4,898,296 audience from Japan) -Their upcoming Japan tour is not included
->TVXQ and Bigbang's concert audience in Japan are very close.
First off, let's see the max concert capacity of the 5 major domes and the audience number Bigbang and TVXQ are reported to have brought for each tour:


Tokyo Dome= 55,000 spectators
Kyocera Dome = 45,000 spectators
Fukuoka Dome =42,000 spectators
Nagoya Dome= 46,500 spectators
Sapporo Dome= 40,000 spectators
Bigbang's audience at Japan domes.
(It's always the same number of audience for each concert)
And this article on YG-Life reports that Bigbang sold 45,000 seats in Sapporo
TVXQ's audience in Japan domes
(It's always the same number of audience for each concert)

Now let's see the difference between 2.
Tokyo Dome (55,000)=> Bigbang 55,000 / TVXQ 55,000
Osaka Dome(45,000)=> Bigbang 50,000/ TVXQ 45,000
Fukuoka Dome(42,000)=> Bigbang 50,000 / TVXQ 42,000
Nagoya Dome(46,500)=> Bigbang 40,750 / TVXQ 46,500
Sapporo Dome(40,000)=> Bigbang 45,000/ TVXQ 40,000

•Summary: According to (YG) reports,
-> Bigbang's Japan concerts draws more audience than TVXQ's.
-> Bigbang's Japan concerts' audience number exceeds the venues' max seating capacity, which is impossible.

YG always release concert photos with camera angle cheat so the audiece look really big but now let's see the concert area difference between 2 from fancams.


• SAPPORO DOME, max concert cap: 40,000
TVXQ 40,000 / Bigbang 45,000

->Sapporo Dome's representative to Japanese music magazine Jmania:
"(Due to the city's low population and location, which is separate from the other cities) Sapporo Dome is the event area which is the most difficult to attract audience among the 5 major domes. The only acts that can fill Sapporo Dome are Arashi and TVXQ. Even EXILE and SMAP have a hard time filling it."

Besides the empty seats, consider the distance between the main stage and the 2nd floor in front of it.

• OSAKA/KYOCERA DOME, max concert cap: 45,000
TVXQ 45,000 / Bigbang 50,000

Another Kyocera dome concert. 3rd floor's seats are almost empty

There is 5 floors at Kyocera Dome and the max concert capacity of it is 45,000. You can draw max 45,000 audience only when you open the 4th and the 5th floors. Bigbang doesn't even open the 4th and 5th floors as TVXQ do, yet they manage to draw 5,000 more spectators than then and even exceed the max capacity.
Even the biggest J-Pop group Arashi is reported to attract max 45,000 audience at Kyocera Dome. Arashi performed there over 60 times for all of their career but they have never exceeded 45,000.
If you check the reports, the only acts reported to attract 50,000 audience at Kyocera Dome are only BigBang, iKON and Blackpink. Of course, it's according to YG.

• TOKYO DOME, max concert cap: 55,000
TVXQ 55,000 / Bigbang 55,000
You can clearly see that the seats near the stage in Bigbang's concerts are covered with tent. So they didn't attract 55,000 spectators.


Another Tokyo Dome concert. 3rd floor fully closed

Another Tokyo Dome concert. 3rd floor fully closed

From MADE world tour in Japan. Don't know which dome this is.

Now let's take a look at Bigbang's Tokyo Dome 360-degree fan meeting/mini concert , and compare it to SHINee's Tokyo Dome 360-degree fan meeting/mini concert
SHINee's Tokyo Dome Fanmeeting/Mini concert
Bigbang's Tokyo Dome Fanmeeting/Mini Concert

3rd floor is closed again. It's the largest floor of Tokyo Dome. Yet these fan meetings made it to the news as "Bigbang filled the whole Tokyo Dome with 360-degree dome performance."

Now let's take a look at MADE's audience numbers:
As if "sold out" concert manipulations are not enough, YG reports the audience numbers more than the max concert capacity. According to YG, MADE world tour is the biggest tour ever in Kpop with 66 concerts and 1,500,000 attendance. This is how they drew Forbes' attention. Because they did a WORLD TOUR with 1,500,000 audience. So Forbes ESTIMATED their income $44 million USD since YG reported that all tickets are sold out.
With this tour, Bigbang also "surpassed" TVXQ and became the top touring group in Japan in 2015-2016.
• YG posted this on YGEX, official Japanese website of YG, after MADE tour: "Bigbang, the pride of Asia, are the first foreign artists with the record of 911,000 audience in the history in Japan."
The post also says that Bigbang attracted 165,000 audience at Yanmar Nagai Stadium in 3 days.

->However, Yanmar Stadium's official website says the capacity of the stadium is 50,000. So Bigbang exceeded the max capacity with 15K for 3 days again.

•Bigbang held a total of:
Kyocera Dome= 36 concerts
Tokyo Dome= 18 concerts
Fukuoka= 16 concerts
Nagoya= 11 concerts
Sapporo= 2 concerts
->If we ignore the audience, 233,000 seats came out of nothing. These are only Dome tours and remember that they don't sell even the max capacity but report the audience number even more than max capacity. So imagine how big manipulation it is when you add up all of their concerts.
Now let's check the overall concert attendance of TVXQ and Bigbang in 2015 in Japan.
Bigbang, according to YG, drew 150,000 spectators during Japan Dome Tour X and 551,500 spectators during Made tour, so 701,500 spectators in 2015. On the other hand, TVXQ drew 750,000 spectators during WITH tour in 2015.

Concert audience in 2015:
Bigbang=701,500
TVXQ=750,000 -> Only 48,500 more audience than Bigbang's.
Hakuhodo JP realeased the top 20 acts with ticket content power in Japan in 2015.

While TVXQ took #7 place earning $124 million USD, Bigbang couldn't make it to top 20 although the act at #20 place earned $73 million USD. This is another proof of them being so far from drawing 701,500 spectators.

•Let's go back in 2014. Bigbang, according to YG, drew a total of 786,500 spectators during Japan Dome Tour and Japan Dome Tour X in 2014 and sold 112,759 DVDs.
On the other hand, TVXQ drew a total of 600,000 spectators in 2014 and sold 266,824 albums, 208,715 DVDs.
Back in 2014, Hakuhodo released another revenue ranking.. The list was based on annual sales in 2014. (Concert, album, merchs etc.)
TVXQ took #2 place with $394 million USD. The act on 10th place earned $86 million USD. Bigbang couldn't make it to the list again. How come? TVXQ drew 750,000 spectators in 2015 and earned $124 million USD. How come Bigbang with 786,500 audience couldn't make it to top 10? It is clear that they earned less than $86 million USD, which means they attracted much fewer than 786,500 spectators.
=> Japanese online ticket selling website's president Kei Nishiyama : "
"I can not believe it because there aren't much media exposure in Korea. The big 3 in the Japanese live scene are Arashi, TVXQ and EXILE. More than 40% of an Avex-held stadium-dome level concerts were TVXQ's, proof of their outstanding power and that the sole basis of market outlook that Avex will show a decrease in revenue next fiscal quarter is TVXQ's upcoming enlistment."
As you see, he didn't even mention Bigbang. Bigbang is also under AVEX but he says TVXQ holds more than 40% of stadium-dome level concerts and the other big 2 are Arashi and EXILE.
While a lot of reporters and experts said TVXQ's absence was going to affect AVEX negatively, they never said the same things for Bigbang, who is claimed to be the top touring group in Japan since a few years.

✘ 2016 ✘
Bigbang ranked #1 on Japanese music magazine Nikkei Entertainment's concert mobilization ranking. TVXQ was in military:


Bigbang: 1,859,000 spectators with 60 performance
Official page of Nikkei clearly states this: "This 'mobilization' ranking does not reflect the actual number of spectators. It's based on the maximum capacity of the venues."
It also contains another events, not just concerts. So, ignore this ranking.

•YG Entertainment reported Bigbang's concert audience number in 2016 in Japan as 1,500,000 to Mirae Assets. (And 5,850,000 audience from 2012 to 2017)
And this is Avex's live concert revenue graphic:

TVXQ had no concert in 2016 due to military service. As you can see from the graphic, while TVXQ's absence affected Avex's concert revenues negatively, BigBang's absence in 2018 didn't affect Avex. The revenue kept rising in 2018, although Bigbang's audience has been reported much higher than TVXQ's since 2014.
-> YG always try to brainwash people that Bigbang is on the same level with TVXQ in Japan. TVXQ is a public act and have a huge fandom in Japan while Bigbang is just an another Kpop group with average fandom. TWICE and BTS are much more popular and have bigger fandoms compared to Bigbang.
Bigbang performing at Japan's biggest music festival (Avex) a-nation (Blue lightsticks are the festival's official lightsticks)

Bigbang+iKON performing together at a-nation

TVXQ performing at a-nation
✘✘✘✘✘✘✘✘✘✘✘✘✘✘✘✘✘✘
Let's focus on "global stars" Bigbang now. They were called like this when YG announced they sold out all of their America and Europe concerts. This was what YG said:
"US is Also Enchanted by Bigbang, All Tickets For Their Concerts in 3 US Cities Were Sold Out"
They performed at very small venues and couldn't even fill them!
Those ones are reported by Billboard. Unfortunately Billboard didn't report the rest, so the others are known as "sold out" but at least from what Billboard released, we can see that they couldn't sell out as YG claimed.



They even sold tickets on discount via Groupon. However, YG had said the tickets were all sold out although it was available
Some of "Sold out" China shows

Let's check out their "sold out" solo shows
✘G-Dragon✘
G-Dragon was reported to attract 260,000 spectators in Japan in during his Act M.O.T.T.E. World Tour but the max capacity of the domes he performed at was 242,000
That's not a huge difference but he couldn't sell out the tickets.

•G-Dragon's Act III: M.O.T.T.E World Tour's "sold out" Tokyo Dome concert:

3rd floor is closed.

•Korea•
G-Dragon's concert tickets for the Seoul World Cup Stadium were reported to be sold out


✘Now let's see the Japan concerts of Daesung, who's thought be very popular in Japan✘:

As I mentioned earlier, you can see that a few concerts are full.


Reasons: Tricks and gimmicks.

✘Tricks:
This Tokyo Dome concert was media played as "Bigbang sold out 'restricted view seats' at Tokyo Dome."
It's because they install the stage toward to the front and those seats are actually not "restricted view seats".
The ad signs' place never changes at Tokyo Dome. Now let's see the difference between Bigbang and TVXQ's concert closer again .
While "NIPPN" ad sign is toward to the front of TVXQ's stage, it's behind the stage at Bigbang's concert.

✘Gimmicks:
Bigbang has a few concerts that really sold out. The reason is gimmicks.
Now let's see the gimmicks of Bigbang's Nagai Yanmar Stadium concert, which is sold out.

-> Purchase "BIGBANG10 THE CONCERT : 0.TO.10" and "MADE" DVD or Blu-Ray at the venue (winning tickets will be announced as soon as the concert ends)
•15 people will personally meet Bigbang members after the concert (each day)
•300 people will be invited to watch rehearsals (each day)
(rehearsal performance won't be available on the first day)
-> Attend the concert and purchase MADE albums/dvds/blurays at the venue:
•50 spectators will receive postcards filled with the history of BIGBANG's Japanese activities.
These are not the only gimmicks. Just check YGEX.
Such gimmicks like personal meeting makes overseas fan attend the concert. Japanese netizens say a lot of tourists from Korea came by ferries. TVXQ's concerts don' have any gimmicks.
✘CD+Music card=Ticket gimmick✘

Remember when the media hyped Daesung for selling his Japan mini concert series and topping Oricon chart with his album, selling ~65,000 pieces? YG media played Daesung as a very popular singer in Japan. Let's see the reality now!
To attend the concerts, you have to purchase Daesung's album+5 music cards.
•30 people will have a chance to attend the fan sign event
There is no ticket for sale. The music cards give you access to the digital version of the album. On the other hand, fans recieved an album, 5 music cards and a concert ticket for only ~$45 USD.
They have a lot gimmicks like these. (Including discount on tickets in the last weeks and free invitation tickets)

They have a lot gimmicks like these. (Including discount on tickets in the last weeks and free invitation tickets)

Check out the comments that were posted by Japanese netizens. (You can use a translator to read. I won't translate all of them because there are hundreds of comments and 99% of them are negative about Bigbang)

Japanese netizens reactions:
•Girlschannel: "Korean group Bigbang tops ranking of concert crowd-pullers in Japan in 2016"

[+3410, -247] They are very good at media play
[+3205, -165] This is very doubtful
[+3131, -575] Seriously? I have never met a fan of them
[+2747, -303] Above Arashi? Arashi has a lot of fans but I've never seen a fan of Bigbang
[+2330, -420] What? Are they kidding? Do they even have that many fans in Japan?
[+1901, -161] Exaggeration and information manipulation through the media
(ps: Otonarisoku is a website like Netizenbuzz. They translate Korean netizens' comments to Japanese)
Theqoo: "G-Dragon filled Fukuoka Dome Alone"
1.Who is he?
3.G-dragon. What kind of name is this
12.His concert tickets were given away for free at my university.
13.Who is this?
14.Most of the attendees were Korean. It's really mysterious.
21.Fukuoka is very close to Korea. You can come here by ferry easily
26. Most of them were Koreans. Ferries from Korea to Japan are very cheap
Theqoo:"Daesung's Japan Dome tour is a mess. The media play is too bad."
4.If you can't fill the seats, why are you adding additional shows?
7.Their popularity is artificial
30.The only Korean artist who can fill the domes is TVXQ
41.Media play and exaggeration seem to be a habit for them but these actions should be called "lie".
Theqoo: "Bigbang has become the ruler of the Japanese market" (the Korean article talks about how Bigbang topped the annual concert mobilization list in Japan)
1.Are they making fool out of people.
2.60 performance? I don't know how much it costs to hold 1 concert. Don't know about them. Probably Korean tourists attended their concerts.
7.That's the number of the max capacity of the venue, not how many tickets sold. The point is that if you hold a concert in Tokyo dome, which has a concert capacity of 55,000, regardless of how many tickets sold, it will be counted as 55,000. No surprise that Koreans have no brain
8.I have never met anyone in my life who likes Bigbang lol
12.This is really the biggest mystery. It's so strange that almost no one knows their songs but they manage to sell concert tickets.
19.I wonder how they are at the first place? Is Bigbang a popular group? I've never heard them, nor of my friends in their 20s.
39.They're just counting the maximum number of seats, not the actual number of the spectators.

Theqoo: "Bigbang's G-Dragon's Japan performance"
1.Who is he?
2.Don't know him. Is he popular?
3.The audience is Korean
8.Do our people know this guy? Never heard of him
10.Is he a singer who recently debuted? Good that he can draw many audience then
24.He looks like a mix of TVXQ members and Jang Geun Suk. Really don't know who he is. Strange
75.I know TVXQ, Jang Geun Suk and TWICE but never heard of BIGBANG.
84.Popular? Check out their ticket prices on the website. It's discounted to half price and still avilable. https://ticketcamp.net/bigbang... (the link's expired since the concert ended but the comment was made in 2017 when the link was active)

Theqoo: "Bigbang tops Japanese concert power ranking. Higher than Arashi? Really great."
2.It's the capacity of the venues, not the exact audience number
14.When they are performing in Japan, most of their audience come from Korea and South East Asia. They perform in Japan because domes are cheap and seat a lot of people.
17.Even Koreans say they are scammers. I don't know how people can believe them
29.I've seen a lot of people going to TVXQ's concerts but never seen person going to Bigbang's concert or having a CD of them.
34.Don't even know 1 song of them
68.Who's Bigbang?

(note: The thread has just started to trend and it's becoming a hot topic. I will update the comments later)
PANN netizen reactions:
[+874, -73]

1. [+541, -9] This is how YG has been making fool out of people over a decade. Luckily, SNS is now very common now so people don't fall for it anymore.
2. [+464, -11] With the way YG media plays, anyone would think that they've conquered all of Asia and North America and are holding world tours ㅋㅋ

3. [+419, -11] YG always acts like they're so much better than everyone else. Like their idols are on a different level from other idols. Like they're real artists or whatever... Sure beauty isn't everything but just because a member's ugly doesn't guarantee that they're talented either.

4. [+203, -44] "You guys are the one that benefited from the media" BTS - Airplane pt. 2
5. [+169, -18] Without YG's media play, Bigbang would've been exiled already ㅋ G-Dragon solely produced only about 5 songs, yet he's hyped up as if he's a real musician . He co-produced all of them ㅋ


6. [+168, -5] This is how Bigbang became popular~ They poured articles all day like "TVXQ vs Bigbang" "Big Bang surpassing TVXQ in Japan" "Big Bang sold out world tours" <
7. [+137, -2] I think Bigbang became popular thanks to YG's media play strategy. He targets the most popular groups and media play his groups by using them. Bigbang-TVXQ, 2NE1-SNSD, Black Pink-Twice, Black Pink-BTS... If you pour such articles all day on Naver, will think their popularity is the same