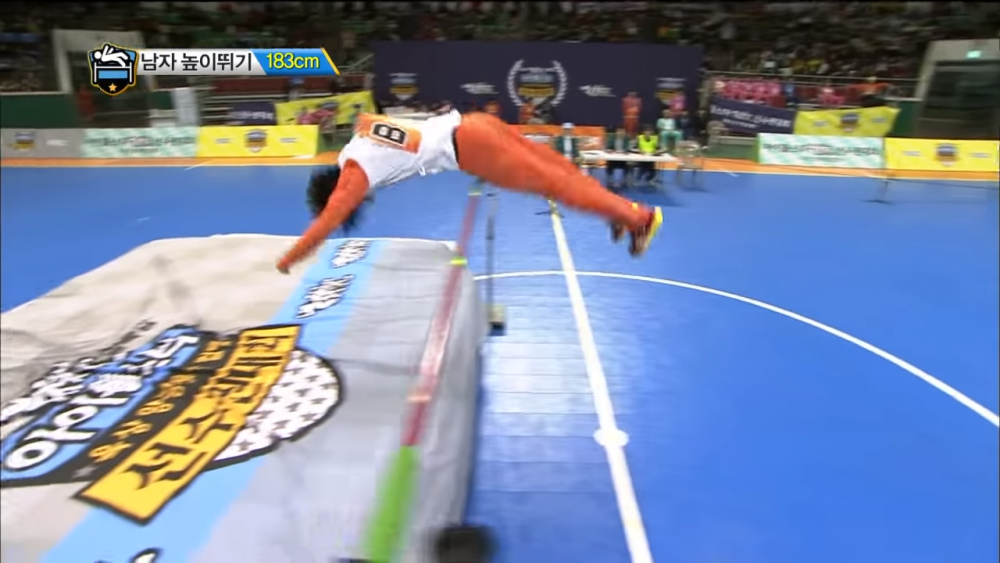 Idols are much more than what we're used to seeing when they employ their athleticism from dancing onto other areas like sports. From super speed to extreme athletic dexterity, these idols have some hidden talents that they're hiding until the optimal moment arises! Here are 6 unforgettable feats of idol athleticism:

6. "Incredible" Badminton Skills

2AM's Jo Kwon and B1A4's Sandeul teamed up as a pair in Let's Go! Dream Team II to defeat their Chinese opponents in an intense game of badminton. Knowing that the pride of their nation is at stake, Jo Kwon and Sandeul played as they've never played before... but unfortunately, the Chinese team was really good, and ended up smoking them every serve. Even though this display of athleticism wasn't the most impressive, it's certainly one of our favorites. It seems that Sandeul and Jo Kwon have a way of dancing around the court when playing.
5. Record Setting High Jump
In 2014, BTOB's Minhyuk was able to set an incredible record-setting high jump during ISAC. The high jump bar, set at 183 cm, was no problem as Minhyuk took off running and cleared it with ease! BTOB fans lost their absolute mind when he did it and fans of other groups had no choice but to sit in awe of the incredible height he got on his jump. A truly well-deserved gold medal.
4. Breaking the Camera with Accuracy
Red Velvet's ACE player Irene had an incredible feat of athleticism at the 2018 Idol Star Athletics Championships. Onlookers sat in awe as she shot her arrow with such great accuracy during the Archery competition, that she broke the camera that's set up in the center of the bullseye! Jun Hyun Moo, an MC, had promised chicken for everyone if someone was able to break the lens and Irene was able to do it! Our favorite part of this feat of athleticism is the shy, coy smile she has when she realizes she's broken the camera.
3. 5'4 Woman Wins High Jump
f(x)'s Luna defied all odds and beat out all the other female idols in the High Jump competition in 2010. Standing at a very compact 5 foot 4 inches, Luna was not expected to come out victorious, however, Luna showed everyone that she, in fact, has incredible jumping ability and agility and came forward with gold for those 5'4 and below! This one is for you!
2. Super Human Speed
No one focuses on building up his athleticism quite like BTS Jungkook. This self-proclaimed muscle pig went into maximum overdrive in a friendly relay race competition. Jungkook served as BTS secret weapon to propel to victory because as soon as Jungkook's hand was on that baton, he went 0 to 100 real quick. When Jungkook sets his mind on something, he does it no matter what it seems to take.
1. Dancer or Rhythmic Gymnast?
APRIL's Rachel was a rhythmic gymnast when she was younger and ISAC 2018 gave her the opportunity to showcase that side of her. Many found that her performance was so graceful and effortless that she embodied a human fairy with her lightness and grace. Rhythmic gymnasts make the sport look so effortless!