We know our idol's performance abilities and cultivated talents, but it's not nearly as often that we get a chance to look into the more intellectual and artistically-inclined side of their interests. Some of our favorite celebrities are known bookworms that incorporate aspects of literature into their concepts and others are simply just avid readers who always have their noses in books! Here are the top 8 idols that are total bookworms:
8. GOT Jinyoung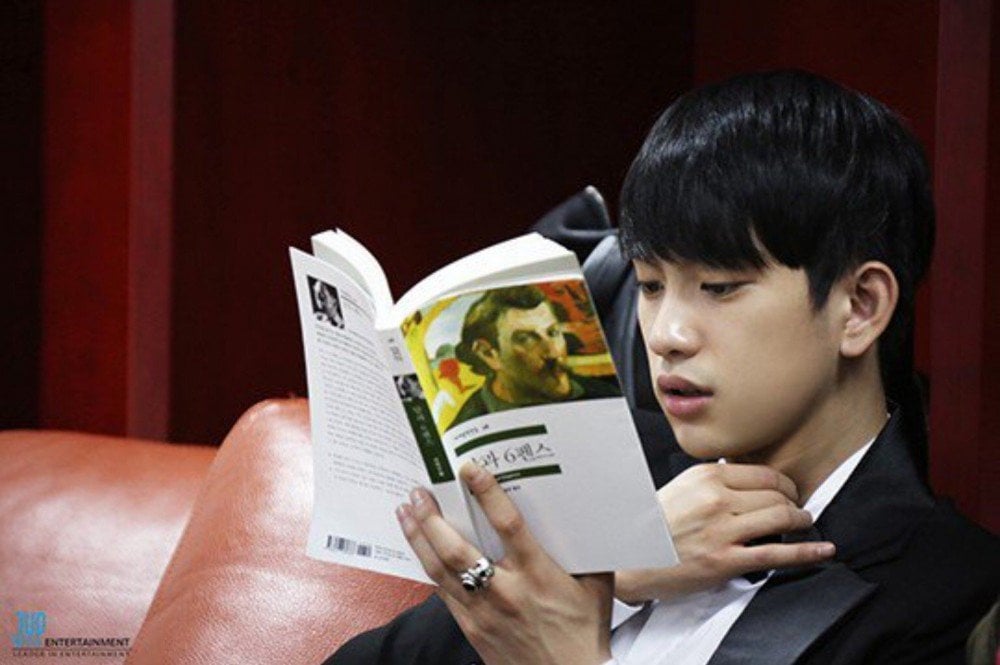 GOT7's Jinyoung is a lover of books! In an interview, he picked No Longer Human by Osamu Dazai and Rodrigo Corral, Human Acts: A Novel by Han Kang, and Little Prince by Antoine de Saint-Exupéry as his all-time favorites.
7. Red Velvet Yeri
Yeri is an idol that's known for both ravishing good looks as well as sexy intelligence! Yeri always has her nose in a book and it's clear her passion for a good read is contagious through all her book recommendations. She almost always has a book in hand when at the airport and the titles range from The Origin of Species to The White Book to Kokohaku and many more. Yeri has a passion for psychological thrillers judging by her favorite books and recent reads.
6. EXID Hani
Hani reads a lot of comics! Though she's not into as dense of material as some of her idol counterparts, she's constantly reading graphic novels and has her eyes focused on a book. Hani is well-known for giving book recommendations when asked, so next time you are at an EXID fan meeting, ask Hani if she knows any good books to read. Prior to EXID's widespread fame and popularity, Hani developed a passion for reading to pass the time and the habit has stuck ever since.
5. IU
When IU was growing up, especially when balancing her schooling and idol career, she was given a book to read as 'punishment' when she did something wrong. She has been deeply inspired by Alice in Wonderland elements and themes for multiple songs and MVs and has also been seen reading classics like the Brothers Karamazov. IU actually enjoyed her 'punishment' and recommends books now on her VLIVE!
4. NCT Yuta
In this photo, Yuta opted to reach some quotes from Lizard by Banana Yoshimoto to the fans. Yuta isn't known explicitly for being a bookworm but deserves a place on this list for his passionate recommendation of How to Win Friends and Influence People by Dale Carnegie. Yuta is known in his group for constantly watching how-to's and YouTube videos to learn information, earning him a spot as one of the major bookworms of K-Pop.
3. DAY6 Jae
Jae of DAY6 is an avid reader who constantly is recommending books in an endless stream. Jae has recommended books by Haruki Murakami like Kafka on the Shore with his favorite book actually being Perks of Being a Wallflower. In fact, Jae was once asked what his favorite children's book was, and the bookworm answered interestingly with Catcher in the Rye! What an unconventionally classic answer to a simple question.
2. Girls' Generation Seohyun
Seohyun and Dispatch had a funny relationship for a long time because the news outlet was constantly thinking Seohyun was having a rendezvous with a secret boyfriend... only to find her going to different cafes to read book after book. Seohyun is the embodiment of a bookworm idol and even Dispatch has given up on stalking her because it's 99% chance she's just looking for a place to sit, have a cup of coffee and read!
1. BTS RM
The reason BTS RM wins the title of ultimate bookworm is his ability to get a large mass of fans to read the same thing that he is. RM inadvertently started a de facto book club when it came to Hermann Hesse's Demian and is always on Twitter with recommendations on what he's reading next. He frequently includes these writers in their comebacks and concepts with nods to authors like Haruki Murakami and Le Guin. RM's influence when it comes to book recommendations has inspired a whole new portion of the fandom to pick up print again!