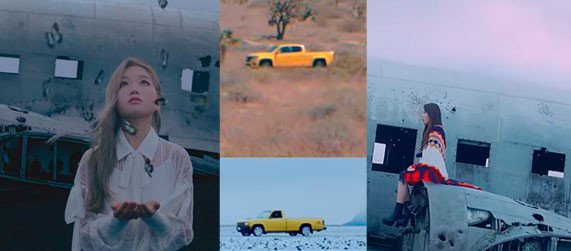 LOONA has shocked everybody after revealing a mysterious teaser called XIIX because of a few details that have been kept secret and nobody notices until now.

This new teaser XIIX portraits the member Go Won trying to reach a vehicle in a really dark road, but failing and falling to the ground. After that, she leaves herself behind and finds a damaged aircraft. Fans immediately notice the scenery and the airplane are the same used in LOONA's Haseul solo MV, "Let me in" (2016), which took place in Iceland.

Fans were shocked after re-watching Haseul's solo MV because the moment Haseul tried to shoot the other version of herself a sweet voice says "Tu ne saura pas où commencer" (You won't know how to restart). Nobody paid attention to that line until today. That enigmatic voice is Go Won's! This little secret has been kept secret for almost three years and makes the story of LOONAVERSE (the group's own fictional universe) more complex than before.


Other point fans have noticed it's a yellow car which seems to follow the girls through the different MVs. For example, the car brings Haseul to the lonely plane in order to find the other version of herself, Gowon is trying to reach that car, and finally, the subunit LOONA - Odd Eye Circle were seen in "Girl Front" with the same car. Even for a few frames in "Girl Front", the car is being focused on and a cut from Haseul's MV appears.


Fans are waiting for January 21 to come since on that day, other teasers will be released and fans expect LOONA to use the "Super Blood Wolf Eclipse", which will take place that day, as a concept.

What do you think about all these details? Is LOONA's creativity over the top? Let us know in the comment section below!