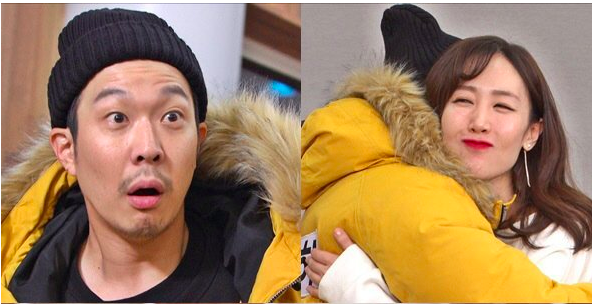 On the December 16th episode of 'Running Man', HaHa's wife, Byul made a surprise appearance and showed a 'reality marriage'.
Although Byul made the surprise appearance on last week's episode, HaHa did not know this fact because she was a part of another team. When arriving at the dorms, he was so surprised to see Byul, who arrived at the dorm before him, that he couldn't move for a few seconds, causing laughter.
After the surprise reunion, Byul revealed an episode about their honeymoon. She said, "There was a cockroach in the room, but HaHa couldn't kill it and was shaking in fear." She called him 'Coward HaHa', causing HaHa to plead, "Please stop", causing laughter once again.
On the other hand, during the games, although they were opponents, the couple was seen being sweet towards each other.