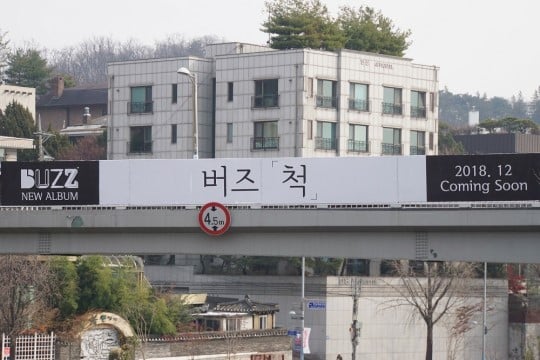 Fans of the rock band Buzz were stirred yesterday upon seeing mysterious advertisements around Seoul that read: "Buzz New Album: 'Pretend' 2018. 12. Coming Soon." Though many were excited at the news of a comeback as the band's most recent album was released in 2017, others were upset as it seemed like there would be a lack of promotion for the upcoming album.
"What kind of mysterious concept is this?? Why are they [the company] promoting the album in a way that nobody knows about it??" said a fan.
In response to fans' concerns, Buzz's entertainment company, Long Play Music, confirmed the band's comeback for this upcoming December through their official Facebook page and a news article. The title of the new album's title song is literally translated as "Pretend," and it will be released with a music video, which has yet to be filmed.
The band's lead singer Min Kyung-hoon, who is a cast member of the variety shows "Knowing Bros" and "Problem Child in House," is currently planned to star in the music video.
Buzz's nationwide tour begins on December 15 with a performance in Busan, and will continue for the rest of the year and into January of next year with additional stops at venues in cities like Seoul, Gwangju, and Daegu.