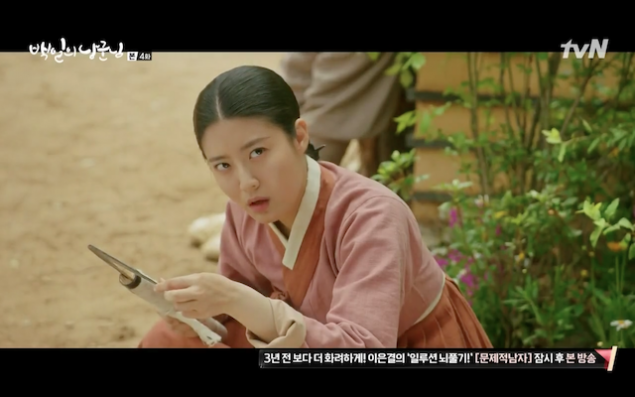 Welcome back, dear husband....
The above screen shot of Yeon Hong Shim (played by Nam Ji Hyun) fingering that sharp weapon in her hands while glaring at her husband Won Deuk (played by EXO's D.O.) may seem violent, but... honestly, she really should be cutting him down after all the trouble he caused in episode 4 of '100 Days My Prince'!
You all know the story so far: Won Deuk is really the country's crown prince Lee Yool, a stuck up prince whose heart is full of hatred and blame toward his father for ruining his life. But after being attacked by a band of assassins in the mountains, the prince loses his memory and is discovered by Hong Shim's father. His new identity, Won Deuk, is that of a dirt poor husband with no practical skills, and a very poor understanding of earning a living through hard labor.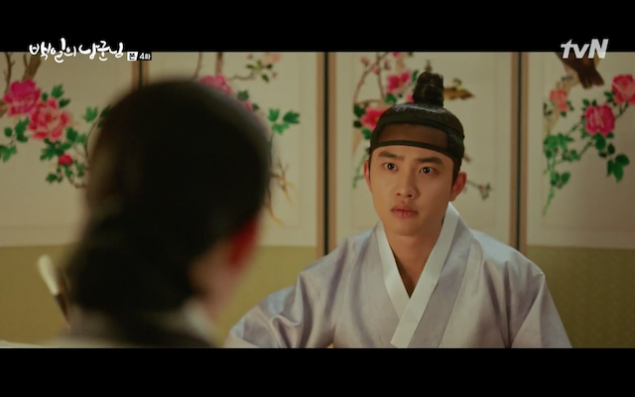 "Exactly why the f*** do I have to pay off loans?!" -said every college student ever.
So this former prince who has been pampered without worrying about money all his life, of course doesn't understand why Hong Shim is so angry about his huge debt of 30 nyang (Yes, it's a little hard to estimate how much this money is in current standards, so let's go by Hong Shim's words and just imagine, about enough money to buy a small house). In the perspective of us viewers, it can be a little frustrating to watch someone who just does not understand the concept of working and earning a wage. But I also think it's just in the nature of Cinderella stories to create these types of frustrating problems for a heroine, to test her morality and heart. In this particular Cinderella story, it's actually the prince who is comparable to the "evil older step sister". And in one sense, this version IS a little better, since the trouble maker is at least cute and has funny moments like this one: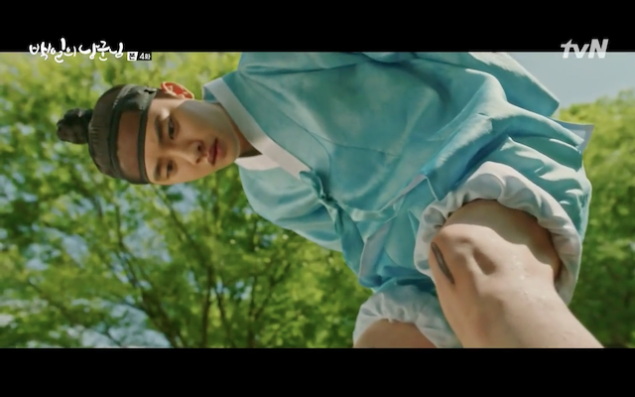 This is where E'Dawn comes in with his "da da da da, dada da~" piano playing!
But in the middle being a troublesome husband earning zero brownie points from his new wife, Won Deuk is trying hard in his own place to get his memories back. Already in episode 4, only one episode after his memory loss, the former prince is already seeing fuzzy, black and white, images of his past life when familiar situations occur around him. And toward the end of the episode, he even has an almost run-in with our #1 antagonist Kim Cha Un, experiencing what seems like a concussion, although the minor concussion isn't enough to return his memories. All in all, Won Deuk has a right to be frustrated in his own way. He just "knows" with his inner feelings that "Won Deuk" isn't his real name. But I think as the episodes progress, it'll be harder for us viewers to watch him try to rediscover his former identity as Yool, because we'll start to grow fond of the helpless and awkward Won Deuk more and more. I can already picture Yool/Won Deuk's inner struggle as he's forced to abandon his wife, our dear Cinderella Hong Shim, behind the tears in my eyes... /sobs/.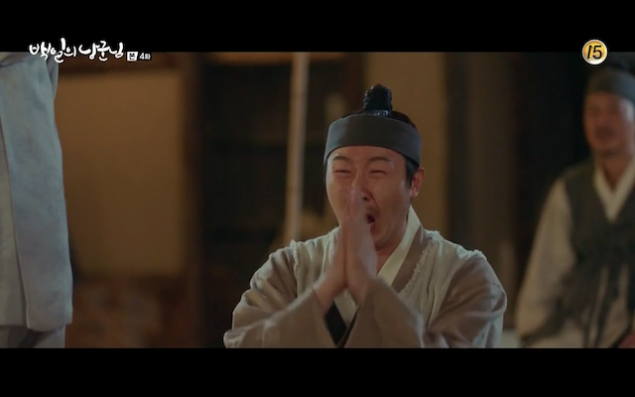 NO I DIDN'T POKE MYSELF IN THE EYE TO FAKE CRY LIKE THIS GENIUS TAUGHT US, OKAY!
Meanwhile, Kim Cha Un's servant/black assassin Moo Yeon (played by Kim Jae Young) and the royal police chief Jung Jae Yoon (played by Kim Sun Ho) start up a tense hide and seek of their own. It turns out, one of the nobles' sons serving the crown prince was none other than Kim Cha Un's son, also making him the prince's brother-in-law. The brainless brother-in-law Kim Soo Ji takes Jung Jae Yoon out for a drink and in his drunken state, spills a royal secret to the police chief. Now aware that the crown prince is missing, Jung Jae Yoon goes back to the case that the crown prince himself told the police chief to stop investigating. Jae Yoon sets out to discover the owner of the mysterious arrow just like Yool did just a few episodes ago, and Moo Yeon is forced to commit yet another murder.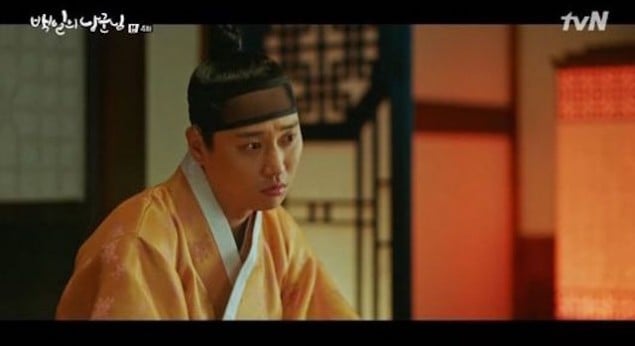 Me when I see this guy: "Keep those drunk secrets coming, good man."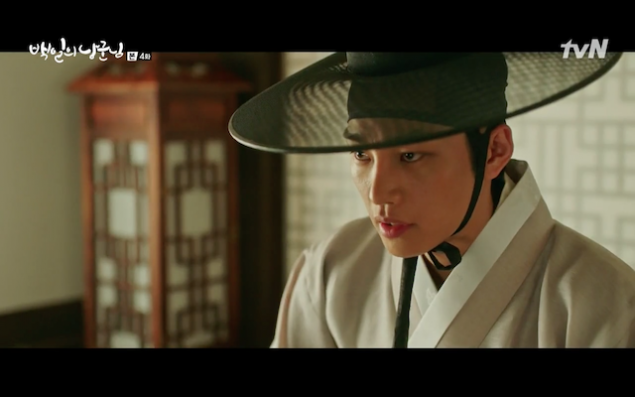 Me when I see this guy: "You stop killing people so much!"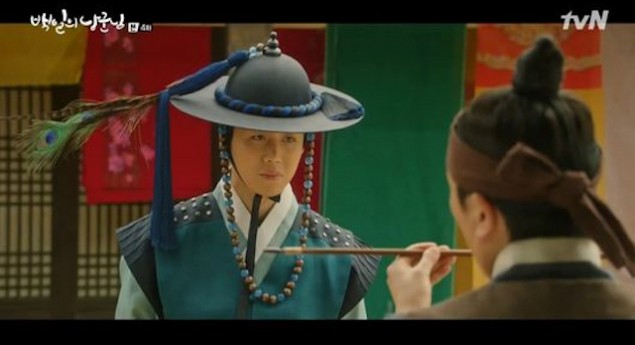 Me when I see this guy: "Uhh...... do you have a crush on the prince or something?"
Oh, let's not forget this brief and strange encounter that Jae Yoon also had with the courtesan woman. Taking a wild guess here, I'd say this pretty courtesan's role won't go quite as far as to become Jae Yoon's love interest, since Jae Yoon seems to be gunning for Hong Shim. But the rule of thumb in historical dramas is that courtesans who service upper class aristocrats, know LOTS of secrets. She'll be more like a trustworthy informant for Jae Yoon? Who wants her to become his love interest instead?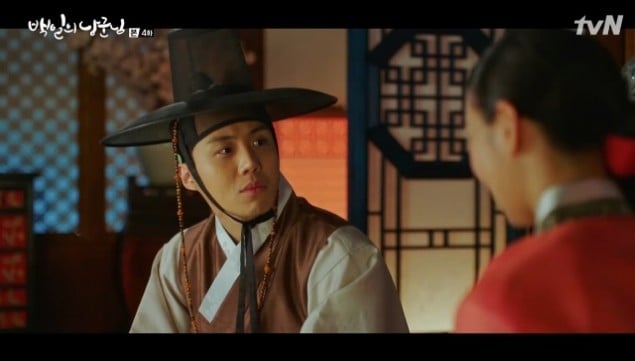 The face of a man who desperately does not want to find out he's a new daddy.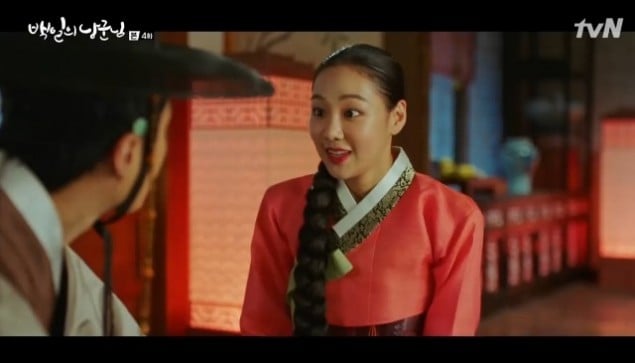 Oh thank goodness, you're not a new daddy, you just saved this girl's life once. Good job, dude.
At the end of episode 4, I found myself wanting more content and just... more in general, which is a good thing, right? It means the drama is keeping me interested, has me looking forward to watching more episodes. On the other hand, not as many of the other characters aside from Hong Shim and Won Deuk got as much screen time. And for me, a drama which is capable of telling multiple stories simultaneously is very important. So for episode 4 only, I chose to cut out just a point from pacing, in hopes that more unique and interesting little stories will bloom next week. Also, congratulations to '100 Days My Prince' for surpassing 7% in viewer ratings, for a cable station drama!
SCORE
Plot......................................8/10
Performance.......................7/10
Pacing..................................6/10
OVERALL.........................7/10