While filming for the Chuseok special '2018 Idol Star Athletics Championship' edges closer as it takes place tomorrow, August 20 KST, at the Goyang Indoor Stadium, netizens' complaints regarding the program's new camera/bag check policy are not dying down.
According to the fan support notices of most idols attending the 'ISAC' filming tomorrow, the "security will be carrying out bag checks before entry. If even one person is found carrying a camera, it may result in denial of entry for the entire fanclub with dismissive measures, so please take caution." Various notices claim that the bag check applies not only toward large DSLR cameras, but "camera equipment of all types capable of recording footage".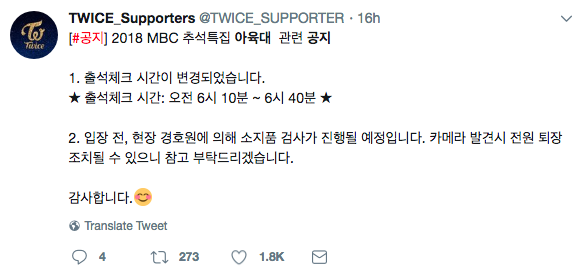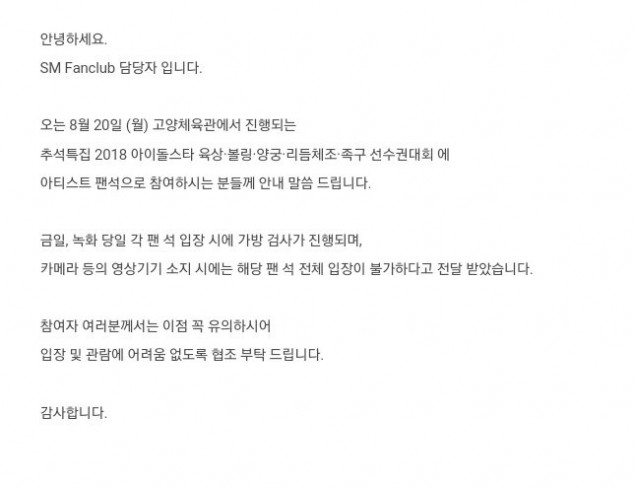 Netizens are outraged with the newly instated security measure, claiming that it will not only extend the filming period longer for audiences and artists, but also an infringement of privacy, etc.
Check-in for audience members starts in the morning around 6 AM. Many netizens commented that "we're held up in there for 12+ hours for an event we paid to watch, with no food and overcautious mistreatment, we don't even get paid like all the other broadcasts with audiences, and now we can't even take pictures", "Even in schools these days, they got rid of personal item inspection because of infringement issues", "Every year, they put idols and us fans through all this hardship just for their viewership ratings", "If we can't have our cameras, you're telling us to sit there and watch our idols working hard and getting injured all day? We go to this and watch this to see our idols interacting with others and having fun with one another, not for your dumb games", etc.
Other onlookers worried, "So what if somebody gets caught and nobody can go in? Do our boys have to sit there with empty audience sections?", "You're just asking for an empty audience", "This is crazy", "The people who will find a way, will find a way. This is a waste of time", "There's always a way to sneak it in", and more.
Do you think the '2018 ISAC' will enforce the camera/bag check rules strictly?