Shim Eun Jin
 is taking legal action against a netizen who constantly spread malicious rumors about her. 
On July 11, Shim Eun Jin shared a screenshot of a malicious comment, stating, 
"I heard Shim Eun Jin and Kim Ki Duk are sex partners. Is this just a rumor? I heard a video is about to spread online." 

Under the comment Shim Eun Jin replied, 
"You made a stupid act once again despite my first warning. I will no longer tolerate or come to an agreement. I have collected all the data, and this time, you have defamed my character and spread false information, so I'm planning to report it to the police tomorrow. I hope you sleep well tonight."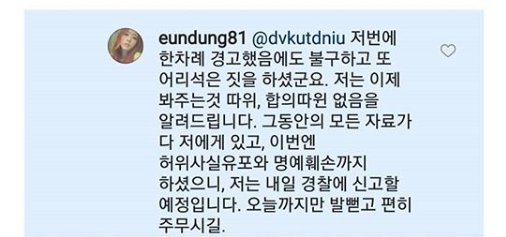 The netizen was revealed to be a female stalker of actor Kim Ki Duk. She has been sued by Kim Ki Duk for stalking, defamation of character, and insult. Kim Ki Duk's lawsuit against the stalker is ongoing. The actor apologized to former labelmate Shim Eun Jin for the harm. 
It's assumed the stalker attacked Shim Eun Jin, who seemed to be close friends with Kim Ki Duk.
Following Shim Eun Jin's notice of legal action, the stalker left multiple comments of apology and asked Shim Eun Jin for forgiveness. The stalker stated, "I was requested to pay 3 million KRW (2,674 USD) in fine for Kim Ki Duk's case. I'm sorry. I became very sensitive because of this so ended up threatening you." She added, "I won't visit your Instagram again. Please don't report me."
Shim Eun Jin refused her request and sternly stated, "I am going to be taking strict legal action. I have about 180 screenshots. I'm going to the police today."