This is Way Back Wednesday where we feature a blast from the past.
Once upon a time, long before infamy claimed his name, Yoo Seung Joon was praised as one of the most noteworthy stars in the Korean entertainment industry. He made a breakthrough with his very first song, "Gawi", and every album he released thereafter contained at least one major hit that earned him greater success. Unfortunately, his ride to superstardom came to a screeching halt after he was banned from ever returning to Korea.
SEE ALSO: Deported 90s star Yoo Seung Joon says he won't give up no matter what people say
The Rise
Born in Seoul in 1976, his family moved to Southern California when he was a kid. After finding a passion for music, Steve Yoo [Korean name: Yoo Seung Joon] started sending in demo tapes and videos of himself to various Korean agencies in the mid-90s. After failing numerous auditions, his potential was finally recognized by Brothers Entertainment, who signed the rapper and brought him back over to the motherland. Yoo Seung Joon debuted under his Korean name in March of 1997, and instantly became the cool guy in the industry.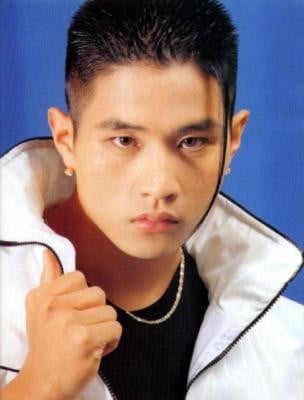 That infamous hairstyle that many Korean American males rocked in the 90's, one long bang hanging down the side.
Back then, idol stars didn't have eight-pack abs or a gangster boy swagger. They were pale and skinny, dressed in uber baggy wide-legs (think JNCO's) with oversized polo tees; oftentimes, these male idols were part of a boy band, who walked the tight line between 'emo' and 'aegyo' in terms of stage concept and musical style. Yoo Seung Joon, on the other hand, worked alone, and he exuded an "American bad boy" charm that took the industry by storm. He was the first solo artist to incorporate the flavors of American rap to Korean pop music in a way that was fresh and new. Contrary to American rap artists who sought to reflect the inner-city issues of urban crime and violence through their lyrics, Yoo Seung Joon simply sang what all the other K-Pop idols sang about -- dreams, heartache, and sometimes about falling in love with older women. 
One of the earliest idols who started the trend into having more muscular bodies.
He earned Korea's respect as a triple threat with his good looks, phenomenal dance moves, and fluid rap skills. Sure there was competition, but being the first of his kind, he didn't have rivals that were even close to his style.

His first album was titled 'Westside Story' and right off the bat, he secured his first #1 with "Gawi." It topped several music programs week after week, and his 'scissor' dance became a nationwide sensation. After "Gawi," he performed "I Love You Noona," which didn't score as far as #1, but was still considered to be a major hit. His second album 'For Sale' was released the following year, and did equally well, if not better than his first. Now that the audience knew both his face and his story, he developed a good fanbase. 
His popularity skyrocketed with his title track, "Na Na Na," a great song about youth and dreams which featured actress Choi Ji Woo in its MV. Playing the role of a 'rebel without a cause', Yoo Seung Joon once again secured #1 on programs like MBC's Music Bank and SBS's Inkigayo. His song even won the "Best of the Best" song award at the end of 1998. 

Then came 1999. The new millennium was dawning, and the singer was flying high. Although he was consistently doing well for himself, the real climax of his career came in '99 and continued onto 2000. Yoo Seung Joon essentially made 1999 his year with his 3rd album, 'Now or Never.' He wiped out all sorts of competition with his songs "Passion," "Sad Silence," "Vision," and "Love Song," with "Passion" earning the distinguished title of being the best song of the first half of the year. It was a substantial career achievement, since "competition" in 1999 meant that you were up against some of the hottest idol stars of all time, like H.O.T, Shinhwa, Sechs Kies, S.E.S, Fin.K.L, Koyote, and g.o.d.

The Downfall
Despite his "Westside bad boy" reputation, Yoo Seung Joon actually had a wholesome image off-stage that made him a favorite amongst teenage fangirls and ahjummas alike. He publicly spoke out on how he ran with the wrong crowd in California, but now, he was a different man walking the right path. He seemed genuine and served as a role model for young kids. Yoo Seung Joon soon became the nation's icon, representing all things upright and proper. Being involved with charities and volunteer work, he even earned a corner on KBS's 'Laughter Heaven' called "Steve Yoo: Beautiful Youth." With his easygoing smile, he earned the trust of the entire nation, so they believed him completely when he gave them his word: he would follow the law for all Korean males and serve a few years in the military. 
The nation was shocked beyond belief when it was soon revealed that he had given up his Korean citizenship and gained legal immigration status in the States. This of course exempted him from serving in the Korean military, and suspicions immediately arose of intentional dodge-drafting. Suddenly, no one cared that he was one of the biggest stars in K-Pop. In an instant, he was deemed a hypocrite, a liar, and a criminal. There was a scene when he returned to Korea from the States and was prohibited from stepping outside the airport. Just like that, his career as he knew it was over, and he was forced back to the States on the next available flight.

His side of the story was that he had grown up in the States and didn't realize just how significant serving time in the military was. He had already applied for U.S. citizenship long before, but after publicly announcing he would serve, he requested the application to be withdrawn. When he was visiting his parents in California, he received notice that his application had been processed and approved. Still, he argued, he meant to be a man of his word and enlist, regardless of his status. Yoo Seung Joon had also argued that his actions and public speeches were directed by the agency, since he was contracted under them. He only spoke and answered according to how his agency instructed him to, and so he couldn't quite explain himself as freely as he wanted. He never meant to intentionally dodge military service, and that the entire thing was the result of a series of unfortunate coincidences. The star had an interview with tvN to explain his situation, but no matter how many times he tried to fix his damaged reputation, the public simply turned their backs and refused to acknowledge him as anything more than a traitor. The ban took place in 2002, and years later, he's still prohibited from entering Korea. He was permitted back only once in 2003 for his father-in-law's funeral.

Asking for Forgiveness
Currently, Yoo Seung Joon is active in the Chinese entertainment industry under Jackie Chan's agency. He is currently pursuing a career in singing as well as acting, and made his big-screen debut in mainland China with 2010's 'Little Big Soldier', which starred Jackie Chan himself. Yoo Seung Joon still has hopes of returning to Korea one day, but rather than stepping foot on stage, he seeks forgiveness from his own people. Unfortunately for him, things went sour after a botched live broadcast in 2015 and filing a lawsuit to force the Korean government into giving him a Visa.
Perhaps with more time, the people's anger against him will eventually burn out and he'll be allowed to comeback not only as a citizen, but as a performing artist. However, he needs that to be sooner than later as father time is undefeated.