In the K-Pop world, girl groups are trending and they have been trending for a while--but which girl groups can we really say are the reigning queens of 2014? 
Gaon Chart has decided to find the answer by seeing which girl groups have come out on top in terms of sales. To assess the data, Gaon Chart has organized three different charts: the first compares girl groups' digital song sales, the second compares album sales, and the third compares overall sales. 
SEE ALSO: [Interview] Ask anything and everything: Send us your questions for Minzy!
Digital Song Sales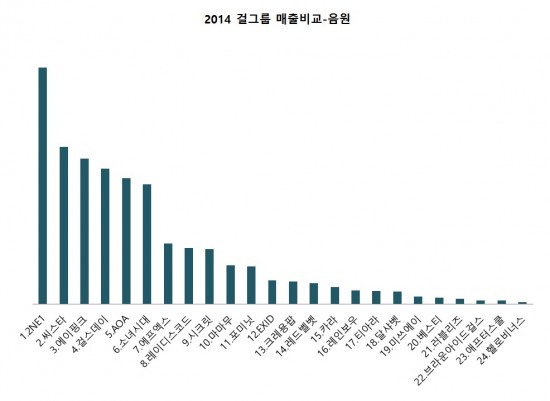 According to Gaon's data, 2NE1 takes first place in terms of accumulating the most digital song sales. In fact, 2NE1 is noticeably on a level of their own, as their sales are significantly higher than that of anyone else. 2NE1's success is mainly due to their comeback single "Come Back Home," which stayed at first place on the charts for two consecutive weeks and was also number one on the Gaon monthly chart for March 2014. 
Second place belongs to SISTAR. However, SISTAR earned their enormous amount of sales not necessarily via their group-released songs, but via their more popular collaborations, in particular Soyu's collaboration with JungGiGo, "Some." Gaon stated that for every 100 sales Soyu made with her collaborations, SISTAR as a team would make 86 sales with their songs. 
A Pink takes third place due to the success of their two songs "Mr. Chu" and "LUV." The rest of the rankings goes as follows:
1. 2NE1
2. SISTAR
3. A Pink
4. Girl's Day
5. AOA
6. Girls' Generation (including TaeTiSeo)
7. f(x)
8. Ladies' Code
9. SECRET
10. MAMAMOO
11. 4minute
12. EXID
13. Crayon Pop
14. Red Velvet
15. KARA
16. Rainbow
17. T-ara
18. Dal Shabet
19. miss A
20. BESTie
21. Lovelyz
22. Brown Eyed Girls
23. After School (including Orange Caramel)


24. Hello Venus
Album Sales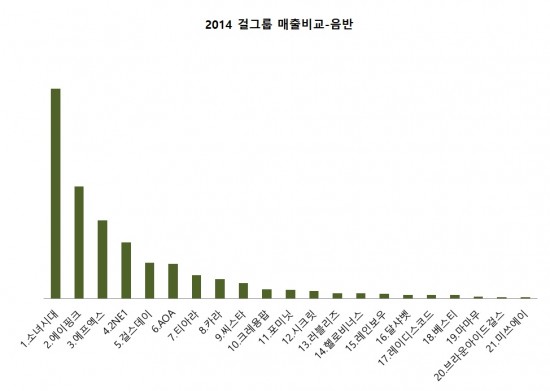 In terms of album sales, Girls' Generation takes first place. Although their digital sales were not as strong as that of 2NE1, SISTAR, or A Pink, Girls' Generation sold a combined number of around 289,000 'Mr. Mr.' and 'Holler' albums. This is an impressive figure in the K-Pop industry that, as shown in the above chart, leaves other girl groups in the dust. 
A Pink makes an appearance in the top three again, this time in second place, selling around 155,000 copies of their 'Pink Blossom' and 'Pink LUV' albums. f(x) comes in at third place selling 107,000 copies of their album 'Red Light'. 
The rest of the album sales rankings goes as follows: 
1. Girls' Generation
2. A Pink
3. f(x)
4. 2NE1
5. Girl's Day
6. AOA
7. T-ara
8. KARA
9. SISTAR
10. Crayon Pop
11. 4minute
12. SECRET
13. Lovelyz
14. Hello Venus
15. Rainbow
16. Dal Shabet
17. Ladies' Code
18. BESTie
19. MAMAMOO
20. Brown Eyed Girls
21. miss A
Overall Sales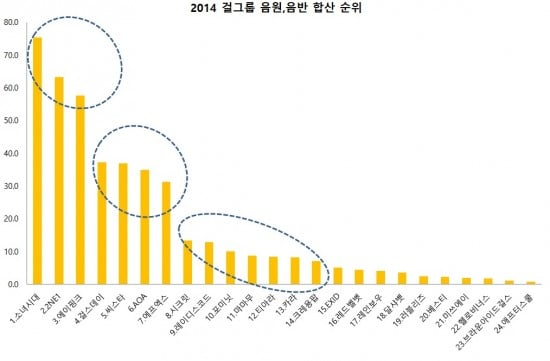 The above chart was calculated using a 50:50 ratio of digital songs to album sales. According to Gaon's calculation, Girls' Generation wins in terms of overall sales while 2NE1 is not too far behind with second place. Third place belongs to A Pink, showing the girl group's power to stay in the top three in all three charts. 
The rest of the overall sales rankings go as follows:
1. Girls' Generation
2. 2NE1
3. A Pink
4. Girl's Day
5. SISTAR
6. AOA
7. f(x)
8. SECRET
9. Ladies' Code
10. 4minute
11. MAMAMOO
12. T-ara
13. KARA
14. Crayon Pop
15. EXID
16. Red Velvet
17. Rainbow
18. Dal Shabet
19. Lovelyz
20. BESTie
21. miss A
22. Hello Venus
23. Brown Eyed Girls
24. After School
[Thanks to everyone who sent this in.]