Sooyoung (24) is the next Girls' Generation member reported to be in a relationship this new year and the mystery boyfriend is none other than actor Jung Kyung Ho (31), whom she has been rumored to be dating several times before.
Rumors of the two dating previously made headlines back in February and again in October of last year to which Sooyoung and Jung Kyung Ho stated that they were just church buddies and sunbae and hoobae, having attended the same school.
The rumor is back, this time through 'Sports Seoul's exclusive, who say that the pair have been dating for a year, starting around the time Jung Kyung Ho was nearing the end of his military service term. To back up their claim, they are providing photos and video of the two on a date.
The couple were also apparently spotted enjoying a Christmas Eve party at Sooyoung's house in Nonhyeondong, Seoul with her older sister Choi Soo Jin and friends. Prior to the party, Jung Kyung Ho was seen entering a Chanel storefront at a department store in Apgujeong to pick out a present for Sooyoung. However, 'Sports Seoul' states that the couple often enjoy movie and car dates together, trying to stay away from the public eye.
Stay tuned for official statements, but in the meantime, you can check out the video clip released below to see for yourself.
SEE ALSO: [Interview] Ask anything and everything: Send us your questions for Minzy!
[Update] - SM has now confirmed that the two are indeed dating! The agency revealed that they do not know the exact time period when the two started their relationship, but they commented to several media outlets, "The dating rumors are true. While they were close as sunbae and hoobae last year, their relationship progressed into that of a couple... Please watch over them fondly."
[Update 2] - Jung Kyung Ho's reps have now also confirmed. They stated, "He and Sooyoung are dating... We are sorry that we did not respond truthfully the two or so times the rumors were reported. At the time, when we asked Jung Kyung Ho, he had said that it wasn't true so we had responded that way before. We are sorry. We will reveal our official statement soon."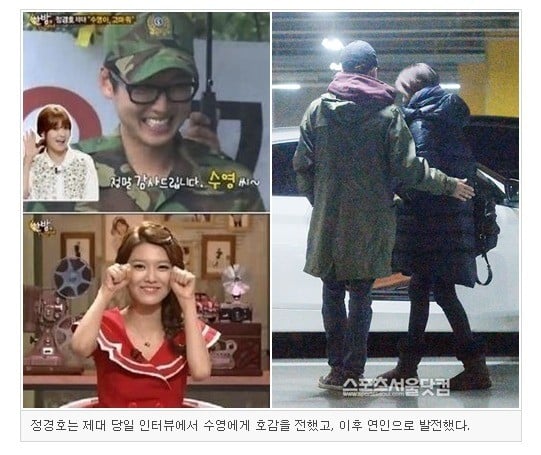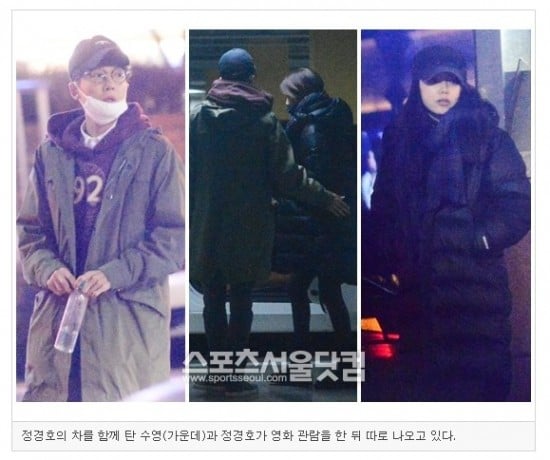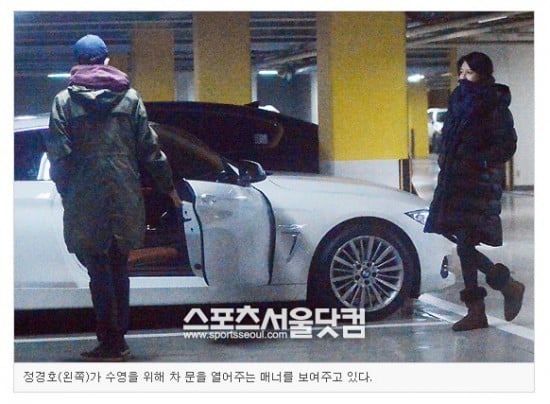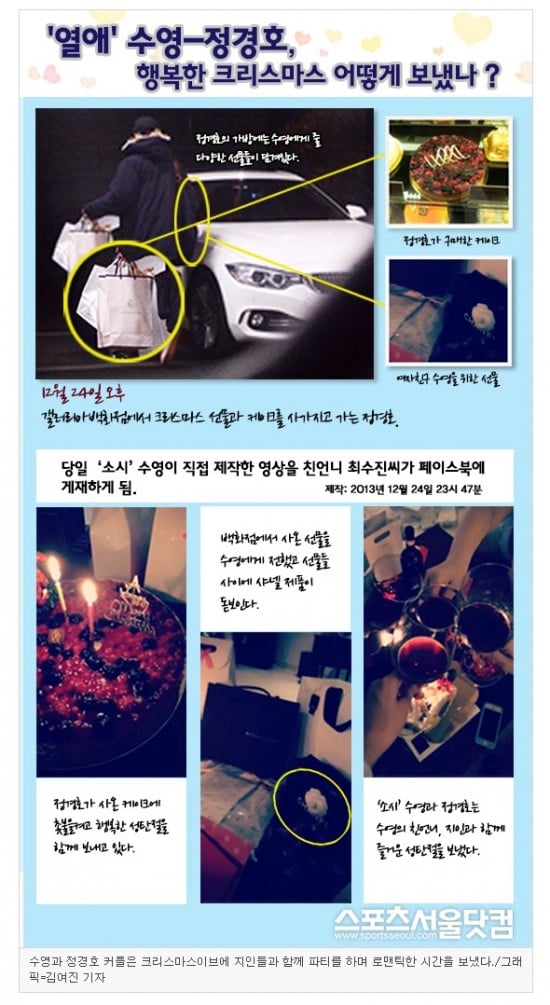 Congratulations to the Sooyoung and Jung Kyung Ho!