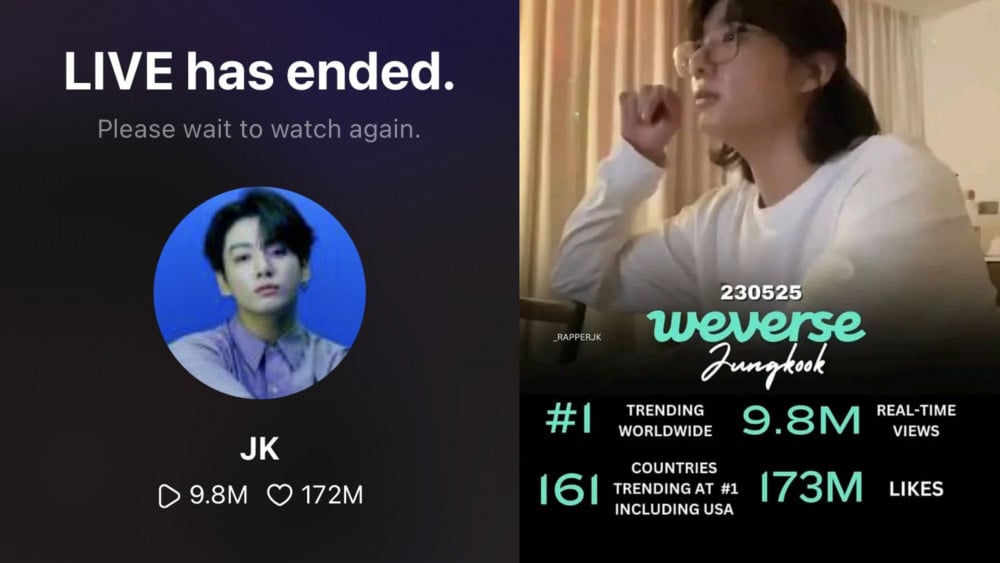 BTS's Jungkook, a social media sensation and esteemed vocalist in the entertainment landscape, has amassed a significant global following, entranced by his compelling charisma and immense talent. Recently, he delighted fans with with a recent Weverse Live session, Jungkook shared engaging anecdotes and treated his audience to his mesmerizing singing skills.
During his Weverse Live session on May 24, Jungkook created an intimate virtual space, engaging with fans, offering insights into his daily life, and performing a variety of requested songs. This interactive event captured the attention of a remarkable 10 million real-time viewers, attesting to his widespread popularity. The setlist for the session was diverse, featuring songs like Night Dancer, Super, That's Not How This Works, Seed, Shoong, Angel Pt1, The Planet, Cupid, Fighting, and more, showcasing the broad range of Jungkook's musical palette.
Not only did he break records, but he also managed to achieve an astounding five #1 trends Wordwide on Twitter. His popularity knows no bounds, with his live broadcast trending in a remarkable 161 countries, showcasing the true extent of his global fanbase.
Furthermore, the impact of Jungkook's social media presence cannot be underestimated. His name generated a millions of mentions and goes viral with countless videos having millions of views on Tiktok, due to a simple post or live, demonstrating the immense attention he commands.
The songs he played or sang during his live quickly climbed the real-time Melon hot searches, solidifying his influence over music charts and proving his ability to create waves in the industry.
The singer of the song 'Night Dancer,' Imase, thanked Jungkook on Twitter, Instagram stories, and specially did a live on Instagram.
Jungkook's popularity transcends international boundaries, captivating not only his global fanbase but also the Korean community platform theqoo. Numerous posts highlighting Jungkook have created a whirlwind of fervor, captivating Korean netizens and fueling extensive discussions. His exceptional talent, complemented by his modest disposition and sincere connections with fans, has undeniably played a pivotal role in his overwhelming domestic popularity.
Jungkook's social media power is a force to be reckoned with. His ability to dominate worldwide trends, amass millions of views, and create a global buzz is a testament to his immense talent and popularity.