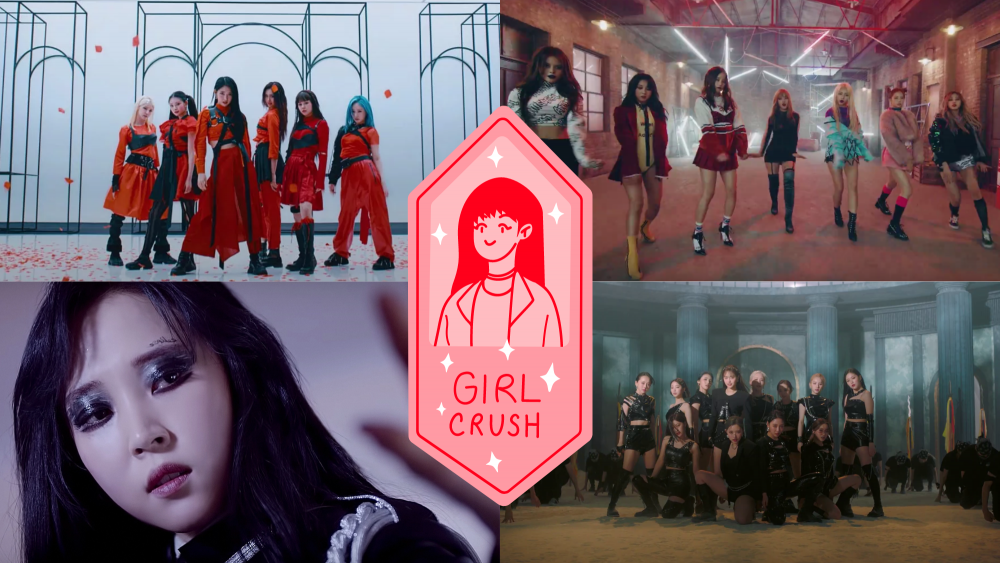 "Girl Crush" is a concept that is sexy, cool, and badass. It is a way for girls to express their admiration for other girls without it being sexualized.

K-Pop has embraced the Girl Crush concept and has produced some fantastic songs. Here are some of K-Pop's best Girl Crush concept songs.

2NE1 - Crush
This song is the epitome of a girl crush. The real badass queens of K-Pop are showing us what it means to have swag and the most incredible energy on stage.
4Minute - Crazy
When talking about Girl Crush concepts in K-Pop, these girls are definitely top of the list. The beat goes hard; this song is literally eight years ahead of its time.
EVERGLOW - First
If you need a 4th gen K-Pop badass queen, it's them. The instrumental, choreography, and how badass these girls look in the MV make this song so epic, not to mention that the concept is typical of boy groups, not girl groups.

CLC - Hobgoblin
You cannot miss this song in a "Girl Crush" playlist. This song is way ahead of its time. Imagine if it was released today when it is filled with the Girl Crush concept everywhere; this song would have blown up the charts and gone viral everywhere.

Miss A - Bad Girl Good Girl
This iconic debut shook the K-Pop industry back in 2010. The music video is very simple, but it highlights the girls' talents and vocals perfectly.
SNSD - The Boys
Girls' Generation will live on for generations with this iconic masterpiece. 11 years ago today, and the song still is amazing, and even if you just got into K-Pop, you MUST KNOW THIS SONG.
Moon Byul - Eclipse
Is there anything that the members of MAMAMOO cannot do? Moon Byul is so amazing for this. She is really breaking barriers and gender stereotypes and is doing it with such a class. She is brave for doing this concept, being a female in this kind of industry.
ITZY - Mafia In The Morning
ITZY always shines with whatever concept they do, but this one, in particular, is just absolutely cool. This song is crazily addictive, on top of their insane visuals. You can feel their power and confidence. It's impossible not to fall in love.
BLACKPINK - How You Like That
This song has it all; loud, outgoing beats, sassy rap, and a whole attitude. It's a textbook definition of a girl crush concept. Plus, the lyrics that sing "look at you now look at me," just scream badass.
f(x) - Red Light
During an era where K-Pop girl groups were marketed toward a male audience, f(x) had their targets on a female audience, hence why they stood out among other groups during their time and were known as trendsetters for their experimental sound.

LOONA - Paint The Town
If you need a powerful girl power anthem that exudes sexiness, power, and pure badass, this is the perfect song. It's a song that will give you goosebumps every time you hear it because of how good it is.
(G)I-DLE - Nxde
If you need a mascot or visualization of a badass, it's these girls. Beyond just a girl crush concept, they are the only group in K-Pop right now that actually dare to do these kinds of concepts, and we are here for it!