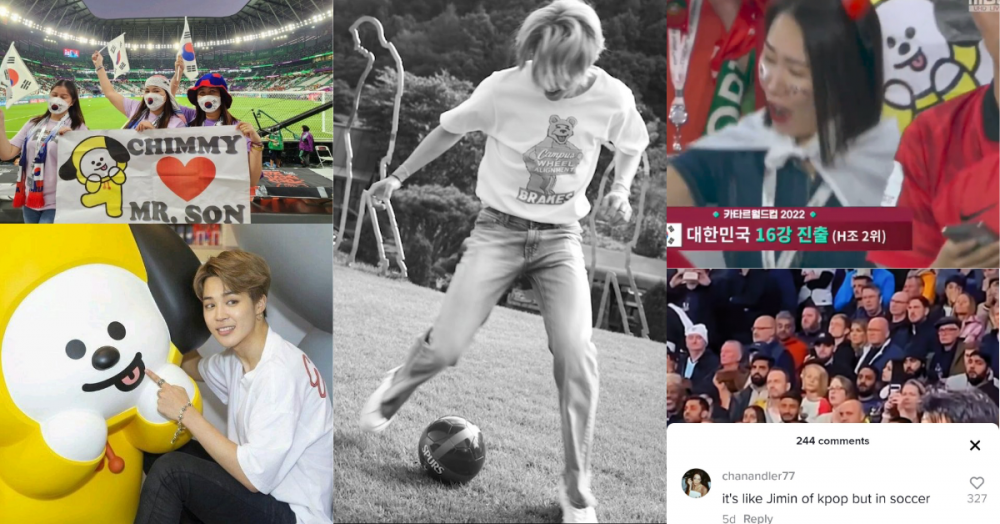 The FIFA World Cup this year is taking place in Qatar. Although not linked to any of its official activities, BTS's Jimin and CHIMMY went viral among fans of the beautiful game of football/soccer.
On the 2nd of December, during the broadcast of the South Korea vs. Portugal match at the World Cup, Korean media outlets MBC and SBS also showed Jimin's representative character CHIMMY on a sign which was held by South Korean fans in the stadium, showing support for Son Heung-Min and the team.
Later on the 7th of December, Korean media elevated CHIMMY to the status of "Victory fairy" after a CHIMMY placard was spotted in the stands of the match. The nickname was received after the advancement of South Korea through to the knockout stage. Fans who unexpectedly saw CHIMMY quickly shared images to express their delight and surprise.
BT21's CHIMMY was carefully created by Jimin and ranked for two years as the favorite character among fans in 2021 and 2022. It is a character that has established strong popularity worldwide and sells out every time new merch is released. Celebrities like Westlife's Shane Filan, Pop star Halsey, US TV Host Jimmy Fallon, French Columnist Gerard Collard, Olympic Gold medalist & Pro Golfer Park In Bee, and American drummer and musician Luke Holland have previously been seen with CHIMMY merch.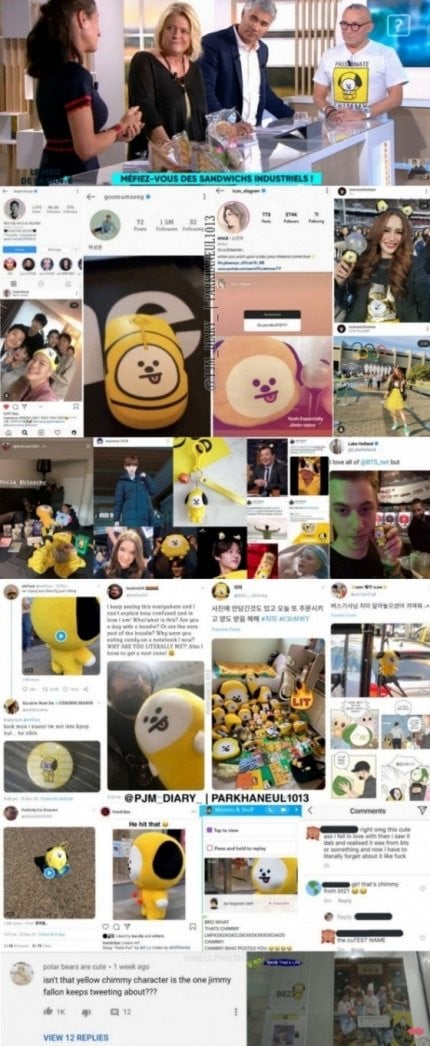 In the same way, Jimin, who is incredibly popular among Brazilian fans and locals, proved his 'K-pop front man' status during the world cup. On Twitter, netizens mentioned Jimin during the event's opening celebrations, with some thinking that Jimin would be/was performing. Jimin was also brought into the discussion during South Korea's match with Brazil when Brazilian netizens talked about his inclusion into the game thanks to his skill; others were asking when they would be seeing him play.
A lot of Brazilian verified accounts also joined the conversation. BRAHMA CERVEJA one of the oldest and the most popular Brazilian beer companies replied to a tweet by Brazilian news and media outlet CHOQUEI recording Brazil and South Korea's '4-1' score with, "Jimin believing in a turnaround," as a caption to a picture of Jimin seated and holding a can of beer from the brand. Fans who saw this eagerly wished that the company would one day sponsor Jimin's solo concert, since it is the official sponsor for the Brazilian national football team.
Zé Delivery, a Brazilian online platform that sells a wide range of beers, replied to the comment by BRAHMA CERVEJA with, "Everything is going to be fine Jimin 🫂💜," to show support. Desimpedidos, an entertainment, football, and humor YouTube channel, expressed pride at Brazil's win by offering Jimin a consolation hug. Fans created video edits of Jimin and Brazil's Richarlison de Andrade, whose goal-scoring flip kick was merged with Jimin's aerial flip from BTS' "We are bulletproof pt.2" routine. On TikTok, netizens were also quick to point out the popularity of South Korea's Captain Son Heung-min in football, comparing it to that of Jimin in K-pop.
Jimin is not only an excellent singer, performer, and dancer. He also exudes brilliance in Sports, especially football, which he played during his school days as part of a team. He has showcased his skills on several "Run BTS" and "In The Soop" episodes. This has led to him being a favorite among Brazilian football fans. In November of 2020, Brazilian football team, Gremio shared a cryptic post with several emojis, including the South Korean flag; the post elicited responses with Netizens mentioning BTS Park Jimin, thus 'Jimin no Gremio'(Jimin in the Gremio) was born. Jimin was even edited into the team's uniform, and the photos were shared across social media.
In August of last year, Brazil's prestigious football team Flamengo also shared an edited photo of Jimin wearing the team's full gear complete with matching hair color, on Twitter. Following the release of his skin for the Garena Free Fire global collaboration with BTS, Brazilian gamers once again showed their enthusiasm, expressing how much they would like to wear it whilst playing; he went viral on TikTok because of this.
Among Sports personalities worldwide, Jimin is well-known and loved. They include Olympic Gold medalists in short-track speed skating (Lee Yu-Bin), Figure skating (Yuzuru Hanyu), Volleyball (Douglas Souza & Kim Yeon-Koung), Golf (Park In-Bee). In football, he has received recognition from Tottenham Hotspur's Son Heung-Min, Germany's Toni Kroos (Real Madrid), Colombia's James Rodriguez (formerly Everton now Olympiacos FC), Japan's Yuto Iwasaki (Sagan Tosu), and France's Djibril Cissé among others.