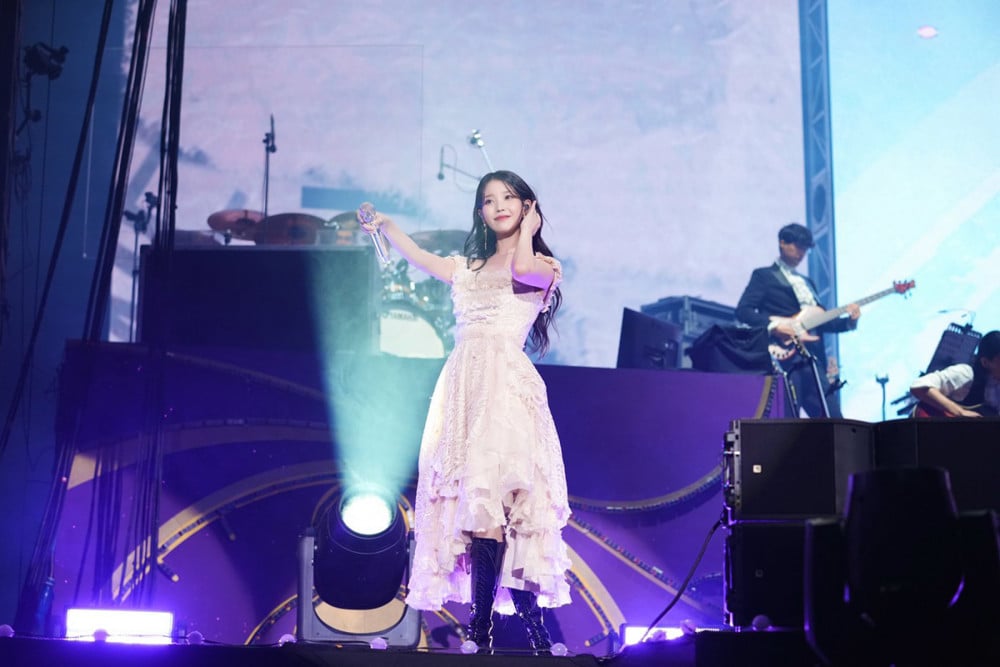 This past weekend from September 17-18, IU successfully held her 2022 solo concert 'The Golden Hour: Under the Orange Sun'.
The concert represented monumental moments in more ways than one. First, IU has officially become the first ever Korean female artist to hold a solo concert at Jamsil Olympic Stadium, one of the biggest performance venues in South Korea. Second, the concert marked IU's first concert after turning 30-years old.
During the second day of the concert on September 18, IU made an announcement before performing her hit song "Palette". The singer said, "Today is the graduation day of a song that I love dearly. I wrote and composed this song when I was 25-years old, and it is a song that I have cherished and sang on stage. But after today, I plan on leaving this song with 25-year old Jieun. Without me knowing, I have now come to the age of 30, and so I hope to meet more precious songs at this age."
IU continued, "I felt that there was no real reason for me to hold onto this song without letting go. So after today, this song will gradate from future set lists."
After performing "Palette", IU also announced the graduation of another one of her mega hits, "Good Day". She revealed, "This song has become well-known as one of my representative songs. It will also graduate from future set lists after today, along with 'Palette'."
IU jokingly added on, "I am now 30 years old. I sang this song when I was 18. The lyrics go, 'I like oppa', but I don't know if there are many oppas around anymore. It is a song that I can call one of my biggest hits, and the song that brought me fame. I sang it many times on many different stages, and I have so many memories with it. But from now on, this song will not be on future set lists for a time."
Meanwhile, IU successfully performed in front of approximately 85,000 fans during her 2-day concert, 'The Golden Hour: Under the Orange Sun'.

What do you think of IU graduating her songs "Palette" and "Good Day" from her set lists?