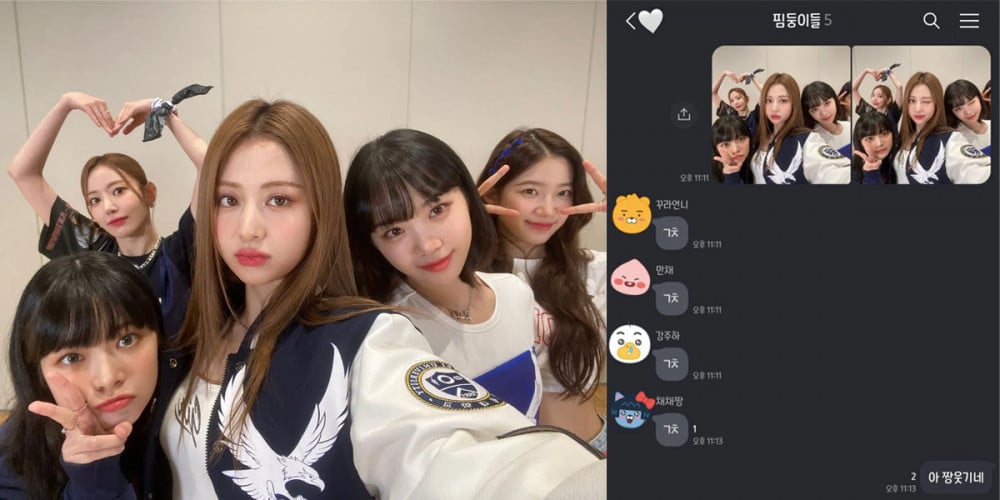 In a recent online community post, fans talked about the cute and funny way LE SSERAFIM's Huh Yunjin got "permission" from the rest of her group members to upload a set of group photos on SNS.
To get the confirmation from all of her members, Huh Yunjin sent the photos under consideration via LE SSERAFIM's group chat room.
Here, each of the members are seen displaying their approval, writing, "Approved".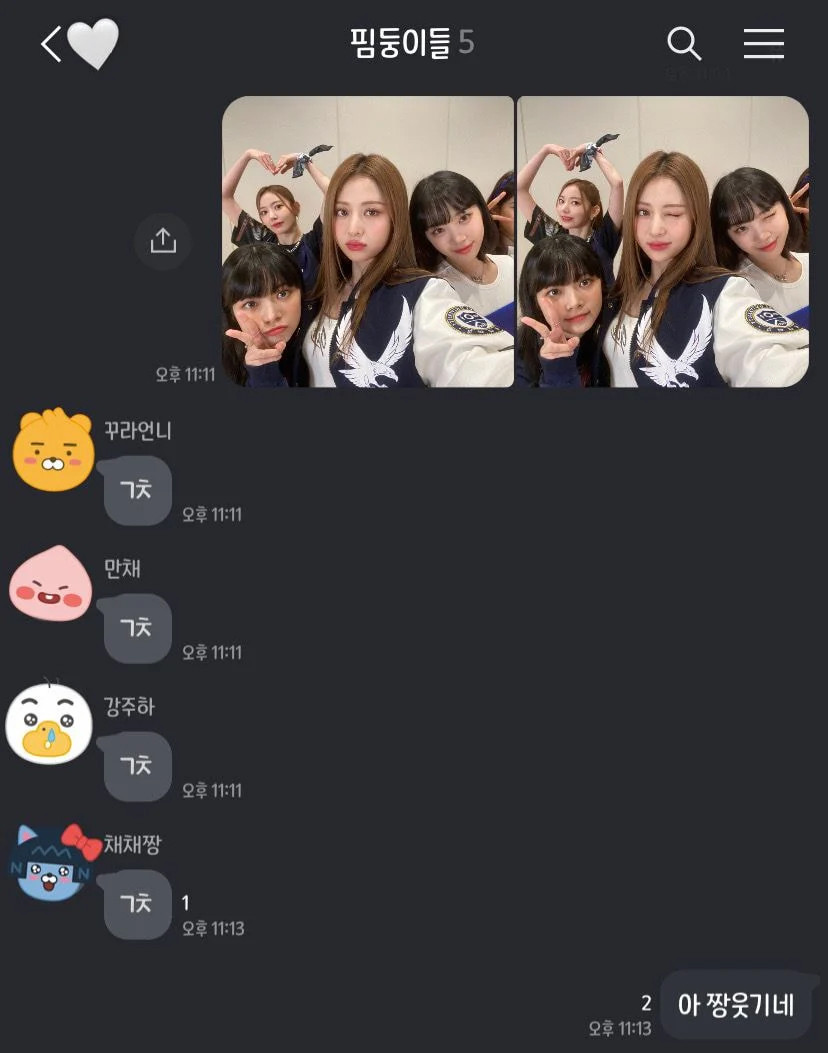 One thing that garnered the attention of fans in this screen shot of LE SSERAFIM's group chat room was the members' nicknames!
The first person to respond to Yunjin's confirmation request was Sakura, nicknamed "Kkura Unnie". The second person was "Manchae", member Hong Eunchae's well-known nickname combining "maknae + Eunchae". While the fourth person with the nickname "Chaechae jjang" was clearly leader Kim Chaewon, it took fans a moment to realize who the third person was!
The third person's chat room nickname was "Kang Joo Ha", and upon seeing the name, many onlookers mistook it as the name of an individual outside of LE SSERAFIM that they perhaps did not know.
However, fans soon realized,
"Kazuha is Kang Joo Ha lol. That is seriously the best name, it's perfect."
"I didn't know LE SSERAFIM had 5 Korean members kekekekekeke."
"Kang Joo Ha seriously kekekekeke. It totally works kekekeke."
"I was like who the heck is Kang Joo Ha lol. This is super cute."
"Kang Joo Ha totally fits her."

"Kang Joo Ha is hilarious! But she actually looks like a Kang Joo Ha too."
"It took me forever to realize Kang Joo Ha was Kazuha!"
"OMG Kang Joo Ha suits Kazuha so well kekekeke."
"Whoever came up with Kang Joo Ha, that was a good one."
"Kazuha could pass for Korean so easily if she went with that name kekekeke."
"Who is Kang Joo Ha kekekekekeke."
"If they started calling her Kang Joo Ha I'd die kekekekeke."
It turns out, Kang Joo Ha was the nickname used by LE SSERAFIM's Kazuha! Do you think Kazuha looks like a "Kang Joo Ha"?