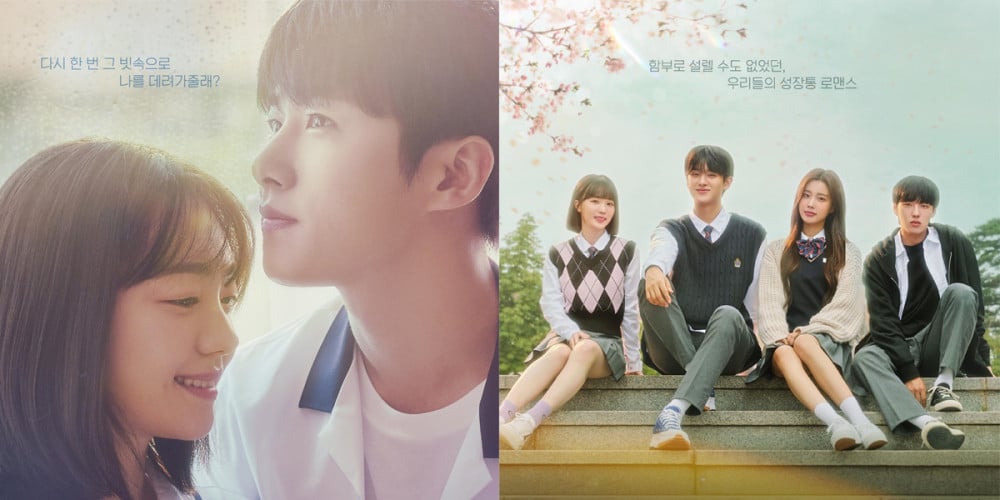 Wavve has revealed a set of main posters for its upcoming new romance series, 'Seasons of Blossom'.
Based off of a popular webtoon series of the same name, 'Seasons of Blossom' revolves around a haunted story passed down by word of mouth at a school. The events of this story, which took place 6 years ago, affect the lives of a group of students.
In the first main poster, the drama's lead couple Han So Mang (played by So Joo Yeon) and Lee Ha Min (played by Seo Ji Hoon) convey a romantic mood on a rainy day. In the second main poster, a group of friends including Lee Jae Min (played by Kim Min Kyu), Yoon Bo Mi (played by Kang Hye Won), Choi Jin Young (played by Yoon Hyun Soo) and Kang Sun Hee (played by Oh Yoo Jin) sit on the steps outside a school, with a caption above them reading, "The growing pains of our romance, when we couldn't even have feelings for one another freely."
A classic youth romance series, 'Seasons of Blossom' premieres this coming September 21 exclusively via the streaming platform Wavve!