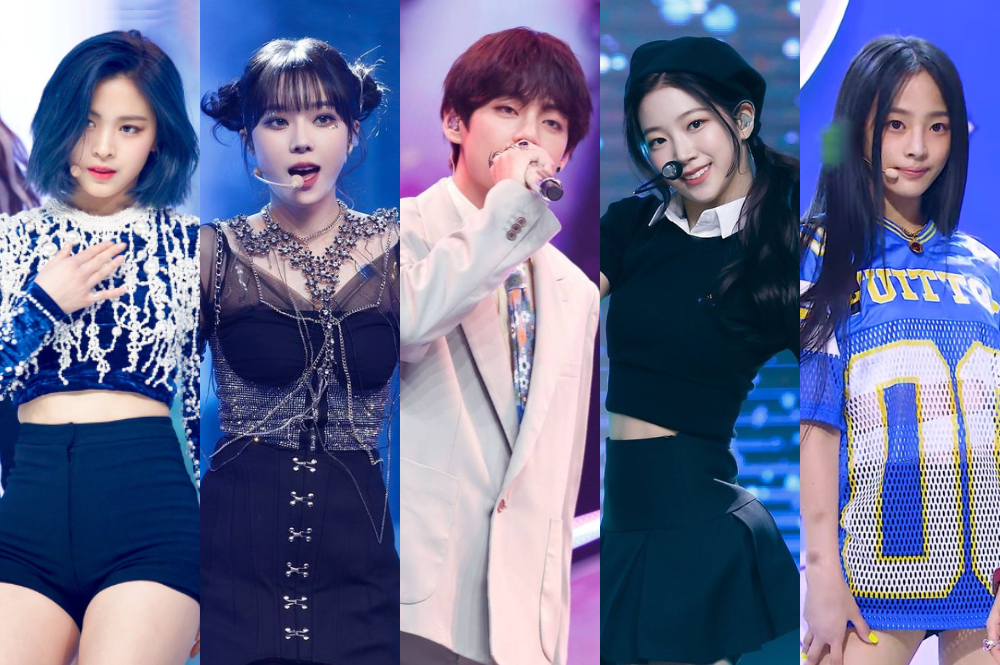 From music show stages to concerts to studio performances, individual fancams have become a popular way for fans to get a closer look at their favorite idol. Some special fancams have gained virality thanks to the idols' charms, facial expressions, and performance skills.

Popular Japanese fashion magazine 'Elle Japan' published an article titled "From V of BTS to Minji of New Jeans, 15 K-Pop Idols that went viral" that lists some of those fancams that have gained immense popularity.
Let's check out Elle Japan's list.

1. BTS's V - 'Boy With Luv'
At 140 million views, Kim Taehyung's fancam reigns supreme as the most-watched fancam in Youtube history. The 'King of Fancams' showed off his cute and playful facial expressions, which became an instant serotonin boost for the watchers.

2. aespa's WINTER - 'Step Back'
Released in January 2022, Winter's fancam has now been viewed over 14 million times. She grabbed the hearts of the viewers with her cute and mischievous expressions on stage.
3. EXO's Kai - 'Love Shot'
Kai showed off his captivating dance in his 2019 performance for 'Love Shot,' which has made it one of the most-watched fancams for an SM idol.
4. Billlie's TSUKI - 'GingaMingaYo (the strange world)'
Within a few months, Tsuki's fancam quickly gained over 10 million views for her dynamic facial expressions on stage for 'GingaMingaYo.'

5. Stray Kids's HYUNJIN - 'Psycho'
In his cover performance of Red Velvet's 'Psycho,' Hyunjin shows off a breathtaking performance that has gained over 9 million views to date.
6. IVE's WONYOUNG - 'ELEVEN'
As one of the most-popular 4th-gen female idols, it's not surprising to see IVE's fancams be the most-viewed among all her group's performances.
7. LE SSERAFIM's KAZUHA - 'Blue Flame'
Japanese member Kazuha made good use of her background in ballet dancing by displaying an elegant performance for 'Blue Flame.'
8. NCT U's SHOTARO - 'Make A Wish'
For the group's first performance for 'Make a Wish,' Shotaro displayed his confidence, which earned his fancam over 7 million views.

9. NewJeans's MINJI - 'Attention'
The monster rookie girl group 'NewJeans' gained instant success upon debut, and at the center is Minji having the most-viewed fancam for their hit song 'Attention.'
10. BLACKPINK's LISA - 'Kill This Love'
Released in 2019, Lisa's powerful and sharp dance moves for 'Kill This Love' recorded over 20 million views, the most-viewed fancam for the song.
11. ENHYPEN's NI-KI - 'Legend of K-POP
During the special stage for '2021 KBS Song Festival,' Niki's fancam recorded the highest views among all the male and female groups that performed, thanks to his top-tier dancing skills.
12. ITZY's RYUJIN - 'WANNABE'
Ryujin's viral 'shoulder dance' and cool expressions for 'WANNABE' made her 2020 fancam gain over 5 million views.
13. 2PM's JUNHO - 'Make it'
For 2PM's first comeback in 5 years, Junho showed off his adult charm in 'Make It' while wearing glasses and office attire.
14. NMIXX's SULLYOON - 'O.O'
As one of the top female visuals of the 4th generation, Sullyoon's fancam gained attention for her effortless beauty.
15. Miss A's Suzy - 'LOVE SONG'
Although Suzy is now a full-time actress, her fancam for 'Love Song' is still considered one of the most legendary fancams in K-pop.