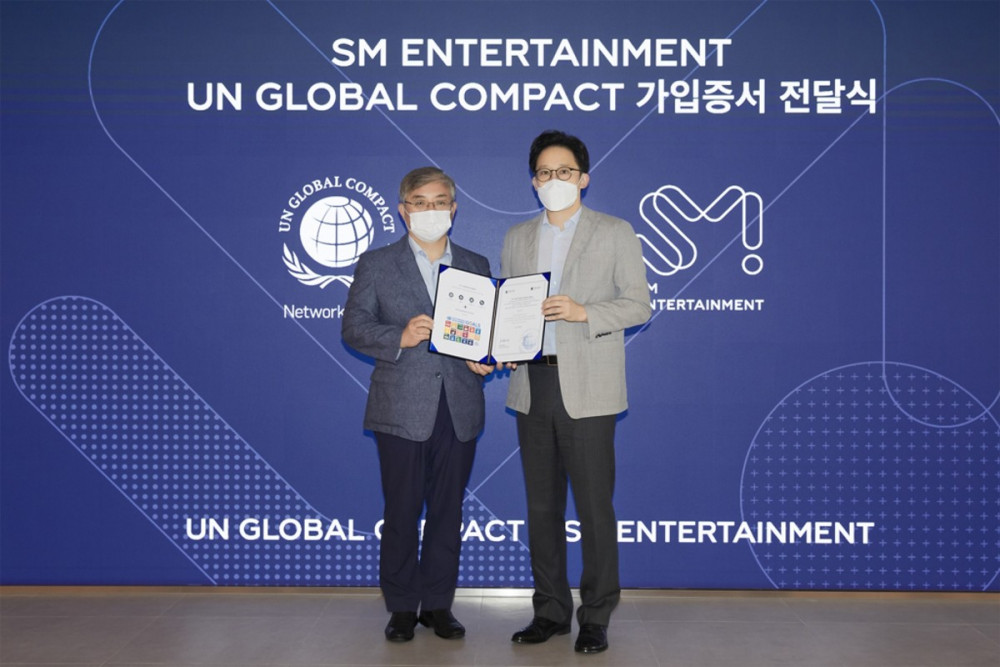 On July 5, SM Entertainment announced that it will be joining the world's largest corporate initiative, UN Global Compact (UNGC), to strengthen environmental, social and governance (ESG) management. In particular, SM Entertinment will also be the first ever Korean entertainment agency to join this initiative.
On the morning of July 5, SM Entertainment and UNGC Korea Association held a ceremony to deliver the UNGC membership certificates at SM Entertainment's new building located at Seongsu. CEO of SM Entertainment Lee Sung Su and Secretary-General of the UNGC Korean Association Yoo Yeon Chul were present at the meeting.
UNGC is the world's largest voluntary international agreement that contributes to improving awareness of sustainability and presents practical measures by embedding 10 core values for corporate social responsibility, human rights, labor, environment, and anti-corruption, into corporate operational and management strategies.
SM is attracting attention as it became the first Korean entertainment company to join UNGC after launching ESG management by implementing ESG education for executives and employees and organizing and operating ESG working-level consultative bodies for systematic implementation this year.
Through joining the UNGC, SM Entertainment plans to continue to make efforts to strengthen ESG management by faithfully fulfilling its social responsibilities by complying with the top ten principles of human rights, labor, environment, and anti-corruption, as well as submitting a COP every year.
SM Entertainment's CEO Lee Sung Su said, "SM is striving to enrich life by continuously introducing the best cultural contents based on CT (Culture Technology), which has the same values as ESG management. With the joining of the UNGC, we will make efforts to internalize global norms throughout management activities and actively fulfill corporate social responsibilities."
Yoo Yeon Chul, secretary general of the UNGC Korea Association, said, "SM Entertainment which is joining the UNGC promotes Korean pop music and cultural contents around the world which is very meaningful. We hope to continue to participate in the ESG economic paradigm and further lead the cultural creation industry by internalizing the sustainability presented by the international community in our operation."