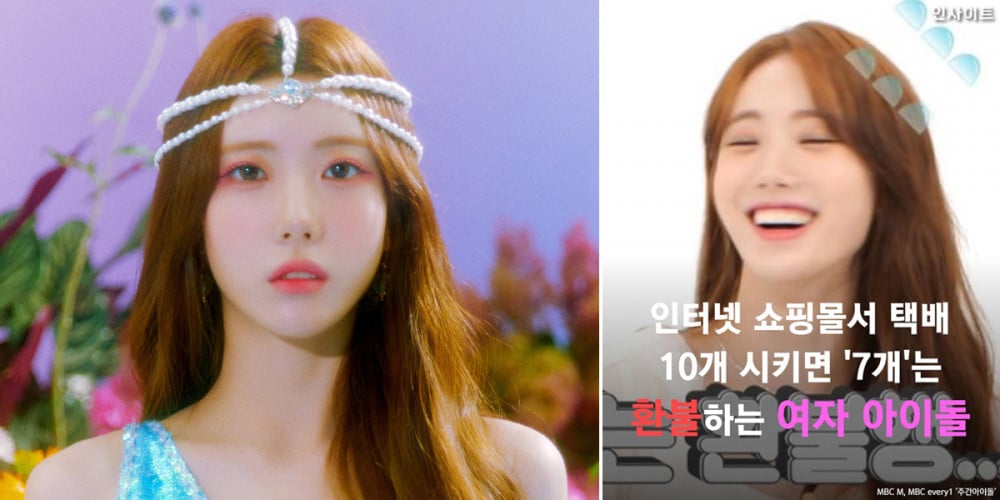 Cosmic Girls member Luda earned mixed reactions after she revealed that she returns over half of the items she purchases through online shopping.
On July 6, Cosmic Girls appeared as guests on MBC every1's 'Weekly Idol'. Here, the girl group members were asked to choose the member who was "Most likely to receive a quick refund from the clerk for a wrong purchase."
Exy chose Luda and said, "Luda does a lot of online shopping. If she orders 10 packages, she ends up returning about 7 of them."
Luda explained her habit by adding on, "I order a lot of things by mistake."
The idol's shopping habits have become a topic of debate on an online community. Some netizens criticized Luda by stating, "That means the delivery workers have to do 7 times more work, and it wastes gas and resources and causes pollution. Why is she so wasteful?", "The delivery workers are cursing you right now", "It's true that it's pretty tiresome for the delivery workers and the sellers who thought they made money but then they have to refund her", "As someone who works for an online shopping mall, I can't say she is the most welcome customer", "Don' talk about that on TV like it's something to laugh about, because a lot of people think it's actually maddening", "If she's made that many mistaken purchases, then she should stick to buying stuff in-person. Online shopping is clearly not for her".
However, others argued, "Is that really something to get angry about? Even if she decides to return what she bought, it's just business", "She's making her own decisions about how she spends money, why are people so concerned about something that's got nothing to do with them?", "But honestly, sometimes, what you buy online isn't what it seems. The quality of what you get is such a risk", "It's a little careless but I don't know about her being a 'rude customer'", "She's just like my friend".
In the end, the majority of the members chose Yeoreum. Cosmic Girls revealed that Yeoreum speaks cutely on a daily basis, but becomes articulate and straightforward when mistakes occur and need to be corrected.