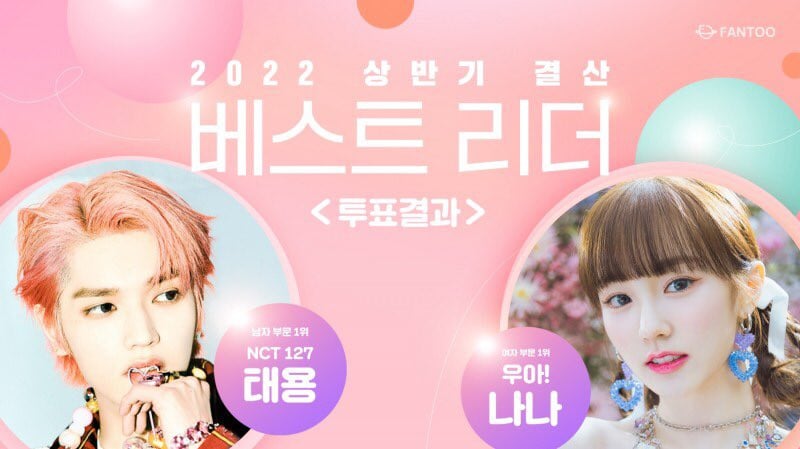 NCT 127's Taeyong and Woo!ah!'s Nana were voted as the best male and female leaders representing K-pop artists on the fandom platform "FANTOO" for the first half of 2022!

They recorded 41.9% and 41.2% of the votes, respectively, and took the top spot by an overwhelming margin of votes, proving their strong global influence.


Taeyong is emitting a 'leader' by stably leading NCT 127. Taeyong, who is called a spiritual supporter within NCT, a super-large multi-member boy group, is said to be good at drawing the strengths of members with his soft charisma.

Nana is recognized as an unrivaled "all-rounder" leader who not only plays the role of the oldest sister by taking care of each member but also excels in dance, singing, rap, and acting skills.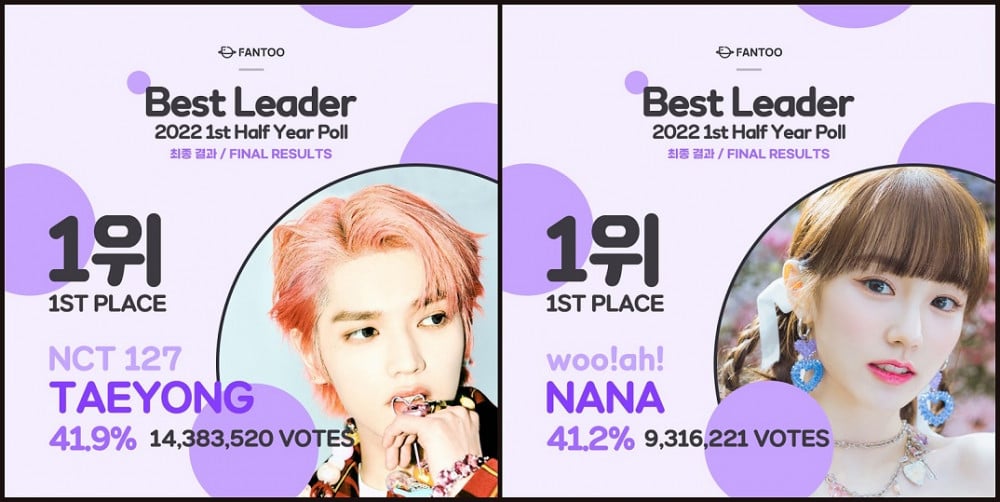 A congratulatory video for Taeyong & Nana commemorating this will be transmitted through a large signature electronic display at Megabox COEX & SEOUL Marina.
Among Male Idols, ENHYPEN's Jungwon and TREASURE's Hyunsuk took second and third place with 29% and 11.9% of the votes, respectively.
Among Female Idols, TWICE Jihyo came in second with 35.8% of the votes, and Kim Chaewon of LE SSERAFIM took third place with 9.1% of the votes.
Meanwhile, "FANTOO" is a social networking platform for Hallyu fans around the world. It also conducts free polls and puts up various advertisements as gifts for the winners.