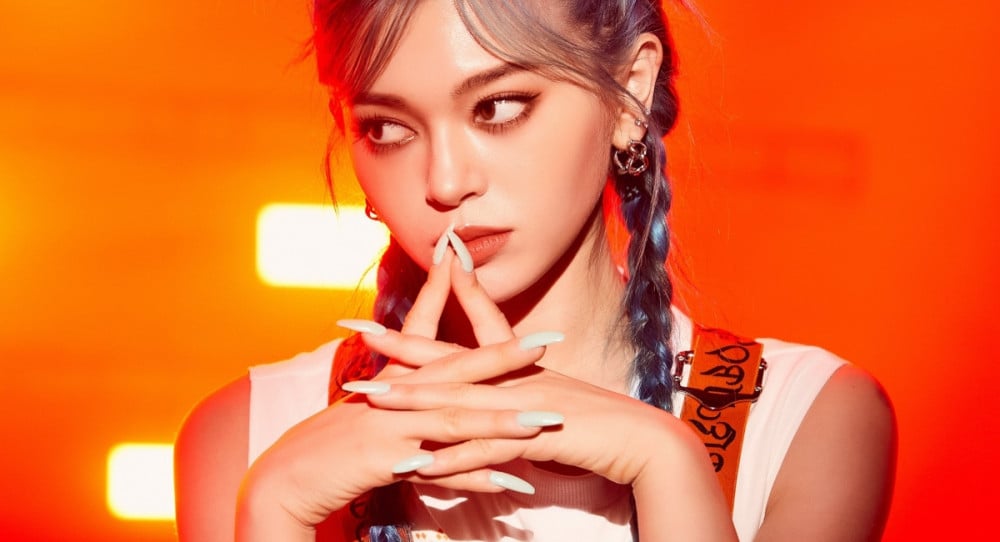 AleXa's career as a K-pop idol has been exciting to watch. Getting her start as the winning dancer of the 'Rising Star' competition two years in a row, she later appeared as a contestant on Mnet's 'Produce 48' where she represented renowned production company ZanyBros' ZB Label. Her bold on-stage persona exists in a vibrant fantasy world – whether she is a punky antihero in "Villain," a sci-fi blockbuster star in "Bomb," or the heroine of a dystopian rebellion in "Revolution."
Earlier this year, AleXa represented not only K-pop but her home state of Oklahoma in NBC's very first season of 'American Song Contest,' an adapted version of the popular Eurovision music competition for the United States. Both her catchy single "Wonderland" and fierce performance style won the public's hearts, landing her the big finale win. As the winner of the program, she immediately went into a number of exciting stateside promotions, including a guest spot on 'The Kelly Clarkson Show' and presenting at the '2022 Billboard Music Awards.'
Shortly after her return back to Seoul, AleXa and allkpop commemorated the big win with an exclusive interview, where she opened up about working on the program and the surreal feeling of gaining attention both in Korea and the United States.
ALLKPOP: So your first activity upon returning to Seoul after your 'American Song Contest' win was a celebratory press conference with local media. You won, then you had a packed schedule afterward, and then you basically came here and went immediately into the press conference. What was that like – finally being able to address local press and finally let it sink in here as well that you'd won?
ALEXA: How you phrased it was basically accurate! We thankfully won on the show, then immediately had so many things to do after, got back on the plane to Korea, and then immediately had that press conference as soon as we got back. But it was very welcoming, very refreshing, very surreal having a press conference about this whole 'American Song Contest' thing because it was the very first press conference I'd ever had in my career. So it was really, really cool – a little nerve-wracking, a little scary, but overall, it was very, very fun, and I'm really grateful for all the press that showed up.
AKP: What made you decide you wanted to be on 'American Song Contest' to begin with? Did you have a certain goal, and do you feel like that goal you had for yourself was achieved through the program?
A: I've been a really long-time Eurovision fan as it stands, so whenever our company caught wind that America was going to be doing their version of Eurovision (thanks to Christer Björkman, the man who produces Eurovision himself bringing it to America), we were kind of curious. I was like, "Okay! So 50 states. So I'm from Oklahoma. What are the chances that I could maybe audition and get my way in there?" But then, it just so happened that we did get the chance to audition, we did make it through, and then, as you know, we won representing Oklahoma! So, yeah, very fun. [Laughs]
AKP: Was there anything else that happened that maybe wasn't your goal but is something cool that happened while you were on the program?
A: Well, I didn't think that I would wind up being friendly with Michael Bolton! But, I mean, it was really cool to meet Michael Bolton during the show and be friendly with him and take pictures and just talk to that legend! It was a super cool experience.
AKP: We noticed that while all of the contestants were pretty musically diverse, the side you all showed made it seem like it was less of a competition and more about making friends who all have the same kind of love for music. It must have been really hard to say goodbye to them!
A: It was so hard! Especially because I was on the first episode, so I was absent. I went back to Korea while the rest of the episodes were continuing, so I didn't get to see the other contestants. We came back for the semis. But every time we had to say goodbye to people, it was just very bittersweet.
AKP: Are there people that you're still in touch with?
A: For sure! I'm still in touch with a handful of the contestants. I was talking to North Dakota's Chloe Fredericks the other day actually! We go back and forth via iMessage. She's a hoot. I love her.
AKP: That's so cool! How about your friends back in Oklahoma? Because they've probably seen you working toward this K-pop goal for the longest time, and while it was all happening over here in Korea, this is the first instance where it was happening in the States too. What was their reaction like?
A: They were telling me that they were getting all of their coworkers, all of their family, all of their family's friends to support me on the show, and I'm so grateful to have a hometown that has that core support going on even though I've been away for, like, four years. So still having this strong sense of support from my friends and my family who are still back in the States was just a really lovely feeling. It's made me so happy and grateful to have these people in my life.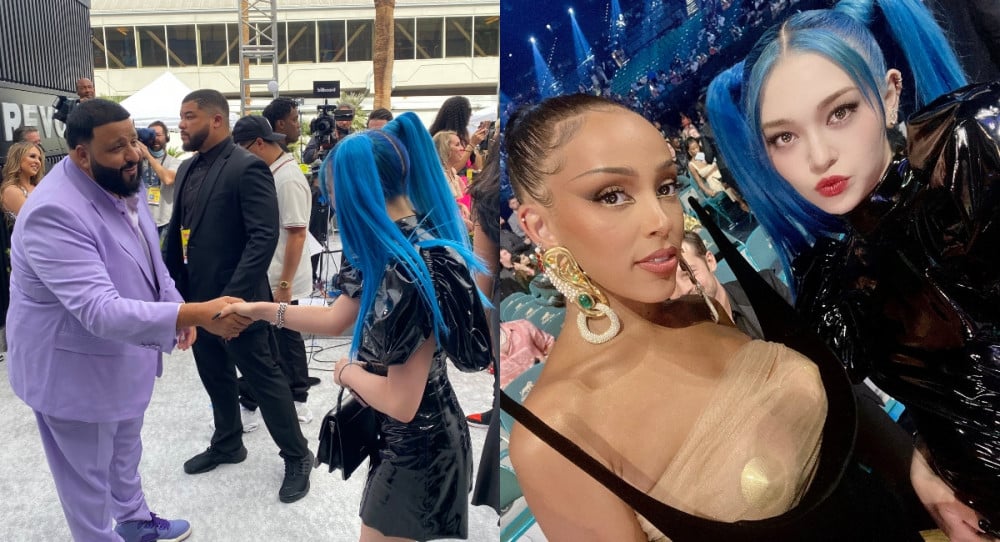 AKP: When you were at the Billboard Music Awards, there were so many articles out there featuring you with all of the people that you met while you were there promoting. Between the award show and the other promotions you were able to do while in the States, who was the artist that you felt most starstruck to meet? And can you share a little bit of that story?
A: Yeah, absolutely! Without a doubt, I was super starstruck to see everybody there. Because as a K-pop artist, I'm only used to promoting in Korea and seeing other idols here and actors here that are very Korea-focused. But then going to the Billboard Music Awards and seeing all of these international, world-renowned singers and celebrities, it was just very "Oh my gosh. Is this real?" I was on the red carpet and DJ Khaled walked by me, and I was like, "IT'S DJ KHALED!" And then when we went inside to sit down, Doja Cat was sitting five rows in front of me, and I was like, "That's Doja Cat! Right there in front of my eyes. That's Doja Cat." It was very, very surreal.
AKP: We can't even imagine! That sounds so awesome. Even just watching you on 'The Kelly Clarkson Show,' we were thinking, "That's AleXa with Kelly Clarkson. That's wild!"
A: She's so nice! I love Kelly. Oh, she's so nice.
AKP: She won the first season of a music show too!
A: Exactly! 'American Idol'! The OG!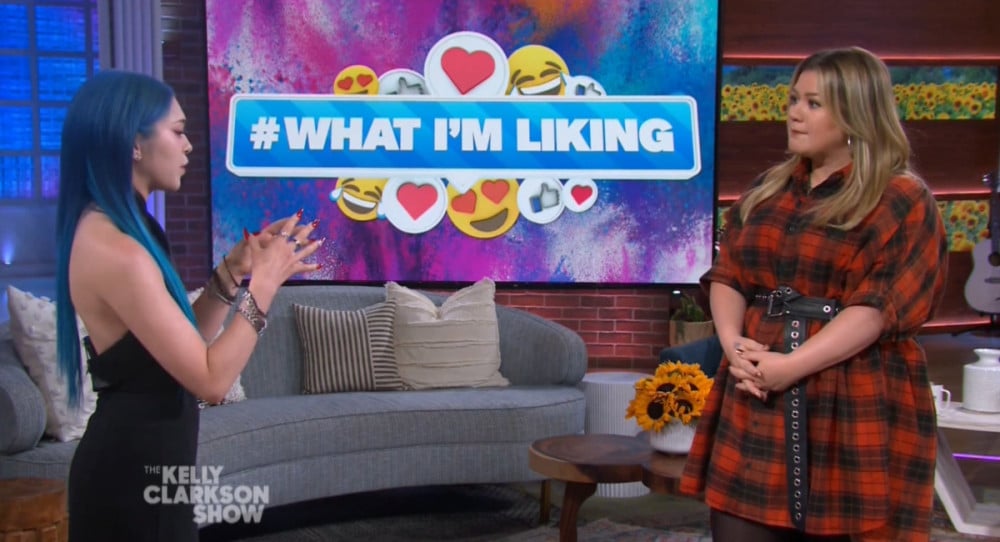 AKP: I know that you said in that interview that you were not only there with your parents but you also brought the ZB Label team with you. You all must have been so busy, but were you able to do something fun or memorable? Maybe something unique to being in America?
A: Well, we did have some shopping days here and there. We didn't really have that many free days, but when we did, we'd all go shopping together, we got food together, we went on walks together. Some of us went to Disney together. So we overall had a very fun time as a team.
AKP: We're just curious – as an American living abroad, when you're in Korea, what kind of food do you usually miss? Like, when you're back in the States, you're thinking, "I have to have this."
A: It's either Chick-fil-A or Cane's chicken because I had both of them when I went back, and Cane's – I miss that SAUCE! [Laughs] It was good.
AKP: Now especially that you've gotten exposure in America, do you have any intention moving forward to try any America-focused promotions? For example, an English single?
A: Yeah, if the opportunity comes up, I would love to release another English track, maybe an English album for people over in the States – but we've got some things we're working on right now that will be centered over in the States and maybe other places abroad. So I hope people stay excited for what's yet to come.
AKP: Are you going to be moving offline to do any type of fan meeting or concert soon? Is that something you're looking at, and if not, can you give them a little hint as to what they can look forward to?
A: This summer, I'm going to Otakon in Washington DC. There's one in-person thing there. But I'm also going to New York for an event called SummerStage! I'll be performing there as well. We've got a few other things planned and scattered out, but those details are yet to be confirmed. But there are things that the fans can look forward to.

AKP: If you could go back and meet 'Rising Star' AleXa or anyone in that same boat where they're trying to come to Korea to make a name for themselves as a K-pop artist, what kind of advice would you give them based on your own experience?
A: Well, I'd say the earlier you can start learning Korean, the better. [Laughs] Not just writing, but speaking is very important as well, so the earlier you can start learning, the better. Also, there's always room for improvement. Never think anything is okay as is. Always find a way to finetune and level up yourself as a singer, as a dancer, as a performer. Always seek self-improvement.

AKP: Yes, we 인정 [Korean slang for agreeing].
A: [Laughs] 인정! Yes!
AKP: You're obviously from Oklahoma, so if one of your fans decided they wanted to go to Oklahoma on a trip, what are the must-sees, must-eat, must-do kind of things that you would recommend as a native?
A: So more than seeing things, let me tell you about the food we have in Oklahoma! There's good food there. So there's a barbeque restaurant called Elmer's, and it's located on Cherry Street [in Tulsa]. It is the best damn barbeque that you will ever eat. Best American-style barbeque. I was going there ever since I was a baby all the way to now. When I went back to Oklahoma before 'American Song Contest' started, that was one of the first places I went to eat. I missed it so much. So good! And then there's also a sushi restaurant called Fuji. I used to work there actually. Best sushi you will ever eat. I guarantee you. No matter where you go in America or in the world. Best sushi. Hands down.
AKP: Wow, Oklahoma's the secret for sushi?
A: Oklahoma's the secret! We got the sauce and it's spicy! [Laughs]
AKP: Lastly, if you could recommend a song to your fans, which one would you pick? It could be a song you just generally like, a song you've been listening to lately, etc.
A: Oh boy! Let's roll with "My Happy Ending" by Avril Lavigne. I've been listening to that song nowadays. Let's throw it back with Avril Lavigne.
AKP: So, we'd like to wrap this interview up by telling you that you've got a lot of supporters on our site. Is there anything special you wanted to say to them?
A: Yeah, absolutely! First and foremost, thank you for the constant love, support, kindness, and overall positive vibes that you give to me. I could not be more grateful. Whenever there's a hard time I'm going through or I'm not feeling my best, it's always so reassuring to see the love and this positivity in the comments of social media posts and everything. So I'm very grateful, and I hope that the kindness and love that you wish upon me is reflected back to you as well.
Want to check out more exclusive allkpop interviews? Read our recent interview with new solo artist HUNJIYA here.