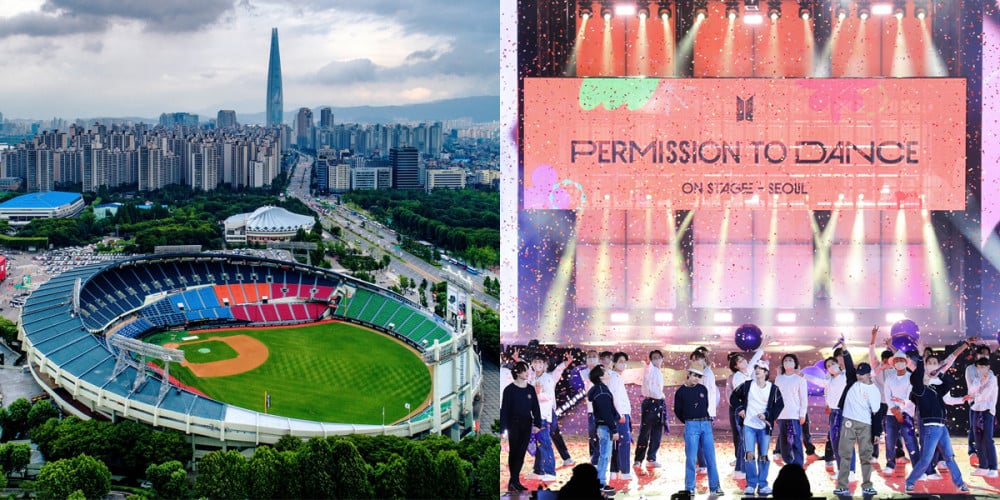 Seoul's Jamsil Baseball Stadium, home to the LG Twins and the Doosan Bears, will be rebuilt as a multi-purpose indoor arena, according to sports media outlet reports on June 4.
Seoul's mayor Oh Se Hoon plans to push the project actively as a part of his cultural expansion policy, and construction is slated to begin as early as the first half of 2023.
Currently, the Jamsil Baseball Stadium is an outdoor arena with a capacity of approximately 25,000. K-Pop acts like BTS and H.O.T have held outdoor concerts at the stadium in the past, with BTS holding their most recent Seoul concert, 'Permission To Dance on Stage - Seoul', for 3 days in March (with limited capacity).
Now, mayor Oh Se Hoon plans on transforming the outdoor stadium into South Korea's largest cultural dome, with a capacity of over 30,000. The aim is to match the capacity and scale of Japan's Saitama Super Arena, known as the second-largest indoor arena in the world. During baseball off-seasons, the indoor arena will be open to host various K-Pop concerts.
Meanwhile, K-Pop acts including TVXQ, SS501, Super Junior, SHINee, F.T. Island, 2PM, Girls' Generation, Rain, BTS, Seventeen, and TWICE have successfully held max-capacity concerts in Japan's Saitama Super Arena.
The arena's capacity is projected to be double the capacity of Seoul's Gocheok Sky Dome, which currently houses 16,744 seats.