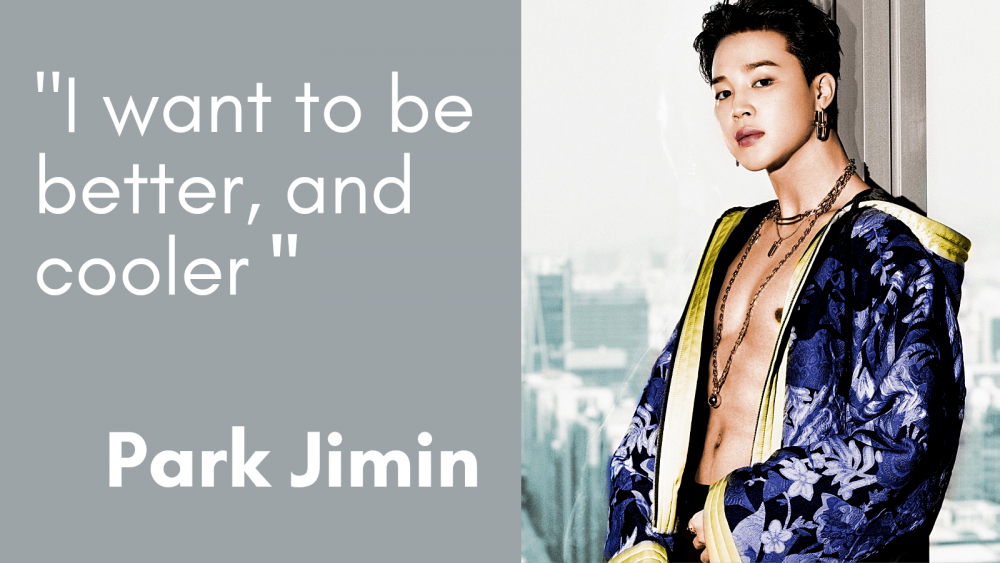 Jimin is set to soon launch his career as a solo artist, and he has started giving fans some insight into what it will look like.
On the 18th of June, Weverse released a new magazine following their comeback titled 'Jimin: "I want to be better and cooler." This time he was introduced as a born idol who, apart from making everything look cool, remains affectionate to fans and means every word he says.

Writer and interviewer Kang Myungseok kicked off the discourse by asking how Jimin felt about BTS creating a three-disc album for their comeback. Jimin responded that the release had shown that as a group, they had done a lot, and that gave him time to reflect on the idea that the best was indeed yet to come, inspiring him to want to do lots of better things in the future as well.
Jimin agreed that the album was a breather because it gave them time to step back, clear their heads and think about the direction they would want to take as a group in the future, as well as review all they had done as a group. Now at the end of the pandemic, Jimin felt a sense of how far they had come, adding that he felt better working now as opposed to in the past. With regards to his solo album, he said that he had started taking on new things and meeting different producers in order to take on the challenge properly.
The attention shifted to With You, with the interviewer asking for more information on whether he would keep the promise to keep on trying many things after the OST. Jimin was enthusiastic to answer that the song was just a starting point, adding that he had decided to just keep going straight through, staying together with producers, and talking about the messages, appearance, and image he would like to portray in his music.
Jimin revealed that even after the Grammys and their concert, he had much more to show because he wanted to be a little explicit. This means that he would like to show something more raw, mature, and personal about himself through his music, especially in music videos, all in a bid to evoke something that he has never shown before. Jimin expounded on the rawness to include things he usually thinks about more honestly and a desire to deal with something much darker in his solo album, similar to how older members have done.
Jimin has previously said that the nature of relationships has been a fascinating topic to him, and when asked about the topics he would want to explore, he related that he would love to release music more for his own sake, given how much he felt
lost during the pandemic. In fact, when the members found out about these feelings, he was encouraged to make it into music, and that is when he decided to try and address it.
During the pandemic, Jimin felt a sense of loss in that instead of facing the issues he questioned, he often brushed them off, denying them by convincing himself that he was just enjoying life when it was not the case. He began to acknowledge that personal concerns were realistic and had to be faced head-on instead of only looking at himself and issues as a member of BTS.
The topic of friendship was then tackled, especially through the lens of With You, which was sung with his friend, Ha Sung Woon. Jimin explained that Sung Soon was the first nonschool and non-BTS friend he made in Seoul, and it had indeed been a long-running and conscious decision to collaborate on a song together when they made it big. With You provided the chance to do this, fulfilling the promises of long ago when they used to share what they worked on as they talked.
The creative process for With You was a special one because it was a soundtrack, something Jimin had never done and thus had to practice a lot. After some changes and adhering to the needed tone it was done, through Jimin was able to learn a lot and feel a lot of different things as opposed to what he was used to. Promise and With You are songs that allowed Jimin to tap into his emotions, and for Jimin, Promise specifically helped him a lot during hard times, ultimately helping him break out of the shell he was in, and With You was the song wherein he tried to soften up a bit in order to show the sadness, and desperate longing expressed simply.
Although the way Jimin feels emotions has matured and changed over time, especially with the pandemic, it was through looking back that the future would be envisioned. Jimin revisited the need to prove himself during his debut days, as expressed in the song Run BTS adding that his collaboration with Suga for Tony Montana was one where he wanted to try something else out, and it turns out that he was good at it too.
Jimin is always affectionate with fans, and he revealed that while being a successful idol, he always feels the need to repay ARMYs more for all the support. He has often felt the need to work very hard in order to be fully content with himself. After struggling with this, he eventually came to the realization that he was indeed good enough at what he does, even though he still wanted to be better and cooler.
Part of being better and cooler for Jimin is in showing everything he is capable of at the highest possible proficiency. For instance, showcasing the dark and sexy vibe of Black swan, the high energy of Idol or Fire, and even how cute he can be. Jimin is always looking forward to the rapturous cheers of the audience whenever his proficiencies come together, and this quest for perfection is also part of the reason why he never wants to make any mistake.
As it is with every perfectionist, Jimin feels like he is not quite there yet, and hopes to do more songs that show many sides of him while keeping audiences engaged and entertained. The Grammys performance may have appeared to many as peak proficiency, but Jimin said that while it was a cool performance, he wanted to do ON in order to really show what an incredibly high-energy performance looked like and come back home, but still, their performance worked, and fans fell in love with it.
The interview came to a close with a focus on Friends, which is the first song that Jimin ever produced. Fans were happy to know that he had watched Eternals on theatres and gotten the chance to hear his song play as part of the OST; even better was how he made it. Jimin explained that from the drum beats onward, the song was not intended to sound soft but energetic and intense, with a rock and even a reggae feel to it at the start. It was only after the producer suggested that a melancholic feel would suit him that he agreed to change it, and the theme of friendship with Taehyung was born for it to be added to the album.
Over time, Jimin explained that his relationship with fellow members is more than that of friends, brothers, or family and more like a place to come back to. They are a mental force to always keep him rounded to his true self and offer reassurance, something that he is always thankful for every time.
Fans were impressed with the interview, which, unlike others, really focused on Jimin as an individual and artist teasing his future plans as well. Several keywords also trended on Twitter on account of this as well as the tantalizing magazine cover of a shirtless buttoned-up Jimin clad in a floral unzipped YSL jumper, dripping in high-end jewelry to give off the sexy mature aura of a man who means business. PARK JIMIN took the #1 spot worldwide, and JIMIN JIMIN amassed over 1 million tweets. There were 18 keywords trending simultaneously, among them being: WTF JIMIN, I JUST WOKE UP, #BTSJIMIN, CAN'T WAIT, OMG JIMIN, PJM 1 IS COMING, STOP LOOKING AT HIM, Jimin's Weverse, and more.