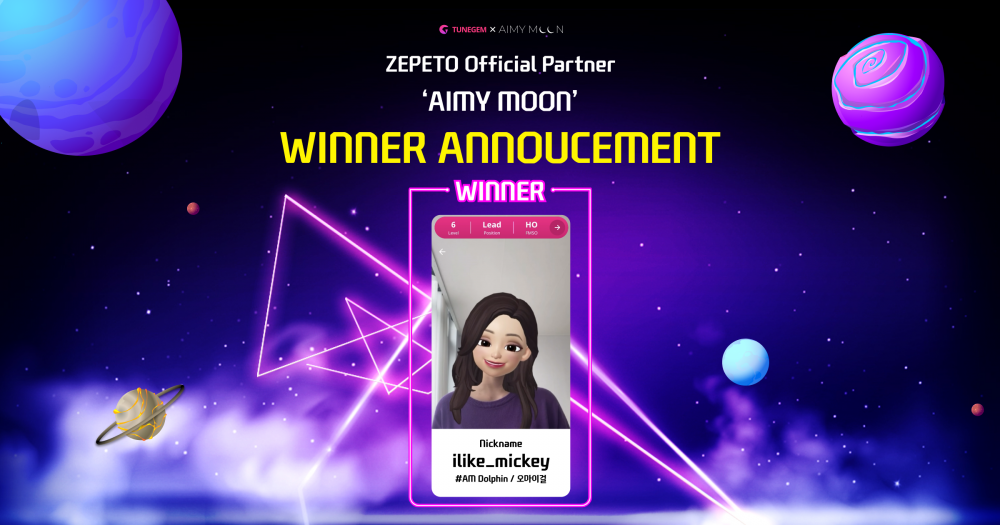 K-Pop songs are not easy to sing! With sky-high vocals and difficult dance moves, being an idol IRL is way harder than it seems. When the glitz and the glamour are aside, there's grueling hard work to be done, but what if we could sing with a virtual avatar and live our K-Pop idol dreams digitally? What if we took all the worry away from being a celebrity and put being an idol into the palm of your hands with no worries about how you look or how you dance? That's exactly what TUNEGEM did with their contest to find the vocalist for "Aimy Moon."
On March 31st, the voice of TUNEGEM and Zepeto's character "Aimy Moon" was found! The event, held from March 11 to 30, was co-produced by Enterarts, an AI content company. "Aimy Moon" is a singer-songwriter debuting under Virtual A.I.M, the first-ever virtual record agency of its kind. "Aimy Moon" has over 35,000 fans worldwide and is set to be an international internet sensation.

On the last 'Be My Voice' audition, TUNEGEM acted as an essential tool in finding global main vocal and sub-vocal. The final winner for the main vocal went to a Korean and the subvocal to a talented Vietnamese girl. In "Aimy Moon"'s audition, the winner was also selected by TUNEGEM by its original vocal analysis system. Download the TUNEGEM app, and you can listen to other cover songs.
Check out the newest voice of AMY MOON below in a special cover of Oh My Girl's "Dolphin"!

[Disclosure] This article is sponsored by Kpop Factory.