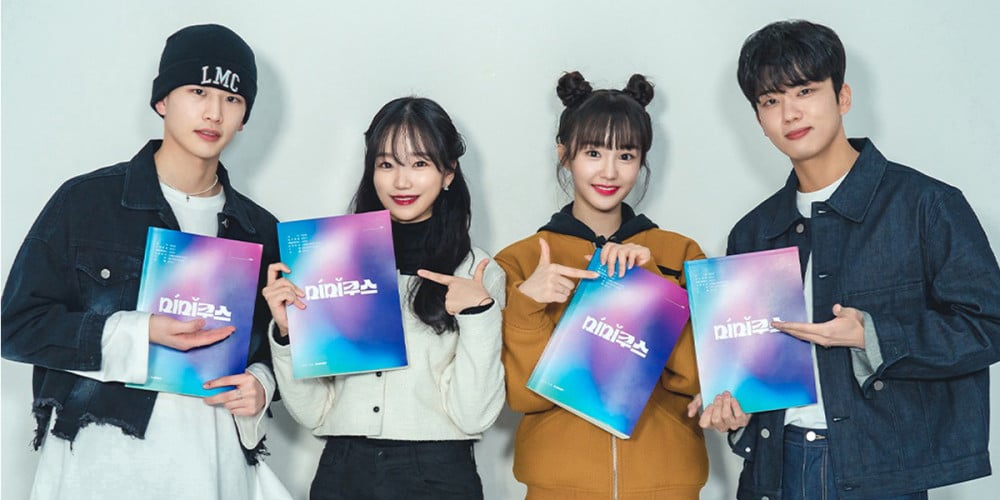 The cast members of Playlist's brand new original web drama series 'MIMICUS' recently attended the drama's first script reading, testing out their chemistry for the first time!
Starring former IZ*ONE member Jo Yu Ri, former B.A.P member Yoo Youngjae, Woo!ah!'s Nana, Kim Yoon Woo, and more, 'MIMICUS' takes place at an arts high school. One day, a male student becomes wrapped up in rumors that he is "mimicking" another classmate, who is famous at school for being an idol trainee at a huge entertainment company.
First, Yoo Youngjae plays the role of a student named Han Yoo Sung, who appears cold on the outside, but who hides a passion for singing and dancing on the inside. One day, Han Yoo Sung is accused of mimicking Ji Soo Bin, a famous idol trainee.
Opposite Yoo Youngjae, actor Kim Yoon Woo plays the role of Ji Soo Bin, an idol trainee at a big entertainment company where his mother is a top bureau member. Next, Jo Yu Ri takes on her first acting role as Oh Ro Si, a member of the popular girl group ICE. She's treated like an outsider by her own group members, and finds escape from her busy idol activities at school. Lastly, Woo!ah!'s Nana takes on the role of Shin Da Ra, a budding YouTuber.
Also starring Oh Jae Woong, Kim Myung Chan, and more, Playlist's brand new web drama series 'MIMICUS' is slated to premiere in the summer of 2022