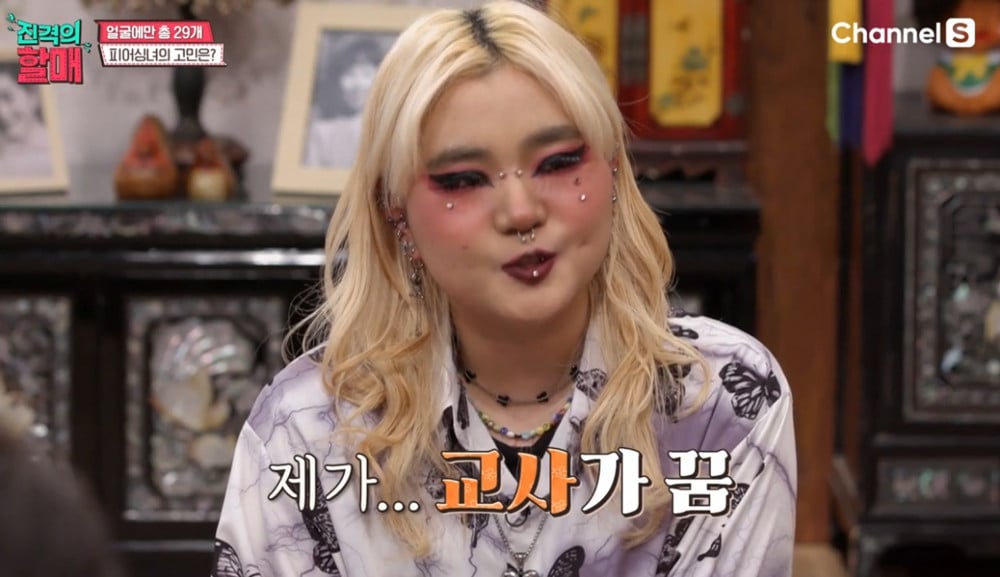 In the episode of Channel S entertainment program 'Attack on Grandma', which was aired on the 29th, a 23-year-old college student attending the College of Education appeared and shared her concerns.
On this day, the college student appeared with piercings all over her face, surprising the grandmothers. She said that she had 29 piercings on her face and explained that she had more piercings on her body but got rid of them.

Actress Na Moon Hee took a careful look at the college student and asked, "Do you have piercings in your mouth too?" The student replied and said, "That's right. I also have one on my tongue and teeth." The MC grandmothers were worried and asked, "Isn't it painful?", the college student replied, "There is nothing painful or difficult. There is not even a problem with my teeth."

The college student explained that she also attends her school like this and stands out from her class. She explained, "I do think I stand out but I don't feel any difficulties because of that." MC Park Jung Soo replied, "Of course, since you did it because you wanted to, what difficulties would you feel?"

However, the college student shared her concerns and said, "If I walk around like this, people would say to me 'Do your parents know you look like that?' 'My eyes are going to rot,' 'I can't look at you because it's overwhelming' and 'It's really disgusting.'"

MC Na Moon Hee went to ask, "What is your current dream?" and the college student replied, "I want to be a teacher. I have a GPA of 3.9." She continued to explain, "But my professors ask me, 'you're going to take off your piercings when you become a teacher right?' but I have no thoughts of taking them off."
In a surprise, MC Kim Young Ok responded, "It would be impossible to become a teacher looking like that." Even MC Park Jung Soo replied, "The student's parents would have a hard time entrusting their kids to you because of the way you look."
However, the college student continued to explain, "Just because I look like on the outside doesn't mean I have a problem." Nevertheless, Kim Young Ok explained, "Even though you're skilled enough to be a good teacher, people would feel overwhelmed when they see you."
MC Park Jung Soo went on to elaborate, "We're not saying that having piercings is a bad thing but you want a career where you need to deal with many people. You have to think about how it would make them feel uncomfortable."
The college student went on to protest, "I think the students will be able to have different perspectives by having a unique and unusual teacher. I want to break the prejudice against people who wear a lot of piercings. I won't hesitate to even fight against the law."
However, Korean netizens thought otherwise as many commented, "I think that is too much, if I was a parent, I wouldn't want her to teach my kid," "She looks scary to me, and I'm an adult," "I think she should look for another career," "I don't think she would be hired," "At this point, I don't think it's even breaking the prejudice," "I think kids would be scared of her, lol," "I don't think having those extreme piercing would be setting a good example to young kids," and "I think parents would file complaints if she was a teacher."