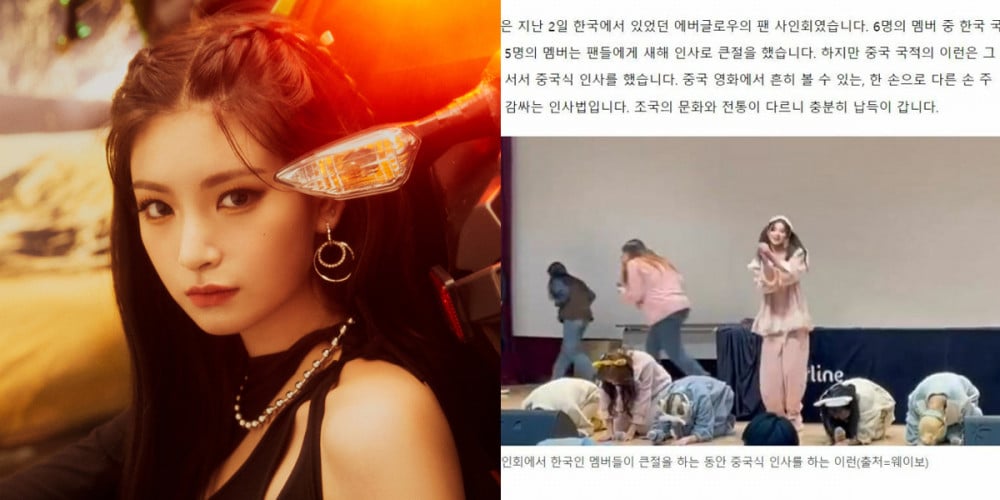 Back on January 2, girl group EVERGLOW held a fan meeting in light of their 3rd mini album 'Return of the Girl' promotions.
On this day, the EVERGLOW members decided to respectfully greet their fans for the New Year. Out of the 6 EVERGLOW members, 5 of them bowed down to fans on their hands and knees in the traditional Korean greeting of keun jeol. However, member Yiren, the team's only Chinese member, did not bow in the Korean method, and instead greeted fans with a traditional-style Chinese greeting of putting one's hands together.
According to various media outlet reports on January 6, EVERGLOW member Yiren's actions are currently being "praised" by Chinese netizens on various SNS platforms. Media outlets reported that some of the Chinese netizens' comments included, "Chinese people do not get down on their knees unless it is in front of parents or to the sky or the land", "A proud idol who protects Chinese tradition", "Good job Yiren", "She is putting on a good example for Chinese who are promoting overseas", "She is spreading Chinese culture to other countries", and more.
However, Korean netizens reacted to the issue with opposite reactions like, "Now they're making stuff up about there being a 'tradition' of Chinese people not going down on their knees?", "By tomorrow the Chinese will probably be like, 'Keun Jeol is a Chinese tradition~'", "She's too proud to do something respectful for her Korean fans", "Now you can head right back to the country you came from", "I've seen plenty of other Chinese idols doing Keun Jeol or getting down on their knees", etc.

Meanwhile, EVERGLOW's Yiren also made headlines back in November of 2020 after telling a Chinese fan during a video fan call, "I love my country more than anything. I want to talk to you in Chinese, but because I am promoting in Korea, there are restrictions. The company told me to be cautious about speaking in Chinese."