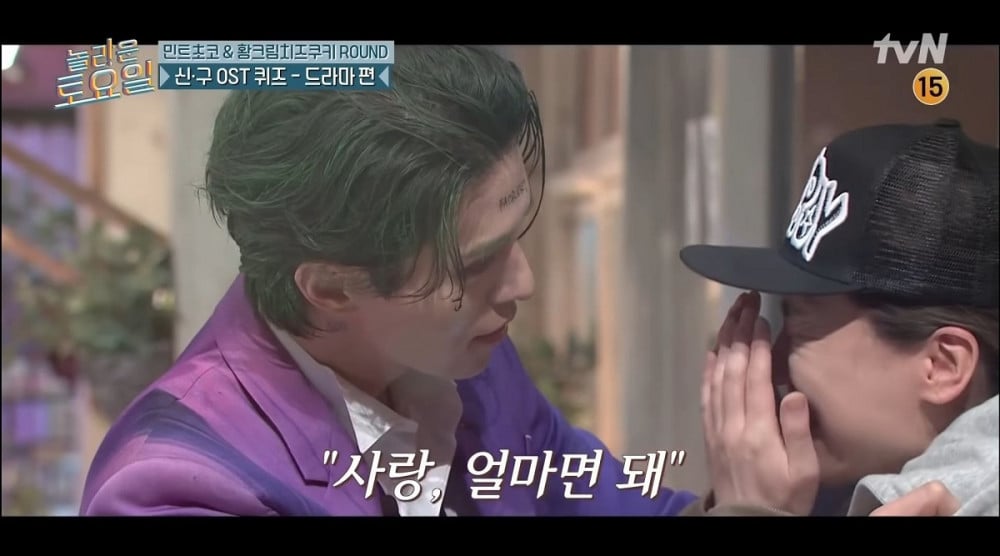 On the latest broadcast of tvN's variety show 'Amazing Saturday- Doremi Market', Lee Dong Wook and Wi Ha Joon appeared as guests. Here, Lee Dong Wook perfectly pulled off his costume as the joker, with a purple suit and green hair brushed back, drawing a lot of attention.
In particular, after getting a question correct in one of the games, Lee Dong Wook proudly stood up in order to reenact Won Bin's character from the hit 2000 drama 'Autumn In My Heart'. A regular cast member on the show, rapper Nucksal stood up with Lee Dong Wook while commenting, "I'm playing [the role of] Song Hye Kyo?" Nucksal walked toward Lee Dong Wook, who did the famous Korean drama 'wall push' move to Nucksal to demonstrate Won Bin's character. Together, they parodied the famous scene of Won Bin and Song Hye Kyo from 'Autumn In My Heart'.
However, the other cast members on the show were confused when Nucksal suddenly closed his eyes, drawing laughter. The show membes asked, "Nucksal, why are you closing your eyes?" To this, Nucksal yelled back, "Wow, he is super good handsome."
Watch the clip of Lee Dong Wook and Nucksal's hilairous moment below!