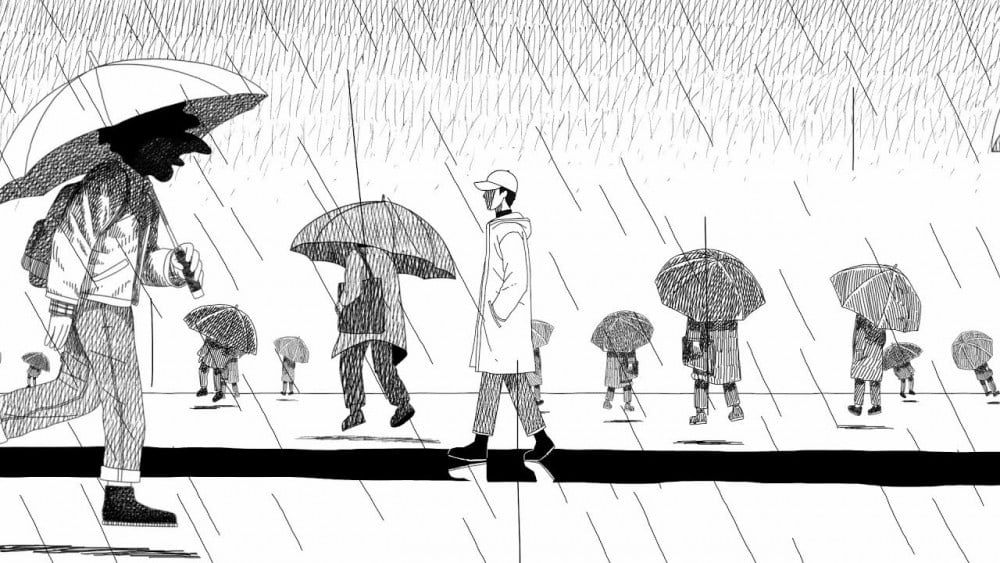 Rainy Days can be really beautiful if accompanied by a warm cup of tea/coffee and soothing tunes to keep you company. Some people get comfort, staring out the window, watching those water droplets fall, while swaying to the calming beats.
Well, if this is what even your routine looks like, then do not worry. We have got you the perfect playlist with some of the best BTS solo songs to listen to on a rainy day.
Here we go!
1. Still With You (2020 FESTA Song) – Jungkook

This is the best rainy day song and one of the most beautiful productions by JK. The track takes you through various moods with a jazz setting at the start and shifts to slow beats in the end, all while raindrops fall in the background. Still With You genuinely is a masterpiece.
"In a rapturous memory, It's raining when I dance alone."
2. Forever Rain (Mono) – RM
Honestly, the entire mixtape, 'Mono' can be your rainy day partner, but "Forever Rain" hits different. A slow-paced song with a solemn melody and RM's soft rap in his deep voice will make you feel as if you are floating.
"Slow rap, slow jam, slow rain, everything slow, When it rains, it pours."
3. So Far Away (Agust D) – Agust D
Both versions of So Far Away, featuring Suran and the other one with Jin and Jungkook, are perfect for a rainy day. The lyrics leave you in retrospection while the beats provide comfort. Suga's rap and the chorus vocals flow seamlessly, just like the rain.
"The feeling of being on my own, I am on my own right now, I want everything to disappear."
4. Tonight (2019 FESTA Song) – Jin
It is Jin's solo song released during Festa (BTS anniversary celebration). Fans described the song as "a masterpiece that can take you to another world," and they are on point! Tonight, makes you feel nostalgic while leaving a relived feeling behind, towards the end.
"When I close my eyes, I feel like I will think of only the happy memories again."
5. Promise (Solo Song) – Jimin
This solo track by Jimin talks about a person's inner thoughts and struggles. He asks you not to give up and Promise that no matter what, you will not just throw yourself away. The mellow beats and Jimin's calming voice is sure to make you feel light and pleasant.
"You should be your light, So you won't hurt anymore, so you can smile more."
6. Blue Side (Hope World) – JHope
Even though Hoseok's the rapper of BTS, he is known to sing beautifully. In Blue Side, there's no fast rap, just J-Hope's beautiful voice. The outro and extended version, both are just as amazing. This song is perfect to be heard with your eyes closed.
"On the rainbow, I'm singing my blues, Singing my bloom."
7. Scenery (Solo Song) – V
When V in his ocean-like deep voice, sings Scenery, it feels like you are falling in the depths too. It was like this song was made for someone wanting to have some ME time. The prominent piano melody in the background, accompanied by beautiful lyrics, is what you need on a rainy day.
These are some of the best BTS solo tracks to add to your "Rainy Day" playlist.