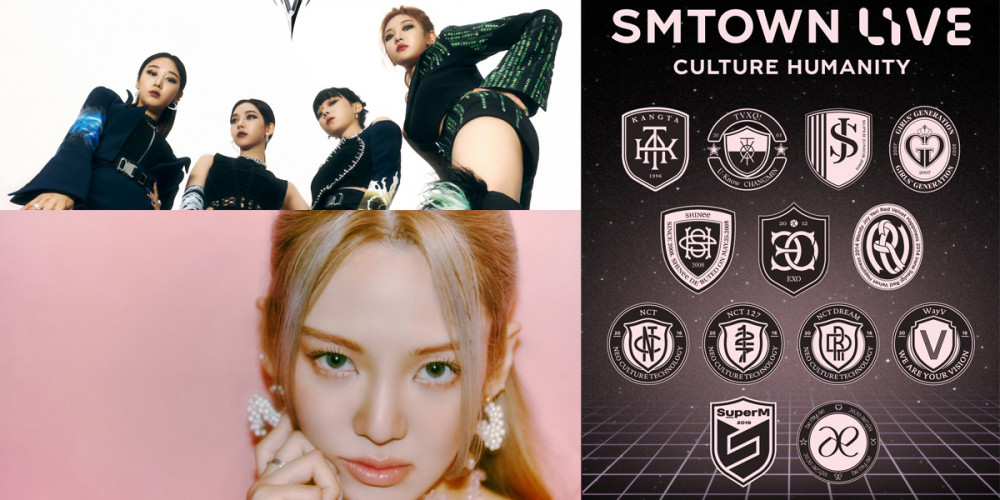 On December 7, netizens came across a spoiler regarding the return of the online concert, 'SMTOWN Live'.
Back on January 1, 2021, SM Entertainment held its first ever 'SMTOWN Live' online concert, 'Culture Humanity'. The show was free to fans all around the globe and featured performances by TVXQ, Super Junior, SHINee, EXO, Red Velvet, NCT, WayV, SuperM, aespa, and more.
It seems that the large-scale online concert will be returning again next year, according to one face mask company!
The face mask company was seen publicizing via SNS, "January 1, 2022. (heart) SMTOWN LIVE (heart) SM Entertainment will be holding a massive-scale online concert streamed in over 186 countries, and during the concert, our masks will be worn by members of the orchestra and the back dancers during stages by aespa, Girls' Generation's Hyoyeon, and Raiden! It's so rewarding to have all the work that was put into this secretive effort be revealed to the world.. A global live commerce event will also take place simultaneously in the U.S, Singapore, Malaysia, Taiwan, and Japan, so please show your interest!"
Based on the mask company's spoiler, it seems that girl group aespa, Girls' Generation member Hyoyeon, and DJ Raiden will be part of the lineup for the upcoming 'SMTOWN Live' show. Fans can also expect a live orchestra to join in for one of these acts!
Stay tuned for more details regarding the 2022 'SMTOWN Live' online concert!