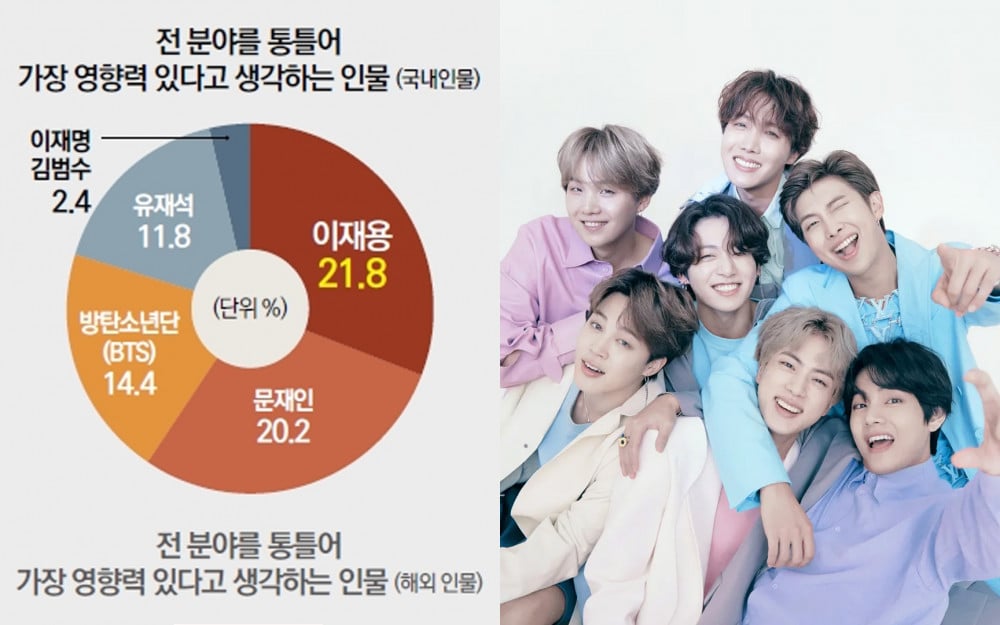 Recently, there was a survey conducted on college students where they voted for the most influential people. In this year's survey, college students were able to vote for the people who are the most influential figures in all fields.

Samsung Electronics Vice Chairman Lee Jae Yong topped the list with 21.8% of the votes. He was embroiled in a few controversies as he was imprisoned back in January and released on parole in August with the charges such as manipulating state affairs. However, he gained much attention as he promised to contribute to society by promising job opportunities for the youth after his parole. President Moon Jae In followed in second place with 20.2% of votes.
In third place was BTS, the global K-pop group that has become a household name all across the world. BTS received 14.4% of the votes as they obtained quite a large share of votes from college students as the K-pop act is recognized as the third most influential figure. In addition, Yoo Jae Suk also came in at fourth place following BTS, receiving 11.8% of the votes.
Many netizens were impressed with BTS as they gathered to an online community where the results of the votes were revealed. The netizen who created the post explained, "It used to be a joke but it's not anymore. It's real."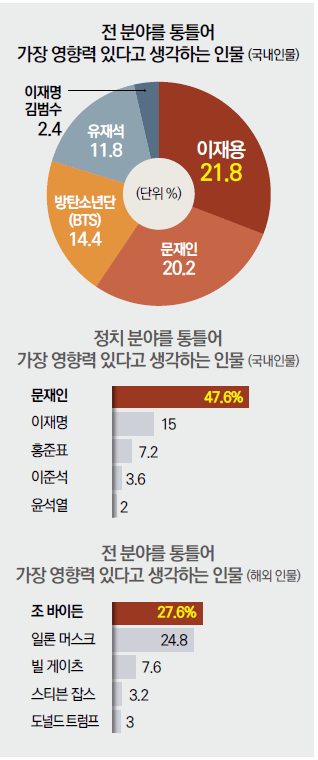 Other netizens joined the conversation to give their two cents on the issue as they commented, "This is true because BTS does have influence when it comes to foreign affairs. I was really surprised when BTS said that they were going to the MET with the First Lady and the MET prepare a space for them and did a tour for them. MET even prepare a place where they can do a speech," "They're kings," "This is not false, BTS has an immense amount of influence in the cultural aspect," "BTS is worldwide influential," "I'm more surprised that Yoo Jae Suk is still this influential, lol," and "BTS changed the law for BTS."