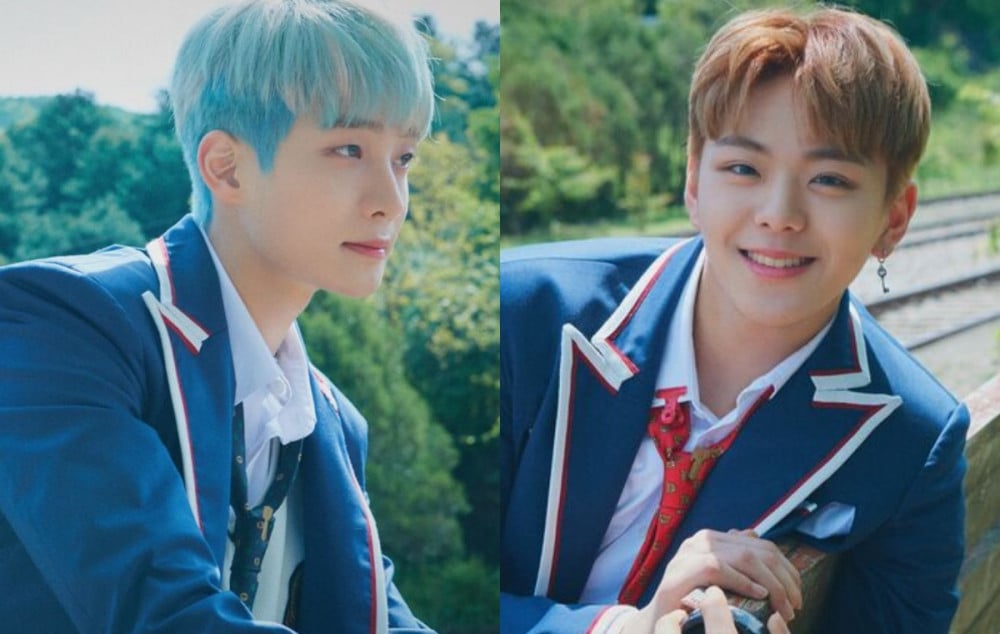 Lee Tae Seung and Hwang Dong Jun have written letters to Ghost9 fans to personally confirm their exits from the group.
On September 5 KST, shortly after Maroo Entertainment's announcement, the two took to Ghost9's official fan cafe to release handwritten letters.
Lee Tae Seung's message reads as follows:

"Hello, this is Lee Tae Seung.
The cold wind has already begun blowing like autumn is coming. Be careful of catching a cold.
I'm sorry for suddenly coming to find you. However, today I have come to relay some heavy news to Ghostie.
I, Lee Tae Seung, have ended my activities as a Ghost9 member, and I'm going to take some time to think about my career path.
I will be in my twenties soon, and just like everyone else's worries, I have thoughts like, 'Does this path suit me?,' 'Am I doing well?,' I lost a lot of self-confidence when it comes to promoting, and I feel sorry and like I'm showing Ghosties a bad side of me that doesn't meet their expectations. After consulting with the other members and the company, it was decided it would be good for me to stop activities and take some time to organize my thoughts about my future career path, and I made the decision like this.
I, who is lacking and was unable to show a good side, am really sorry to Ghostie, who cheered me on, sincerely liked me, and generously gave me their love. However, the times I spent with Ghostie are memories that are precious to me, happy, and ones I won't forget. I'm really sorry, and thank you.
I have ended activities with Ghost9, but I am working to be able to greet you with a good side, and I will become a more awesome Lee Tae Seung.
Please give Ghost9 unchanging support, and I will also be sincerely cheering them on.
Be careful of catching a cold, don't get hurt, and once again, I'm sorry, and I love you.
From Lee Tae Seung"
Hwang Dong Jun's note also reads as follows:
"To Ghostie,

Hello, this is Hwang Dong Jun. It seems like it's been a while since I've greeted you.
I have been thinking about how I wanted to say this, and I'm writing this letter as it seems like I should tell Ghostie directly.
I, Hwang Dong Jun, with every moment spent with Ghostie cherished, will be ending my activities as a member of Ghost9 and going on a new path.
I have been deliberating a lot about my future career path, and before it gets even later, I am trying to take some time for myself and find the path that suits me.

I thought a lot about it myself, and I also talked to the members and the company, and this is how the decision came to be.
During the time I was active with Ghost9, I really learned a lot of things, and it was a really happy time as I could be together with Ghostie.
Moving forward, please give the Ghost9 members even more of your support, and I also will sincerely cheer them on.
I hope for all of your health and happiness.

Thank you always!
From Hwang Dong Jun"

Meanwhile, Maroo Entertainment's official statement regarding their exit from the group can be read here.