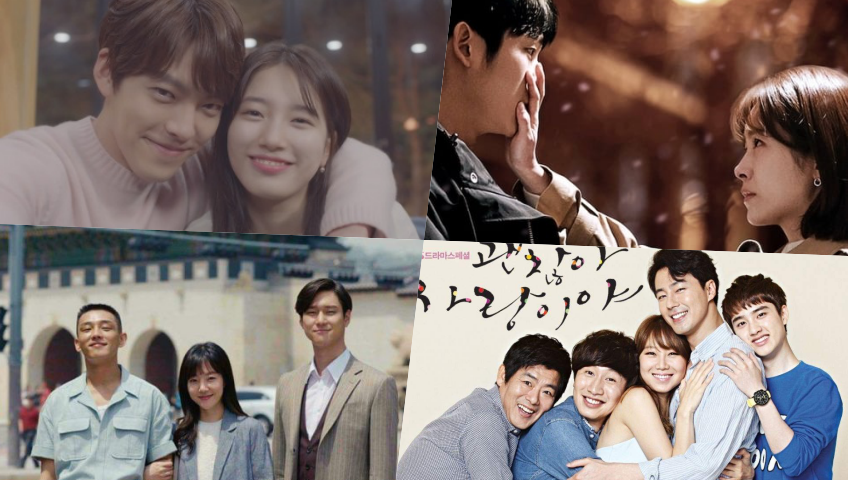 Once a series ends, most, if not all, the details we loved about it will not remain the same. The cast will grow old, the dreamy locations will not entirely be preserved, and the friendship that actors had built on the set may or may not continue. But if there's one thing that will never change at all, it's the official soundtrack. No matter how many times we hear it, it won't alter a note - not even a beat or a melody - which is what makes it the best souvenir we could ever take from a K-drama.
All OSTs possess their own magic, but once in a while, there are some that stand out in the sea of Korean pop and ballads being played as the story goes. We list down unforgettable English tracks that made us immediately search for the title after hearing it in the background and are still replay-worthy up to now!
Satellite by SALTNPAPER
From superb storytelling to an exceptional choice of cast, Chicago Typewriter is one of the most underrated shows out there. Satellite is such a good OST that even a few seconds into it would give a surge of the same painful nostalgia you felt while journeying with the main trio.
Is It You by Rachael Yamagata
Taking us back to the raw and quiet romance of Yoo Ji-ho (Jung Hae-in) and Lee Jeong-in (Han Ji-min), Is It You perfectly summarizes the feels of One Spring Night. If you're looking for the next song to add to your morning drive playlist, this one is also your best bet.
Love Me Like That by Sam Kim
The first episodes of Nevertheless almost always ended up with two things: some viewers discussing the dynamic of the couples, and some looking up the mesmerizing acoustic piece we frequently hear in the miniseries. Sam Kim's swoon-worthy voice just gets us every time.
A Little Braver by New Empire
Uncontrollably Fond is a drama you should watch if you feel like ugly-crying on a weekend. A Little Braver encompasses the struggles faced by the leads, and it still tugs heartstrings long after watching the story of Joon-young (Kim Woo-bin) and Noh-Eul (Bae Suzy)
Golden Love by Midnight Youth
A massive strength of Uncontrollably Fond is its quality tracklist, so don't be surprised if this next one is also a part of it. Golden Love impeccably flows in scenes that bare the emotions of the characters, seemingly preparing the audience for a heartbreaking direction it's about to take.
Across the Oceans by New Empire
But since Uncontrollably Fond is still a K-drama, it also has pops of funny and quirky moments. Across the Oceans is the song that Joon-young pumped up on the car speakers after drinking from the same bottle that Noh-eul spat in. We'd have to agree that it's such a fitting jam for car rides!
Breaking Dawn by I'll
Promising an action-packed experience from the get-go, Vagabond unveils a thrilling adventure and measures up to its hype. Breaking Dawn complements its whole vibe and packs a subtle punch that effectively compels listeners to pay attention until the end.
Hero by Family of the Year
Tackling the issue of mental health at a time when it's not as openly addressed as it is today, It's Okay, That's Love is a breath of fresh air in a crowd of cliche romance-centric stories. Hero is especially memorable because of that particular moment it went on in the drama.
Cross My Mind by Twin Forks
Just like the storytelling of It's Okay, That's Love, Cross My Mind's charm that leaves us enraptured is in its chill but honest delivery all throughout. It's nothing grand, not over-the-top, easy to listen to, and sometimes it's just what we need to complete our playlist.
Somebody by Clara C
For what seems to be "just another" hilarious time travel K-drama, one would not expect an emotional track to come out of it. If you haven't watched 18 Again yet, Somebody could be a clue as to how deep it digs in terms of love, in all its forms.
Step Step by Suran
Step Step is light and airy, soft, and quite tickly to the ears. Hearing it in the background feels like everything around you is sweet cotton candy - plus, it paints a picture of Don't Dare to Dream's actors that just don't disappoint when it comes to flavorful chemistry!
It's You by Henry Lau
Henry Lau has always had complete command of his musicianship, and it translates to anything he does behind the mic. It becomes even more evident when it's applied to a work that bears the purpose of highlighting the characters' souls to connect to the audience more - his emotional vocals do it best.