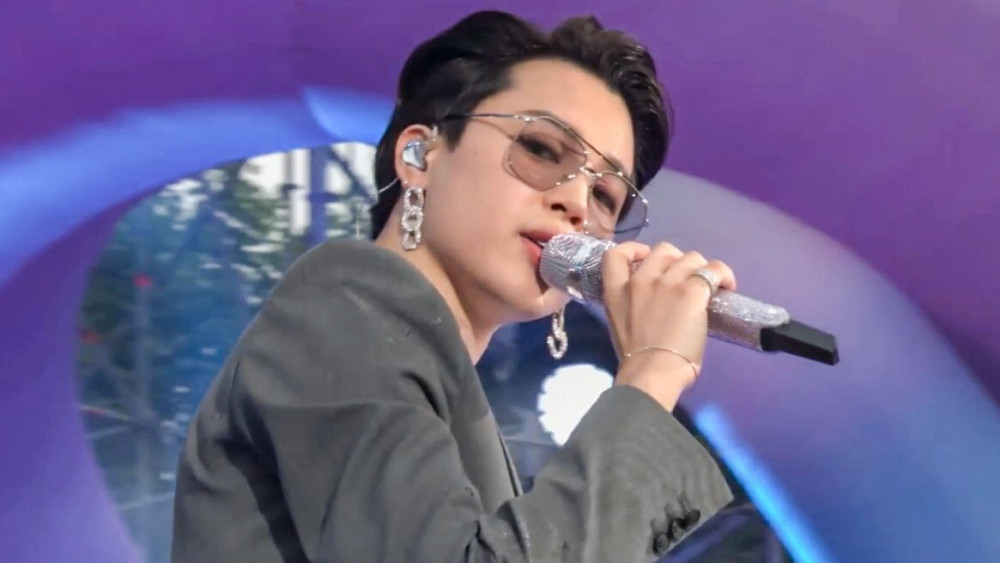 BTS's Jimin is known for his abilities to always steal the scene and hearts of fans with his magnetic charisma and incredible performances.
In today's BTS MUSTER lineup, BTS performed with the same fervor as they did yesterday. This time member Jimin melted hearts with his sexy aura as his hair appeared to be sleeked back exposing his forehead, his impeccable styling and confidence complimenting the look.
Jimin proved that he is the stage genius in the group's performance of Chicken Noodle Soup, (a song by BTS's J-Hope featuring American Singer-songwriter Becky G), with his freestyle dancing techniques and outstanding multilingual abilities when he rapped in both Spanish and English. Fans praised his perfect flow, intonation and delivery of the foreign languages. This was even praised by Becky G, whose part of the song Jimin and RM rapped, saying that they killed it!
Jimin is known as the master of killer parts in songs and fans highlighted his 424 moment in Not Today and 333 in the song Fire. These are usually moments in songs pointed out by music critics as the most captivating. He recreated these parts to perfection and in true dance king fashion.
BTS also delighted fans with the first performance of their new Japanese song 'Film Out', which is part of their Japanese language album BTS the BEST, at the MUSTER and later on TBS' CDTV Live. In both instances, Jimin demonstrated great vocal technique, ability and smooth execution of the high notes, bringing out the right emotion.
Jimin truly had an eventful day and while at it he not only impressed fans, but also celebrities, verified accounts and even major news outlets. It is no wonder then that he became a trending topic on Twitter with various keywords and on Japanese site Twipple, where he ended up ranking second.
The keyword JIMIN JIMIN broke the previous day's record to amass over 2 Million tweets.
Finally, BTS Jimin ended the session with a lovely speech encapsulating the events and memories and emotions that characterized the two days. He thanked them and wished for a nice new start to the ARMY and BTS year.
After the muster ended, all was not over until Jimin surprised fans with a Twitter update of two of his selfies and a sweet message that read: "Today was a really happy day because of you.
I hope you only walk on a flower path during the upcoming 1 year,
I love you.#JIMIN"


Fans who had missed him so much responded by trending Jiminie, 우리 지민 (our Jimin) 우리 꽃길 (our flower path) and so forth, as they sent him messages of love and support.