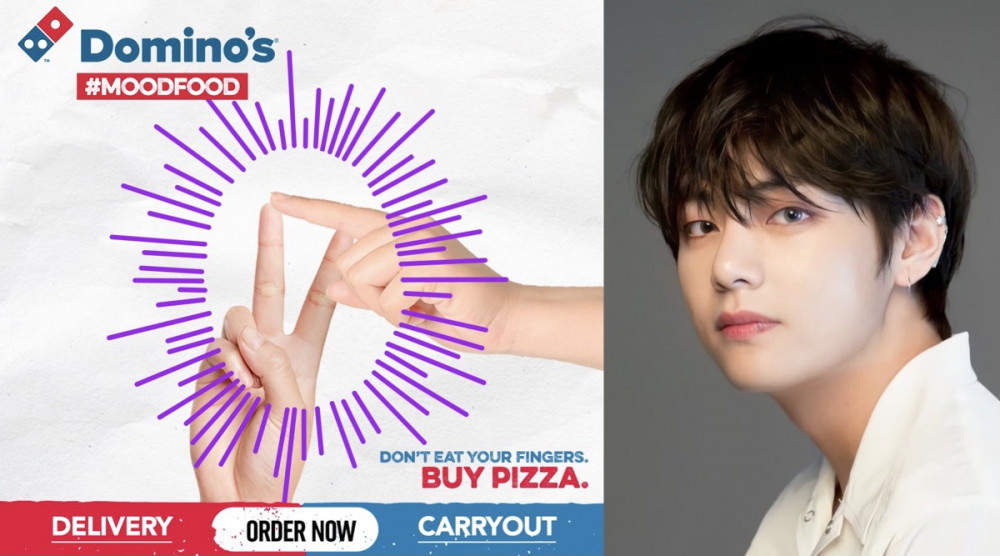 On Tuesday (May 25), the global superstars BTS guest-starred at "The Late Show With Stephen Colbert" to promote their newly released summer hit "Butter." The band also sat down for a hilarious comedy sketch titled "Break The Internet With These Hand Gestures" in which the members introduced some interestingly funny hand gestures.
In particular, member V garnered a massive reaction from the fans with his hand gesture for the letter "V" which he explained as his stage name and as the universally accepted sign for peace. However, it was his introduction of the Pizza slice sign by adding a finger on top of the letter "V" that took the internet by storm.
Aside from the fans, V's hilarious skit seems to have left an impression on the popular multinational pizza restaurant "Dominos" as they have adopted his "pizza slice" sign as a part of their latest promotion. Through a tweet on the official page of Domino's Pizza of the Philippines, the restaurant advertised their services with a picture of the said "pizza slice" sign alongside one of V's lines from the skit, "Don't eat your fingers."
This is not the first time V and/or his words have been used as a marketing tool. The term "Borahae (I Purple You)" coined by V in 2016 is today the very core of BTS's brand. From Samsung to McDonald's to landscapes lighting up in purple in honor of the band, V's creation has become a global phenomenon. In addition, items such as books and accessories have also been advertised as "V's favorites" due to the surplus of sales his impact has on the small businesses.
Recently, the Korean media also dubbed V as the "Blue Chip of the Advertisement World" due to the uncountable amount of times he has showcased his brand power.