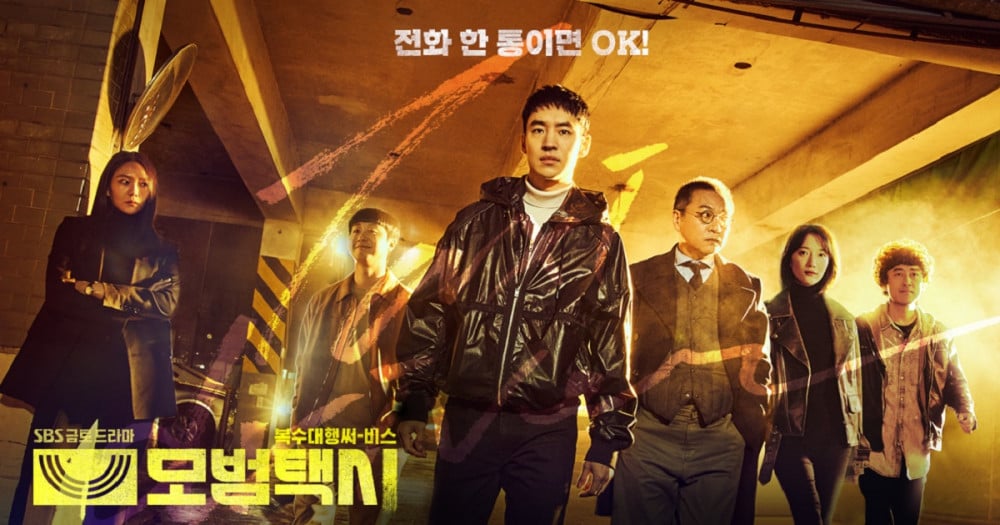 SBS drama 'Taxi Driver', based on the webtoon 'The Deluxe Taxi' by Carlos and Lee Jae-Jin, has recently reached its highest viewer ratings at 16.7%.

On episode 13 that aired on May 21, the 'Rainbow Taxi Revenge Service' team, led by Kim Do-Ki (played by Lee Jae Hoon), are forced to look for and bring back the escaped prisoners that Baek Sung Mi (played by Cha Ji Yeon) released. When investigating the background of Baek Sung Mi, the 'Rainbow' team discover that she has concealed the prisoners in a foreign embassy. The team ambush the embassy, and Kim Do-Ki (played by Lee Jae Hoon) plants smoke bombs to create a ruckus. Although Do-Ki had expected the prisoners to quickly evacuate the building, thus being easily caught, it is Goo Young Tae (played by Lee Ho-Cheol) who comes running out. Kim Do-Ki quickly takes a hold of Goo Young Tae.
The 'Rainbow Taxi Revenge Service' team initiate a negotiation with Baek Sung Mi, where they offer to return Goo Young Tae in exchange for the prisoners to return. When the two sides meet up for the exchange to take place, it is quickly interrupted by the entrance of Prosecutor Kang Han-Na (played by Esom), and Goo Young Tae is arrested. The tension in the episode dramatically increased when a few prisoners decided to leave on their own, and target their previous victims. One of the prisoners, Jo Jong Geun (played by Song Duk Ho), goes looking for Kang Maria, who is his previous victim of his "enslavement of factory workers" conviction.

This particular episode was very representative of the drama's tense and mysterious revenge-plot-for-justice storyline. Viewers were drawn to the screen with the episode's rich plot, bringing in a 16.7% viewership rating.
'Taxi Driver' is a drama about a taxi company called 'Rainbow Taxi Company', which in truth, is a "revenge-call service". The team takes on clients' requests for revenge, finding justice on their own.