On Thursday, May 20, an LED truck sent by EXO's international fans was parked in front of SM Entertainment's building. The action was organized by a group known as the "EXO Protection Squad," which asks SM to protect EXO members from attacks they have received in public places and on social media. The motivation for this movement was the recent attack on members Chanyeol and Chen, who have been threatened and harassed since last year, and so far, the company has done nothing to protect them.
The LED Truck arrived at 10 am and will trace the route between the SM building, Samsung Station and Gangnam, in an eight-hour period. For the realization of this project, fans from several countries such as Brazil, United States, France, Russia, Indonesia, and the Philippines donated an amount of money to make this possible and draw the company's attention.
Beyond the protests made on the truck's screen, fans also prepared a QR Code document with all their requirements for SM Entertainment, as well as presenting a protection petition that has more than 136,000 signatures.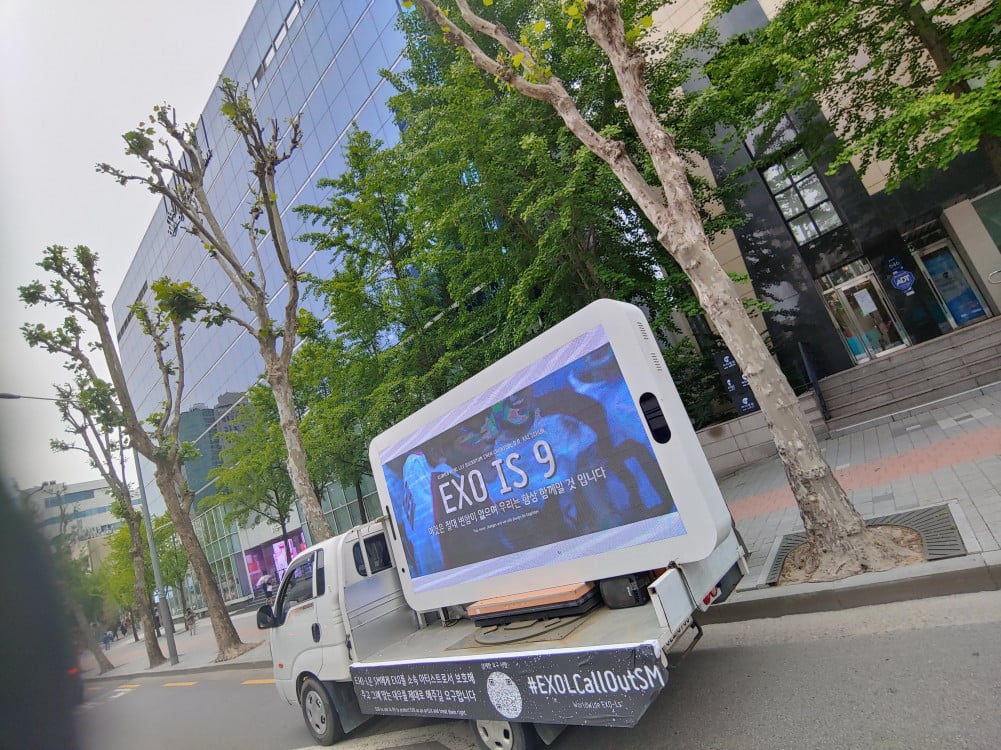 In this QR Code document, EXO Protection Squad asked for legal actions against antis, false rumors spreading, and also request good promotions in group and solo activities. They said: "Social media is for fans, not antis. But still, it seems that SM it's not taking any steps to eradicate malicious comments and to punish the people responsible for spreading hatred on EXO's social networks. Hate is widespread on all social networks: Twitter, Facebook, Instagram, LYSN... And not just malicious comments, but the creation of rumors and false information being spread around, including malicious articles coming from the mainstream media. Also a lot of threats to them have been made on SNS."
In the last part of this letter, EXO Protection Squad wrote: "Stop ignoring our emails! Stop ignoring our demands! We helped to build this company, the only thing we ask is for you to listen to us. Treat EXO better."
There's a chance to Sehun had seen the LED Truck, since a Twitter user said that they saw him at SUM Cafe, a place near where the truck was parked.

What is EXO Protection Squad?
"EXO Protection Squad" is an international fan organization formed in May 2020. With more than 24,000 followers on its social networks, the group has become increasingly popular in its acts of fighting against EXO haters, making constant complaints, organizing massive email submissions to SM Entertainment, and demanding better treatment for EXO.