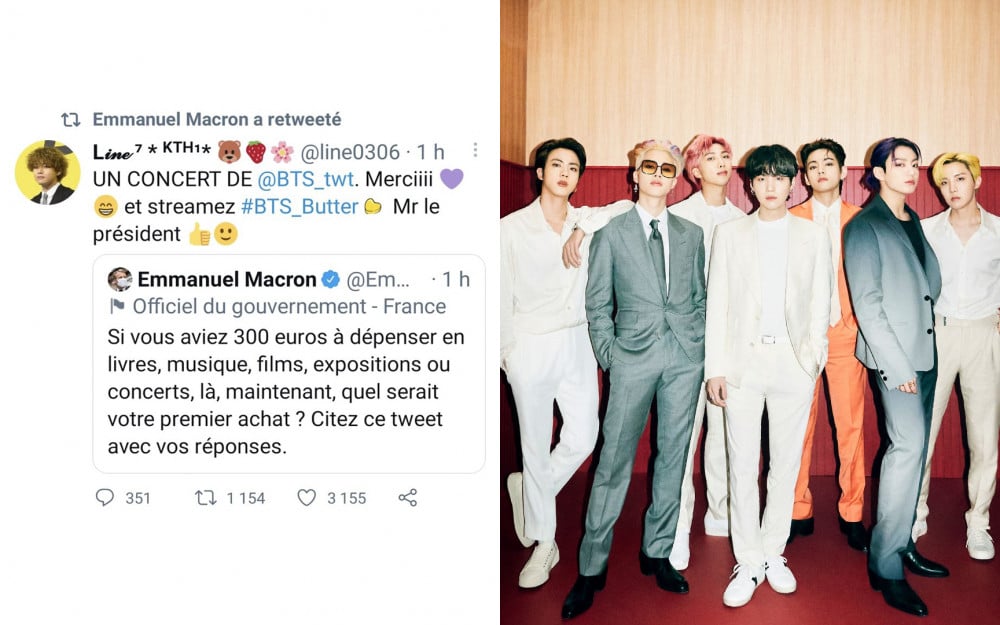 Recently, the ARMY fans in France had an entertaining interaction with their president.
On May 21, Emmanuel Macron, the president of France, posted a tweet asking the French people what they would do if they were given 300 euros to spend on books, music, film, exhibition, or concerts.
He tweeted, "If you had 300 euros to spend on books, music, films, exhibitions, or concerts, what would be your first purchase right now? Quote this tweet with your responses."

Many of the French youth responded to the president's tweet, but one tweet caught president Macron's attention, to which he even retweeted.
One ARMY responded how they would spend the money. The fan wrote, "On @BTS_twt's concert. Thank you and stream #BTS_Butter Mr. President."

The ARMY who tweeted her answer proved to be a true BTS fan as she did not forget to tell the president to stream the boy group's song. This tweet was also shared in a Korean online community as Korean netizens were able to see this cute interaction between the president and his citizens.
Korean netizens commented, "So the stream Mr. President? lol," "This is so cute," "The international ARMY is a real fan of BTS," "So cute," "I think it's so awesome that the president retweeted the ARMY's tweet, he's pretty cool," "I love that ARMY's profile photo of V's poodle hair, lol," and "I can't imagine how much influence BTS has over the world anymore. So awesome."