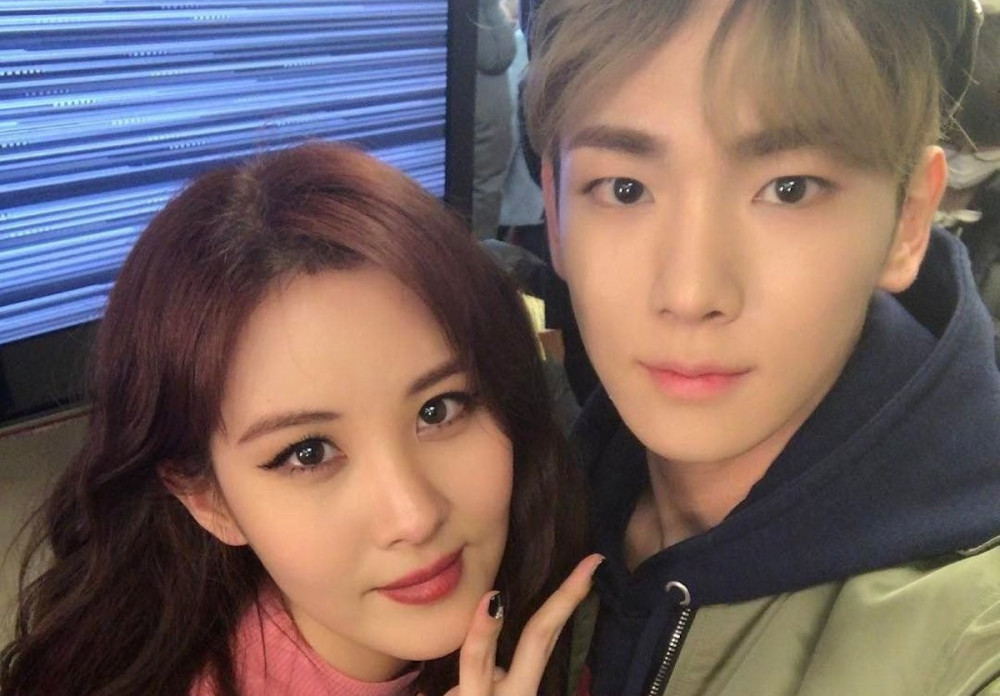 During a recent on-the-road 'V Live' broadcast, SHINee members Key and Taemin decided to jam out to an oldie - Girls' Generation's "Into The New World"!
It was Taemin who first said that he wanted to listen to the song, but as soon as the song came on, Key responded by preparing to sing along, word for word. But after singing a few bars, Key suddenly said into the camera, "Seohyun! Seohyun? Seohyun! How are you? How could you never call like that? Just because you changed companies!!!!!"
Hearing this, Taemin commented from the backseat, "Heol..."
Fans of course found this totally hilarious and just so very "Key-like". As many of you may be aware, Key and Seohyun have been good friends since their middle school days, when they began as trainees at SM Entertainment. They are also both 1991-liners. However, it seems that after Seohyun's departure from SM Entertainment to focus on her acting career, they haven't been in touch... very much..?
Seeing Key's shout out, netizens commented, "Seohyun better call him soon kekekeke", "Seohyun, someone has been crying for you kekekeke", "Why don't you just call her yourself Kibum kekekeke", "Why is Key so funny these days kekekeke", "Why is he saying 'changed companies' like they were some chummy office co-workers kekekeke", and more.
Actually, Seohyun wasn't the only Girls' Generation member Key decided to give a shout out to during his singalong... if you watch below, Key just about sends a greeting message to every member of the group during their respective parts, including a certain "glass kwon"... ("glass" in Korean is "yuri".)