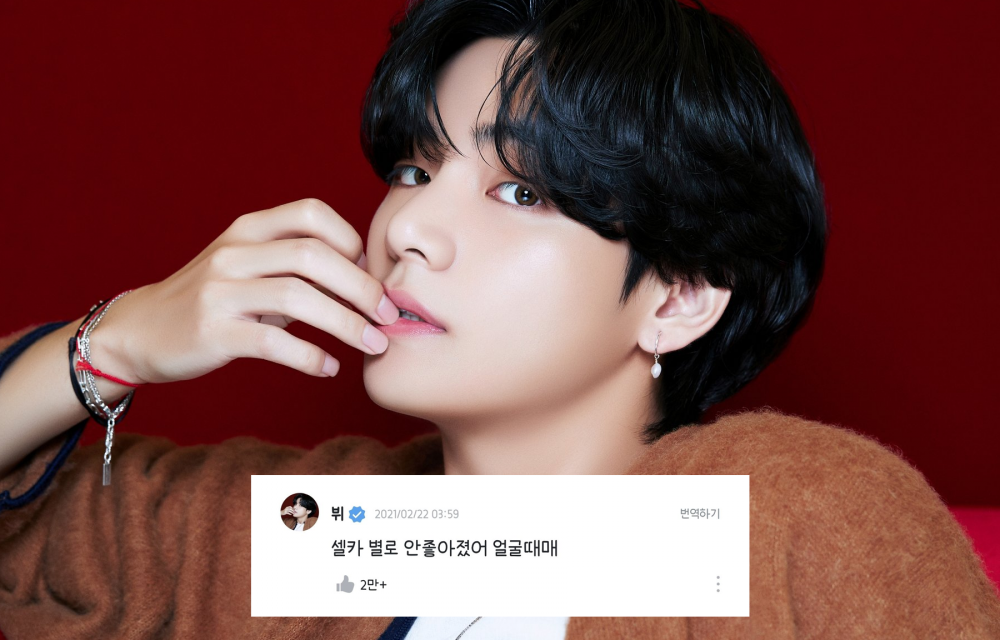 BTS's V has become the center of everyone's discussion topic as he made everyone baffled by his absurd remark about his face.
Recently, there have been various online community posts created with the title 'BTS member V's absurd remark today,' A video of BTS's recent V live video and V's Weverse post was attached to the online community post. In the video, V explains, "I used to be a master of selfies but now...I don't know...these days...looking at my face...I don't like it."
V was also seen posting on Weverse, telling his fans, "I don't like selfies anymore because of my face."
During the V Live, SUGA, J-Hope, and V spent time making cafe drinking and took the time to talk with fans. On this day, J-Hope conveyed a fan's message asking V for a selfie, to which V replied by saying, "It's been over six months since I haven't taken a selfie. I can't take photos alone when fans ask me to take photos."
V's remark has been shared widely as fans couldn't believe in V's ludicrous remark as the idol member has been widely known as the most handsome man in the world.
One netizen shared V's remark in the online community with various photos of the artist, while other netizens joined to comment how ridiculous V was being.
Netizens commented, "He's so cute," "What is he talking about?" "I wish I can live with his face at least for a day," "Omg, please give me your face if you're going to say that, lol," "How will other people live if you say that?" "I love your face, so give it to me," "V is perfect," "What????" "He probably doesn't know how handsome he is since he sees his face every day," "I wonder what it feels like to wake up every day with that face, lol," "what are you saying, my friend? My mom almost fainted when she saw your face," "You can't say that if a face like yours, lol," and "are you crazy?"