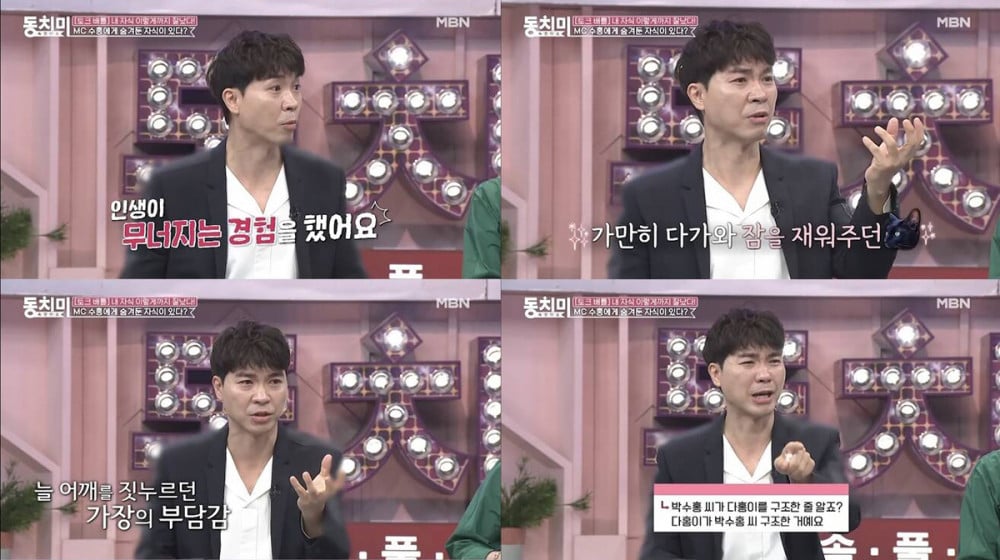 The name of TV personality Park Soo Hong is currently the headline on all major entertainment news platforms.
On March 29, one anonymous netizen left a shocking comment under one of Park Soo Hong's YouTube videos. The netizen claimed that for the past 30 years, Park Soo Hong has been scammed out of his entire life's earnings by his older brother.
According to this netizen, Park Soo Hong first set up a one-man agency, Lael Entertainment, 30 years ago and asked his older brother to be his manager, during a time when his older brother was struggling with unemployment. Afterward, the netizen stated that Park Soo Hong's older brother and sister-in-law began managing all of his earnings, never properly paying Park Soo Hong while convincing him that they were managing all of his earnings in a savings account. But recently, Park Soo Hong attempted to look into his bank accounts and discovered that every account had been put under the name of his older brother, his sister-in-law, and his nephew/nieces. The netizen also wrote that because Park Soo Hong's older brother and sister-in-law were afraid that their living expenses would be cut off if Park Soo Hong got married, they convinced him not to marry until today (Park Soo Hong is 51 years old).
Finally, according to this netizen, Park Soo Hong's brother has now fled with over 100 billion KRW (~ $8.9 million USD) of Park Soo Hong's life's earnings. The netizen ended their claims with, "As someone watching from the side, I could no longer just stand to witness their wrongdoings. Currently, Park Soo Hong is struggling with severe depression after discovering these facts."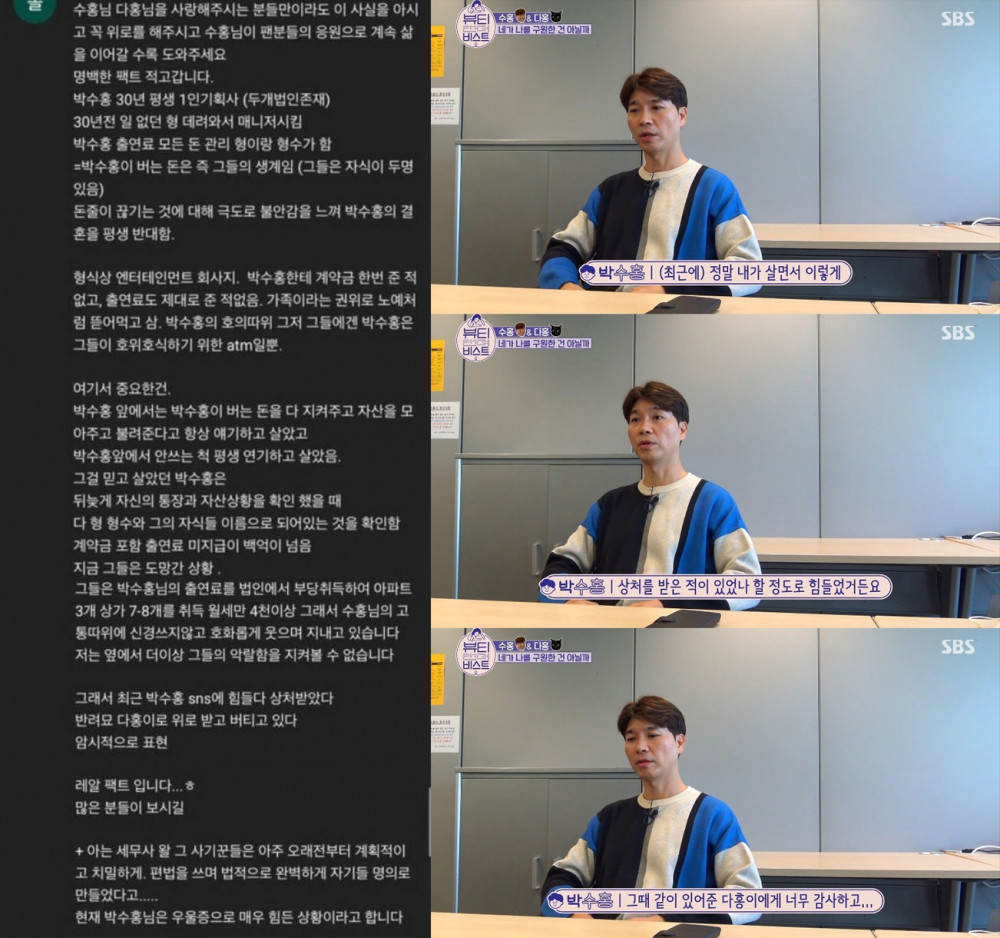 Earlier this month, Park Soo Hong garnered attention on variety appearances like MBN's 'Dongchimi' and SBS's new series 'Beauty and the Beast'. On these programs, Park Soo Hong confessed that he was currently living the hardest year of his life. While he did not specify what circumstances he was dealing with, the TV personality shed tears on both 'Dongchimi' and 'Beauty and the Beast' as he revealed that he was only able to go on these days because of his cat, Dahong. He said on one program, "I thought to myself, 'This is how people die'. My life was falling to ruin. When I couldn't sleep at night, Dahong would come to my side and just stare at me, lulling me to sleep."
Since then, Park Soo Hong has confirmed through his SNS account dedicated to his cat, that all of the above reports are true. According to Park Soo Hong, he recently found out that none of his earnings from the past 30 years were listed under his name but under his brother's; he has tried to contact his brother, but has been unsuccessful so far.
Additionally, Park Soo Hong further earned the pity of netizens as he stated that his parents, including his mother who is a cast member of SBS's 'My Little Old Boy', knew nothing of these events. He asked the public not to judge or scrutinize his parents, and assured that he would do his best not to inflict damages on any programs or staff he is currently working with while trying to resolve this issue.
As of now, numerous netizens are sending their words of support and encouragement toward Park Soo Hong.