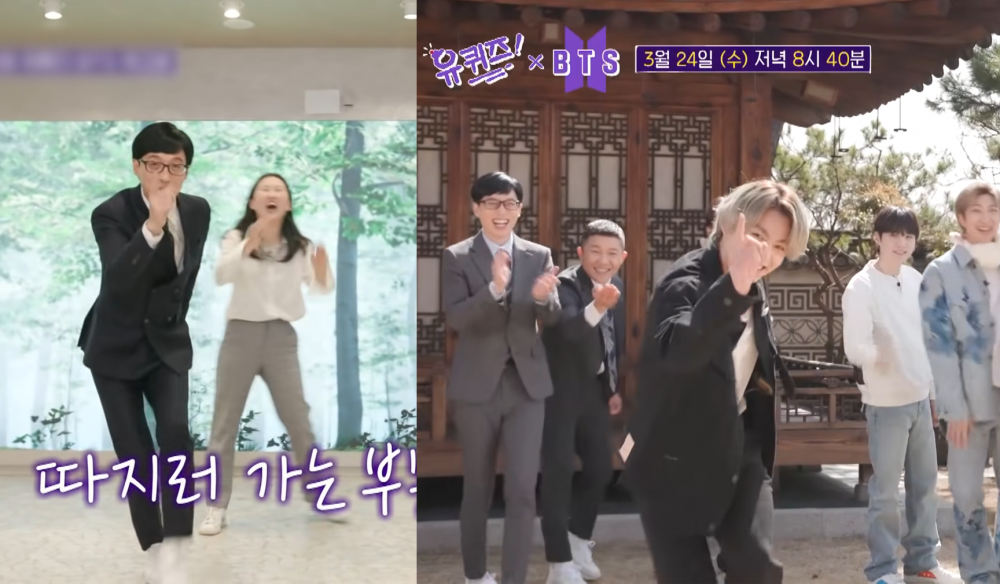 Earlier this week, tvN released the preview video of the special BTS episode after confirming that BTS will appear on the 99th episode of 'You Quiz on the Block.'

In the preview video, the BTS members are seen making their grand entrance as it is their first time they are appearing in a Korean broadcast show in over three years.
At the end of the preview, the BTS members and the two MCs - Yoo Jae Suk and Jo Se Ho - were seen posing for a group photo when Jungkook began walking towards the camera while bouncing his index finger.
This gesture was previously seen in a past episode in which a BTS fan appeared on the 'Yoo Quiz on the Block' show. Her dance video of "Mic Drop" became viral, and she was invited to the show for an interview where she revealed the back story of how she began dancing during a school event. She also did a cover dance of BTS's "Dynamite," where she walked towards the camera, pointing her index finger.
After the preview of BTS's special episode was released, many BTS fans gathered on an online community to leave comments of envy because Jungkook recognized her dance moves. Fans commented, "Lol, I can't believe Jungkook saw that episode," "Namjoon saw it too," "This is so cute," "Omg, that girl is so lucky," "Jungkook is so sweet, she must be so excited," "So cute," and "She definitely probably has nothing to wish for anymore. She's so lucky!"