TOMORROW X TOGETHER, often called TXT, is the second boy group debuted by Big Hit Entertainment, they have 5 members who have their own characteristics.
TXT debuted with a different concept from other groups that debuted in the same year, even contrary to their sunbae concept.
TXT has recorded many achievements in itself, starting from being the fastest group perched on the Billboard 200 board to becoming the only boy group from the 4th generation to get the best chart on the billboard; besides that, they also listed themselves as the fastest kpop male group to reach 500 million streams on Spotify, becoming a Kpop idol who has more than 1 MV which surpasses 3 million likes on YouTube. Out of the 4th gen groups, they became the most-followed on Twitter, Instagram, even MelOn.
Apart from focusing on Korea, they also have a special place in the hearts of listeners who come from the United States, Japan, Canada, and the biggest music market countries in the world.
TXT has also made their debut in Japan in 2019 with the mini single album "MAGIC HOUR," in which they also listed themselves as the first kpop idols to make it to the LINE MUSIC Realtime chart for more than 70 hours, which was then broken by their own Sunbaenims.
Some time ago, TXT released their first full album called "STILL DREAMING," starting with the opening single "Force," which is also the opening theme of the famous anime "World Trigger" in Japan. Together with "Force," they made another new record: to become the first 4th generation song to break 100 hours on the Line Music Realtime Chart with just 1 song.
TXT has also entered the ranks of the top Japanese artists on the Japanese Billboard Chart, both with the single "Force" and the album "STILL DREAMING."
They have also appeared on many Japanese variety shows, and music shows such as Music Station and The First Take recently.
TXT received a lot of praise from listeners from Japan who recognized TXT's beautiful music quality and seemed different (unique)
TXT's appearance at 'The First Take' with the song "CROWN Japanese Version" became the Trending Topic Number 1 on Japanese YouTube, only a few hours from their appearance then followed by their appearance on Music Station, which was also ranked in the top 5 trending topics for Japanese YouTube.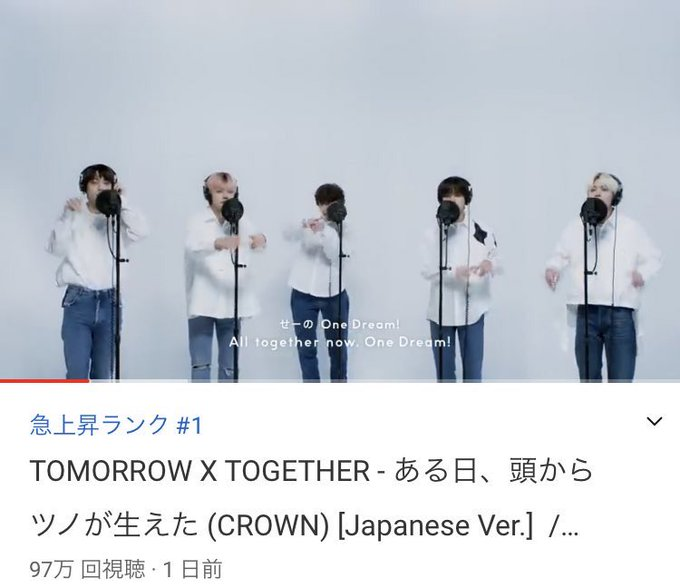 TXT has proven that they have their own characteristics and not because they are the younger siblings of a famous group.
Without a member from Japan, they are able to put themselves in the best place there.
Good luck TXT, keep working!